Renegade Ops is the second twin stick shooter to arrive on the PlayStation 3 this year but unlike the rather ho-hum Warhammer 40K: Kill Team game, this title is in a class of its own. The six to eight hour campaign of Renegade Ops revolves around a small group of soldiers who have been ordered by their General to hunt down the villain known as the Inferno. Unfortunately for humanity, this villain is a true psychopath and it is your job to stop him dead in his tracks in true comic book fashion!
This top down shooter also allows you to play as four different operatives and best of all, each of these ops has a different skill and vehicle speciality like an ATV or hummer (even helicopters are available) which definitely freshens up the gameplay. Apart from hunting down Inferno, your team of operatives must engage in a variety of other side quests such as rescuing civilians or completing particular tasks like destroying SAM sites. Although a map is available for the player which can be turned on and off, there is also an arrow pointing you in the direction of your quests which does assist, especially when the action heats. I must admit that HUD for this game is quite minimalist but informative.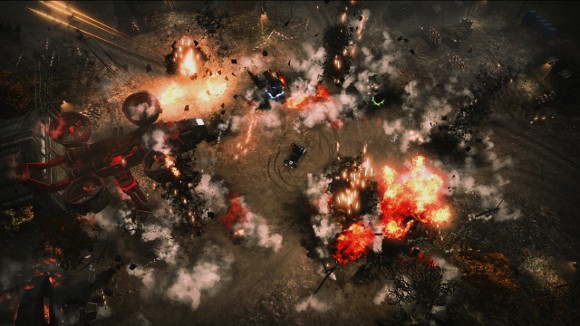 At times, Renegade Ops reminds me of Commandos, that classic top down open world strategy game, however this title is definitely steeped in real-time action. Your also have access to plethora of different weapons plus the ability to carry a secondary weapon when things become a little too hot for comfort. From machine guns to rocket launchers, there's definitely something for everyone. Best of all, variety is the spice of life and Renegade Ops provides this and there are various environments that you will explore from cities to coastal lines with battleships and lots more. The four characters in Renegade Ops are quite different, yet clichéd such as Roxy the rocket expert or Gunnar the heavy weapons expert. All good though!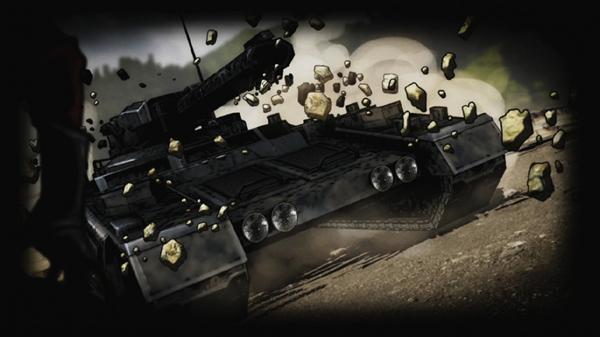 As you make your way through the various missions, your characters are awarded points which can then be used to unlock new upgrades with three pathways on the skill tree. Upgrades are also used to customise your character and the great thing about the upgrades is that your not limited to just a handful because you can switch and swap between these upgrades such as carrying additional life or health. Your are however limited to carrying only four upgrades at a time to ensure some fairness in the game.
Some upgrades can be used on all characters such as extra life and auto repair but other characters have their own special upgrades as well such as bombardment for Roxy which allows your rocket strike duration and radius to increase. Enemies in the game are generally quite easy to defeat with the occasional boss character thrown into the mix like a giant tank and when you do defeat enemies, they will drop health and armour. The battles are sometimes so brutal because there is so much going on at once from explosions to enemies coming out of the woodworks, it is a little difficult to keep track of things, especially with the twin stick controls. It's like a bad Hollywood 80's action movie. Driving vehicles is fun but just be warned that sometimes they get stuck in the most annoying places.
Another highlight of the game is that as a twin stick shooter, the controls have been flawlessly implemented on the DualShock controller and everything just feels right. So no matter if you're a veteran gamer or a new player, you'll be able to play this game immediately from the get go. The single-player mode of Renegade Ops is fun, however for some additional excitement, the multiplayer mode is definitely a must play segment. This game supports two players via split screen for local play or up to 4 players via PSN. Needless to say, when you're playing with four other gamers, things can become quite hectic and it's just like your own private war. Unfortunately the game doesn't support any competitive multiplayer but even so, what is available works quite well.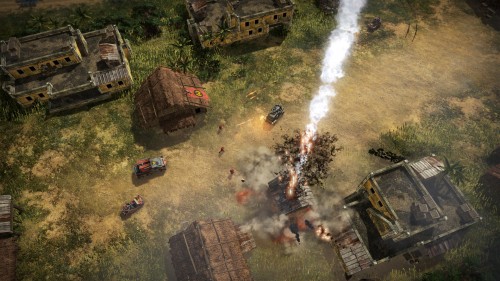 Graphically and for a PSN game, Renegade Ops is a very good looking game with some amazing attention to detail. The first thing that I noticed in the world of Renegade Ops was the lush background environments that actually helped immerse me into this game even more. My favourite level was the desert with its shimmering heat effects. From well designed characters to some realistic lighting, everything comes together perfectly in the game from particle effects to some amazing reflective surfaces. I do pity the gamers with a small TV because LARGE is better in this title. I also like how the developers have used a comic book format to progress the story which looks quite stylised. The only downside to the game is the voice acting that is so over the top, that it's not funny! Sound effects work well, especially with our surround sound system for even more over the top sound effect action.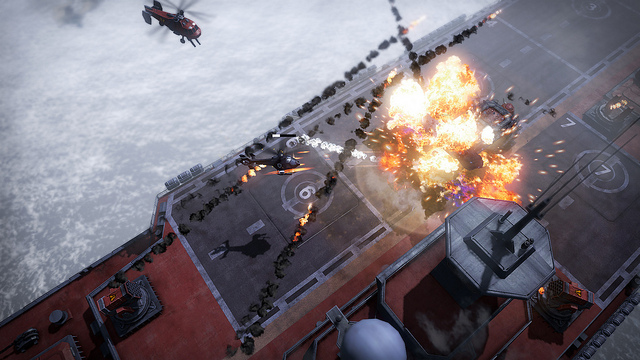 Final thoughts? For the price ($20AUD), Renegade Ops is a fun and mindless game of violence that contains a tight control system, great environments to explore and good old fashioned twin stick shooter fun. There are some quirks such as the vehicles getting stuck in various parts of the environment but thankfully the gameplay manages to pull you through this. With a sturdy single-player mission with options for multiplayer, Renegade Ops is definitely a must see game on the PSN!