Ratchet & Clank QForce
Available on PS3 (Reviewed) & PS Vita
Ratchet and Clank is a series that needs a break from the gaming world. While the dynamic duo is as charming as ever, their next generation endeavours have failed to live up to the Playstation 2 gems we all know and love. Now we have Ratchet & Clank QForce, which features the classic run and gun gameplay of its predecessors combined with a tower defence element to try and shake up the aging gameplay. Itís certainly an interesting move that Insomniac has made here, and while QForce does have some entertaining aspects, itís an extremely short and tedious game that fails to live up to any of the previous games in the series (yes, even All 4 One was better than this).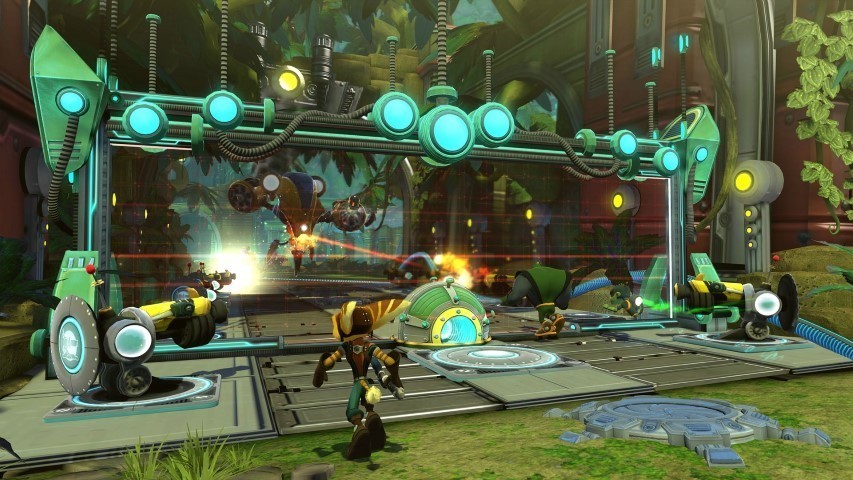 Gameplay
QForce welcomes the third-person camera back into the Ratchet & Clank universe which went missing in All 4 One. Controlling Ratchet, Clank or Captain Qwark feels as good as it did during the PS2 days, and it certainly makes exploring the maps a lot simpler and enjoyable. The main goal of each map in QForce is to fight off wave after wave of robot enemies from destroying your base while also allowing you to venture off and destroy their bases, discovering weapons and bolts along the way. You then use these bolts to build turrets around your base which will assist you in defeating enemies and progressing through the game. While it certainly is a fresh concept for the series, itís poorly implemented. Turrets cost way too much (around 1,250 for the basic ones) and they have a short range meaning that it will be up to you to finish off any enemies that make it past your defences. Finding bolts can be a chore as well; there are only a limited number of them in each world so in order for you to have the perfect set up youíll need to do a lot of exploring. The gameplay doesnít vary from map to map either, nor does the difficulty, so once youíve got the hang of things, the games five hour play through can feel even shorter.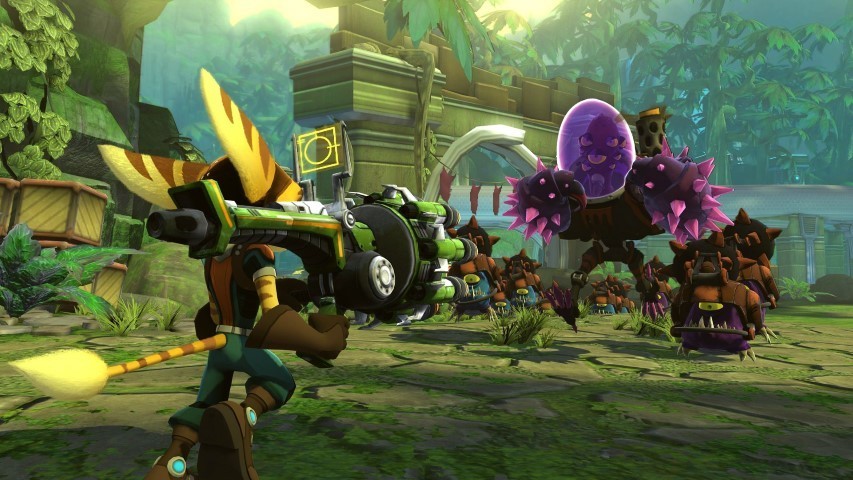 Graphics
The Ratchet & Clank games have always been known for their crisp and colourful graphics and QForce is no exception. The environments look lush and alive, and enemies are well animated and varied, though weíve seen some of them before from previous games. However, there is a problem with the gameís presentation that I have found in every Ratchet and Clank game since being developed for the Playstation 3; Ratchet looks rather weird. If you compare his facial features to the PS2 Ratchet, youíll notice a lack of detail in his expressions in later renditions and I personally find him less interesting as a character, which is disappointing as he is the driving force behind this series. This is only a minor complaint however and doesnít affect the overall appearance of the game.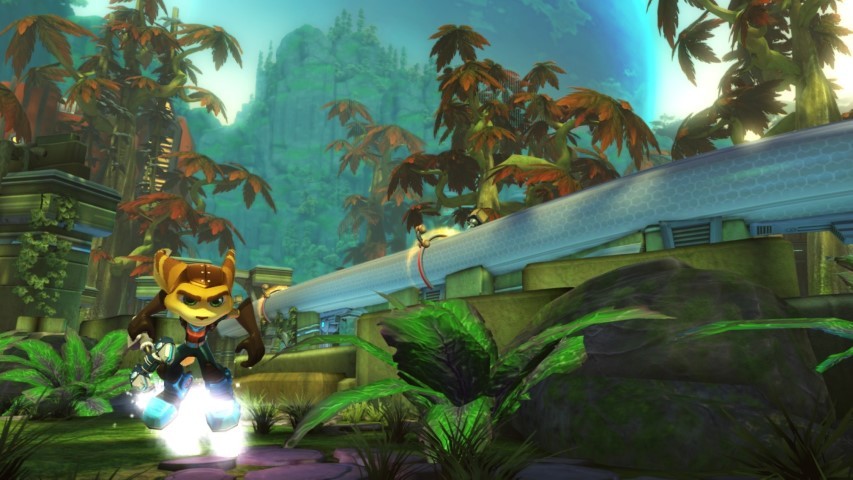 Audio
The voice acting in QForce lives up to the high standard set by its predecessors, with all original voice actors providing great performances, making the cut scene banter between Ratchet, Clank and Qwark all the more enjoyable. The rest of the audio is made up of familiar gun blasts and explosions which never fail to make a conflict with enemies exciting, especially when youíre low on health and ammo. Thereís also the classic bolt gathering noise that makes exploring in Ratchet & Clank that little bit more satisfying, although you wonít hear it as much in QForce.
Final Thoughts
Ratchet & Clank QForce scores points for trying something different with the series, but the so-so implementation of ideas and elements leaves it falling slightly flat. The game looks and sounds great, but without the solid gameplay reinforced by some of its predecessors, this rather short game may be the last time we see Ratchet & Clank for a while, but it might be for the best.