NBA 2K 13

It's interesting that my character began with two left feet and was all thumbs, because I'm pretty sure I didn't select those options during the player creation process. Maybe there's a slider for that somewhere. Oh well.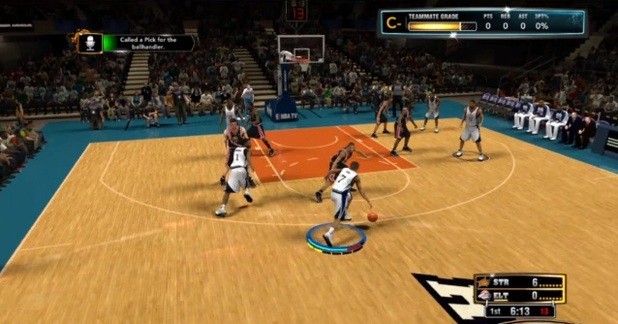 At the beginning of NBA 2K 13's career mode, you're not going to set the world on fire. As a rookie you'll get a miniscule amount of game time, and your team mates will simply not pass you the ball. Oh, and people on Twitter will abuse you, thanks to the new 'social media' mode. But as you earn precious skill points and raise your team chemistry, things will improve. You'll find yourself entrusted with the ball. You'll start on the court rather than warming the bench. Your number of fans might increase, to the point where you can challenge Lord Justin Bieber himself at the top of the social media pile. After much perseverance and dedication, magical things start to happen… such as the Cleveland Cavaliers not sucking anymore.
If authenticity was a fluid with measurable viscosity, then NBA 2K 13 would drip with it. It looks, feels and sounds like an actual game of basketball. The player models themselves are far from visually perfect, and animations have the odd stutter, but the way they move and collide is spot-on. During a game, mascots jump around like idiots or fire T-shirts into the crowd with launchers. Cheerleaders prance around, and cleaners buff the playing surface.
Just like a real broadcast, you're treated to half-time reports, advertisements, even helicopter fly-overs of the city you're playing in. The audio side of things is equally impressive. There are all the things you would expect, such as crowds chanting 'D-Fense!' and the iconic organ music that plays while the shot clock is counting down. There is also a ton of commentary, so much so that you'll play for hours without hearing it repeat.
Your first look at the game's main screen is as disheartening as it is misleading. On that one screen you'll be presented with a mere three options: Character creation, a quick match option, and career. Pressing the circle button brings up a rather clunky and unintuitive menu, but by trawling through this, you'll uncover an absolute goldmine of content. There are multiplayer options, association mode, (which puts you in the role of general manager,) options to play 2 on 2 on a blacktop court, and much more. And the great thing is that just about every mode of play is customisable.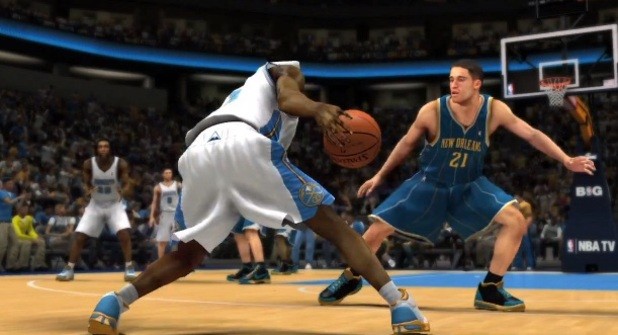 In career mode, you can play every single game of the year, or just fast-forward to the key encounters. In association mode, you can gets hands-on with the draft and player trading, or just focus on simulating matches. For the die-hards, there are endless reams of statistics to pore over, or maybe you'd rather design your own pair of shoes. If the game is too hard in any one area, FIFA-like sliders let you increase the margin of error for important tasks such as shooting, blocking or stealing. Don't like the idea of building a player from scratch? That's fine, you can jump into the well-animated shorts of Kobe Bryant or Andrew Bogut instead, and play career mode with an existing pro.
There's a fairly steep learning curve here if you haven't played a recent NBA 2K title. Most of the key actions involve precise timing, and blazing away without thinking will only get you punished on the rebound. You'll get the most out of it if you take the time to learn the advanced controls. Once mastered, using the right stick to shoot and dribble feels far more intuitive than pressing a button.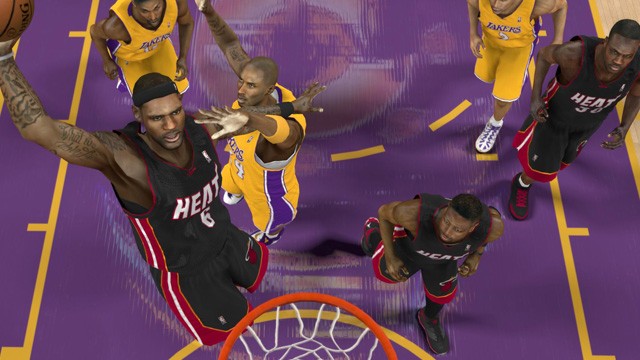 The customisable options, the glut of game modes, and the realistic sights and sounds, all make this a title to get excited about. Without a doubt, one of the best sports games of the year.
Closing comments:
I'm coming for you, virtual Bieber. The top spot is mine!