Move Fitness
When Nintendo revolutionised the realm of virtual fitness in 2008 with Wii Fit, it would take their competitors a few years to successfully catch up. Microsoft caught up first with their unique controllerless gaming system called Kinect and when the PlayStation Move was released, quite a few third-party companies jumped onto the bandwagon. Now Sony have released their first fitness title with Move Fitness that transforms your PlayStation 3 into a virtual trainer.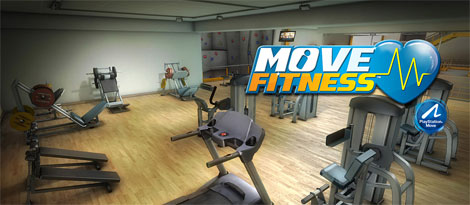 Aside from sitting on your couch with your DualShock controller with your calories enjoying the fun, this time Move Fitness is assisting the player in removing those calories. One point of Move Fitness is that you do need two Move controllers to use this product as both Move controllers mimic your arms and the PlayStation uses that to track your body movements. The PlayStation Eye is last facet of this control system that tracks the player in the real world.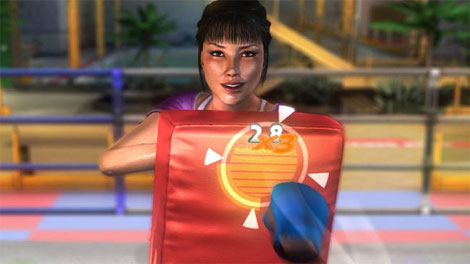 However just like most virtual fitness games for consoles, this title should be used in conjunction with a healthy diet and "real world" exercise. Once you have set up your profile and decided what kind of training routine you wish to engage in such as a "Beach Body" or "Stress Buster", the title then helps target certain parts of your body for this to happen.
Whether you want a strenuous training program or something light to compliment your regular training, Move Fitness supports a variety of fitness options. Move Fitness to some extent will also help motivate you through real-time feedback which definitely assists in the training process. With a total of around 28 activities to engage in, it's easy for players to find their favourite quite early on in the game.
My favourite virtual sport is sparring and basketball. With the two Move controllers in hand, sparring against your virtual trainer is quite fun as you punch and dodge, knocking down your calories. Basketball mimics holding a real ball quite well as you jump and attempt to shoot by releasing the triggers to score. There are more normal training routines like star jumps and the like but the sporty type events are the best.
Another highlight to the title is the ability of multiplayer. The game allows up to three players to join in and take turns at exercising. It definitely increases the longevity of the title and the "fun". You can even track your friends online and send out challenges such as star jumps (jumping jacks) or squats to see who can burn the most calories. To help with the customisation option of your workout, the game even allows you to create your own personal tracklists.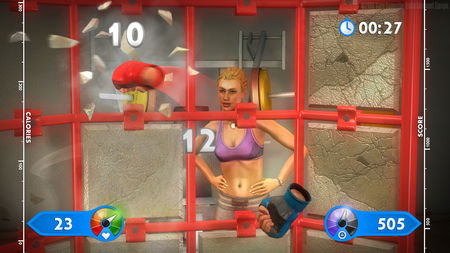 The main problem with Move Fitness for me is that even though you do lose the calories and the virtual trainer works okay, you are still stuck in your house. I know that when I train, I prefer to get out of the house so I can focus on training as opposed to the myriad of distractions that are calling out to me in my home like a Siren's seductive love song. Motivation is the key factor to Move Fitness and without it, this game will definitely start collecting dust. Your virtual instructor is also a little static in the game and if there was more interaction with it and you, the game would have assisted considerably with your motivation.
However... for those people who have limited time in their life or do not like the crowded and sweaty gymnasiums, than Move Fitness (provided you have the motivation) could find a healthy place in your fitness regime. Other motivators for the player are graphical statistics and online leaderboards of how well you are training plus high scores. Compared to EA Sports Active 2, Move Fitness feels like a light version of this title due to the lesser amount of activities but the price point is certainly cheaper.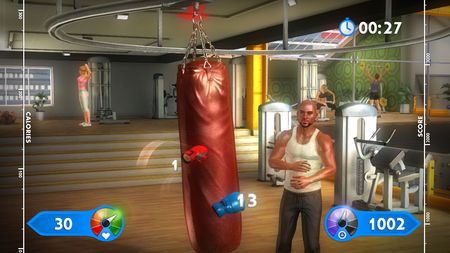 Final Thoughts?
Even so, Move Fitness will make you sweat and lose those dangerous calories. There's definitely enough content in this game to keep you busy and hopefully if Sony decide to release a sequel, they will make the title a little more immersive with additional activities to compete in. It does showcase the potential of this control system for the PlayStation Move and for those people who are too busy to get to the gym regularly, this might be the perfect addition to keep them active until the weekend.