LEGO Star Wars 3: The Clone Wars
I love LEGO! When I was a kid, I built some amazing things with LEGO from Voltron type robots to bi-planes for my Star Wars figures and even bases for my Imperial soldiers... being a kid rocked! However back then, LEGO was just LEGO and you really had to use your imagination. There was no Batman or Star Wars licensed LEGO sets but it was rather more themed based such as Astronauts, Pirates and the like.
However somewhere, somehow, a person came up with the idea of creating movie themed LEGO and boy does it look cool. Of course, I'm a little old to play with actual LEGO these days and Activision have done the next best thing, release a plethora of games based on the Star Wars universe that allows you to relive key moments from the movies. As opposed to Anakin Skywalker, you play a LEGO Anakin Skywalker and this time, gamers revisit the storyline of The Clone Wars from the Star Wars universe.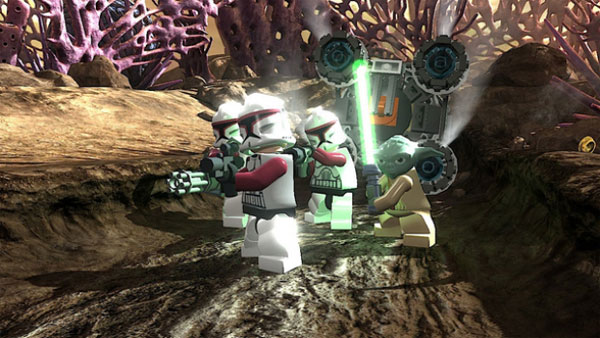 However the best aspect of the video games is that these titles can be played by anyone, whether you're a kid or an adult with their own kids. It's all about fun here and a healthy mirroring of the Star Wars universe which has been faithfully created in the game... just out of LEGO. Although reminiscent of other LEGO games on the PlayStation 3, the gameplay is a combination of arcade adventure meets combat-light. All the playable characters that you control have their own unique abilities, whether Jedi powers or clone troopers, variety is the spice of life here.
Your goal is simple, control a variety of different LEGO characters and more importantly vehicles in order to relive certain plots from the stories and whether you're playing single-player or with another player, there is a strange addictiveness to the simplicity behind this title. It should be noted that this game takes place between Star Wars Attack of the Clones and Star Wars Revenge of the Sith which means many of the plot lines come from the excellent CGI Star Wars: The Clone Wars TV series.
As opposed to just story and free play, this title contains some really interesting additions with a gaming environment that is huge. As mentioned, the Story modes are taken directly from the TV series as you encounter familiar villains like General Grievous and Asajj Ventress. The story mode mixes the Ground Assault and space combat into the story as you replay key events from the TV series. Free play mode is just that, throw the player into the game and let them do as they please... to an extent. Scene Swap is another new feature that requires you to control different characters in different parts of the game in order to assist each other. It really challenges your thinking of what may be just another Star Wars game but is far from it.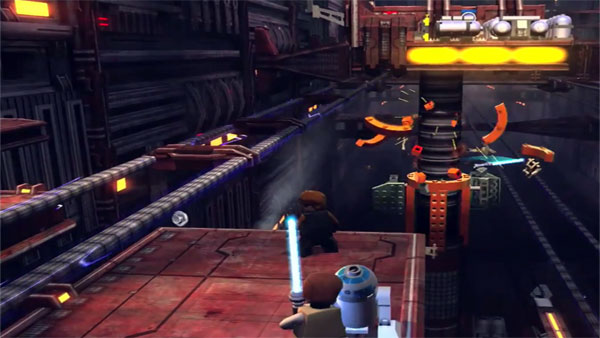 Apart from fighting your way through a variety of LEGO built Separatists robots, there are plenty of puzzles along the way and although most are generally easy to solve, there are a few tricky ones in the game. The game will prompt you to build certain objects in the game such as robots or machinery to help you progress. Another fun feature is the amount of unlockable content in the game and hidden objects that definitely opens up the game for another play. Although playing the game is fun by yourself, it's a blast with someone else and also adds a healthy dose of competition into the game.

However where the game does come into its own is through the ground and space battles that are a treat to partake in. As opposed to other LEGO Star Wars game, the scope of this universe is huge as it really puts both armies into perspective, the Separatists and the Republic. Imagine your living room floor littered with Star Wars type ships, Separatists on one side, the Republic on the other and then watching this battle unfold. When you do engage in the ground battles or space combat, it's almost like a mini real-time strategy as you get involved in these massive battles with... wait for it... up to 300 LEGO's on screen at once.
As you move planet to planet, sector to sector, you need to complete certain objects such as destroying an enemy command centre which can be quite challenging at times. The Space battles are completely different than the ground assault mode as you can virtually fly around space (think Star Wars) and take out enemy cruisers and the like. This is why LEGO Star Wars 3: The Clone Wars is completely different than its predecessors because there is so much you can do. Nothing is more fun than blowing up enemy ships in space and seeing all those LEGO blocks fly around. The only thing that is missing from this very entertaining game is online multiplayer because I'm sure there would be many Star Wars and LEGO fans out there who love to play this game online, especially the Ground Assault mode. Hopefully Activision will consider this for the future.

Graphically, it's quite hard to make a LEGO game look good but somehow the developers have succeeded here and this game is far superior than any of its forerunners. Even though the characters look like LEGO, they mimic their TV/move-counterparts well and there some great textures and special effects used in this game to make it come alive. Then you have the great LEGO sounds, especially voices and majestic music. All in all, Lego Star Wars 3: The Clone Wars is a very good looking game, albeit simplistic and sounds phenomenal through surround sound setup.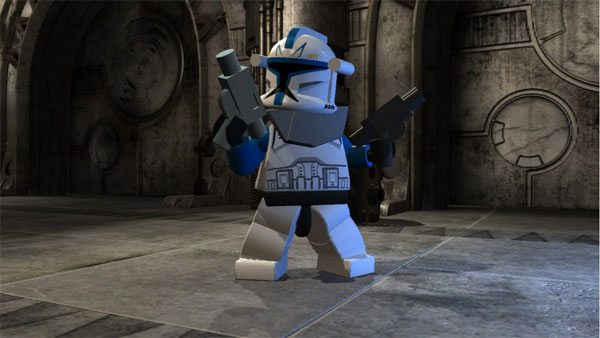 In conclusion, Lego Star Wars 3: The Clone Wars was one of the best games I played all year and probably comes in a close third from Dragon Age II and Call of Duty: Black Ops. I needed something less serious and more "fun" and this game was it. As it doesn't take itself too seriously, the developers have made some truly funny moments in the game that had me smiling throughout the game. So what are you waiting for, you might be too old to play with LEGO in real-life but who said anything about video games! Brilliantly addictive!