Injustice Gods Among Us
Available on PS3 (Reviewed), Wii U & XBox 360
If you're a huge DC Comics fanboy or girl than developers NetherRealm Studios (Mortal Kombat) have created the perfect game for you with Injustice Gods Among Us. This is not the first time that NetherRealm Studios have used the characters from DC Comics before because only just a few years ago, they released Mortal Kombat vs DC Universe which was an exceptional fighting game based on the gameplay of Mortal Kombat. Even though it does feel like a Mortal Kombat game, the pure usage of DC Comics characters makes the game a much more fulfilling experience, especially if you're a fan of DC.


Injustice Gods Among Us strengthens this premise as the developers have tweaked the gameplay to make it more than just a button masher or it can be played like one if you have no skill. Another interesting element of Injustice Gods Among Us is that the developers use the current characters and costumes of DC Comics the New 52. The New 52 was a company wide reboot of their comic book universe which saw the heroes just commencing their careers, as opposed to almost 75 years of history. Another interesting aspect of the reboot was that the main characters had their uniforms redesigned by artist Jim Lee which gave them a more realistic look. They look great in the game and the title also boasts some super cameos from Dr. Fate, Black Canary, Mr. Terrific and Atom Smasher to name a few!
At its core, Injustice Gods Among Us is a fighting game that requires the players to pummel the absolute living daylights out of each other in order to stand the victor. However unlike most fighting games that boast a rather generic or clichéd story, Injustice proves otherwise. The story was written in collaboration with DC Comics with comic scribes Justin Gray and Jimmy Palmiotti lending their talents to this Elseworld's story. In this alternate reality and through a carefully scripted chain of events lead by the Joker, Superman has become a powerful dictator of Earth. As those heroes and villains not aligned with Superman attempt to thwart his power, the heroes discover an alternate universe whom they call upon to assist with their rise of insurgence. Without spoiling the story, it is easily one of the best written fighting games that is supported by an exclusive digital comic through DC. One slight spoiler... the scene were Shazam (aka Captain Marvel) questions a corrupt Superman is quite disturbing to see unfold.

Mastering Injustice Gods Among Us will provide a challenge to newcomers as each character has a set of unique attacks, defences, combinations and spectacular finishing manoeuvres. From heavy attacks, jumps, sweeps and blocking, if you do get stuck with your characters move list, you can pause the game which brings up a list of moves. Batman uses his grappling hook to pull his victims close and Green Lantern uses constructs such as machine guns and missiles. Very cool! The game does contain a rather component tutorial, however Injustice is one of those games that provides a baptism of fire in terms of succeeding.
If combat does become too difficult, especially if you have a string of defeats, the game will lower the difficulty setting in order for you to continue experiencing the fantastic story. One slight issue with the gameplay is the inclusion of quick-time events which does momentarily break the action but are still fun to play like Superman shooting cars away with his heat vision as Black Adams throws them at him. Needless to say, the cinematics of this game are quite epic and really highlight the power levels of the heroes and villains that you face. Apart from the single-player story, you have Battles, Star Labs, Single Fight and Training.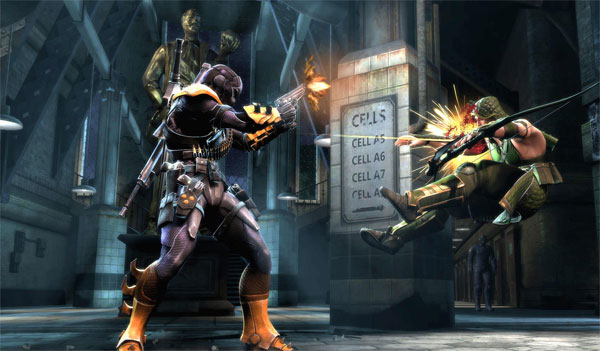 Thankfully for combat, the developers ensure that fights are kept quite fair as Superman fighting against Harley Quinn would definitely be a very unfair advantage to the Mr. J's girlfriend. In this alternate DC Comics universe, there is a pill that will make ordinary mortals almost on par with Superman. Power-ups are limited and gamers have the option of a clashes to break a combo attack. Calling upon your characters super powers really spices things up and the environment is quite interactive with lots of things to throw or throw your opponents at. One exploit in the game is using environmental attacks as they cannot be blocked and dish out massive amounts of damage. The game also uses a wager system which requires the player to bet on a particular button of your controller in order to get the upper hand and inflict some damage on your opponent.

In terms of characters, Injustice Gods Among Us boasts 24 official DC Comics characters that include well known heroes such as Superman, Wonder Woman and Batman to lesser known heroes such as Hawkgirl, Raven and Shazam. Villains are as equally fun such as the god of war Ares, the breaker of Batman's back Bane and my favourite and JSA thorn, Solomon Grundy. As the characters are quite diverse, I am really hoping that NetherRealm Studios will release additional DLC characters such as Doctor Fate, John Constantine or Zatanna. Even if your favourite character is not there, the cast is still quite impressive. Check out the full roster below;

- Aquaman
- Ares
- Bane
- Batman
- Black Adam
- Catwoman
- Cyborg
- Deathstroke
- Doomsday
- The Flash
- Green Arrow
- Green Lantern
- Harley Quinn
- Hawkgirl
- The Joker
- Killer Frost
- Lex Luthor
- Nightwing
- Raven
- Shazam
- Sinestro
- Solomon Grundy
- Superman
- Wonder Woman

With such a competent single-player game, Injustice Gods Among Us has another trick up its sleeve with online multiplayer. From here, players can engage in other heroes and villains from around the world as each gamer fights for supremacy. If you thought that the single-player difficulty levels were a challenge, fighting against real-world opponents really ups the ante. We had no issues in finding players to fight and you can even watch matches. Fortunately we had a flawless online experience with only the occasional touch of lag here and there. With variant costumes to unlock and a STAR labs facility which acts like the challenge tower, there's so much fun to be found through the hidden nooks and crannies of this game.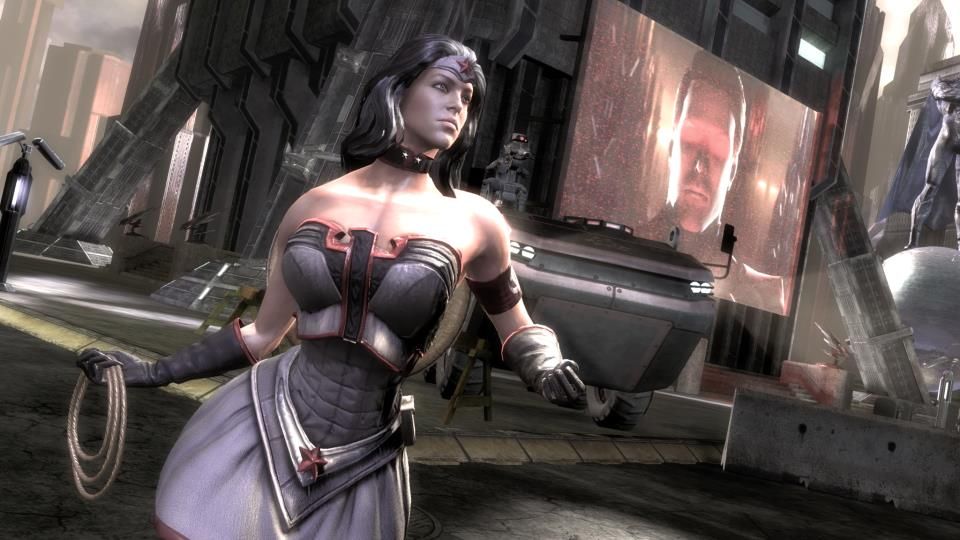 Graphics/Audio

Graphically, Injustice Gods Among Us is oozing with DC Comics goodness and when you first boot-up the game, you immediately know that you are in for a treat. All the characters look like their comic book counterparts which really helps in the immersion factor. Some characters look a little over developed such as Superman and the Flash with Wonder Woman's breast size looking more like Power Girl opposed to our favourite Amazon Warrior.
Given that, all the characters move with a human-like grace but as with most fighters, the animation does feel a little clunky at times. Backgrounds are a little lacklustre at times but fortunately the special effects, especially of some of the super powers used looks fantastic. Seeing Doomsday smash Superman for six through Metropolis is worth the purchase of this game alone. The musical score suits the story and genre and to compliment the graphics, sound effects are bigger and badder than Ben Hurr and there's some great one-liners from all the heroes and villains. For fans of DC Comics animated movies, Kevin Conroy returns as the Dark Knight with George Newbern as Superman.

Final Thoughts?

Injustice Gods Among Us is a superb game if you love the DC Universe as NetherRealm not only pay homage to the world of DC Comics but creates a very sturdy fighting game based on the Mortal Kombat engine. Sure it does feel like Mortal Kombat at times but the story, characters and gameplay still makes this title quite unique. Even if you don't know much about DC Comics or prefer Marvel Comics, I would still recommend that you check out Injustice Gods Among Us because it's a very enjoyable game, especially the single-player story.
The game also contains some fun extras like the trailer from the animated movie Superman Unbound which stars Superman, Supergirl and their nemesis Brainiac. Add in hero cards which are rewarded to players when they complete the single-player mode or perform certain objectives such as super moves plus archives to delve further into the characters themselves and there's so much to find in this fighting game. Overall Injustice Gods Among Us is a fun and competent fighter from start to finish! Bring on the DLC's!