Fifa 13
Available on: PS3, PS2, X360, PC, 3DS, PSP, PSVita, Wii, WiiU & iOS (Reviewed on PS3)

Itís another year so we have another FIFA to get our hands on. With last yearís FIFA 12 being arguably the best FIFA of all time, making a game equally as good or better must be extremely difficult for EA to continue to do year after year. Miraculously, theyíve done it again. FIFA 13 improves nearly every aspect that was present in last yearís rendition of the famous soccer franchise; the gameplay, graphics and soundtrack are all absolutely fantastic. This is not just the best soccer game of all time, itís one of the best games period.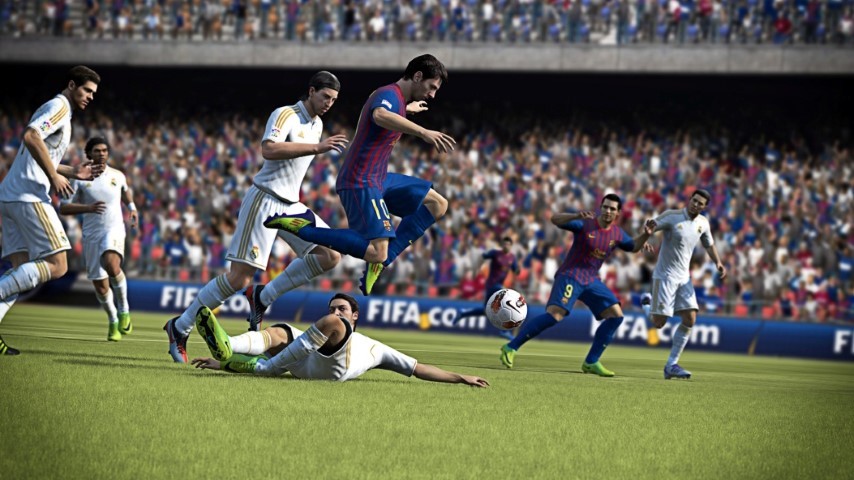 Gameplay
Last yearís FIFA featured the first use of the Player Impact Engine. While innovative, it featured bizarre issues such as the infamous humping glitch. While hilarious, youíll have a hard time finding any sort of major glitch in FIFA 13. The Impact Engine is improved greatly, with player collisions and interactions giving you better control over your player in tight situations. Other additions such as the new First Touch Control adds a never before seen realism to the game. This new system prevents players with perfect abilities to be able to perform as such every single game. Theyíll make more mistakes in dribbling and passing, allowing the game to become more open with frequent loose balls. It may frustrate some gamers who have spent so much time levelling up their player to a near God-like status to see them easily miss a crucial goal, but if you compare real life situations to what EA has managed to create with this system, itís uncanny; it makes the casual gamer actually have a chance at beating a hardcore gamer due to this better balance in the gameplay. Further improvements to the tactics, dribbling and defence plays make FIFA 13 one of the most true to life video game experiences Iíve ever seen. Newly implemented features such as Match Day constantly switch up the gameplay, with players stats being updated to match those in real life. Itís extremely impressive what theyíve accomplished in a year.
Graphics
The look of FIFA 13 is obviously the aspect of the game that is least important; however EA has still made this a beautiful game to look at. Players move smoother, fields look lush and bright and the stadium filled crowds bring life and emotion to the game better than ever before. The main issue with the presentation of FIFA thatís still present from previous games is that up close players move stiffly and move their mouths as if theyíre being controlled like a puppet. The frame rate when watching a replay is lower than when playing, and it does unfortunately expose some of the jumpy player animations, but these are only minor complaints and wonít ruin your FIFA 13 experience in any way. Itís still a rather beautiful game to look at.
Audio
One of my favourite things about the FIFA series is the amount of care they put into the commentary, and FIFA 13 is no exception. Martin Tyler and Alan Smith return in fine form, with Clive Tyldesley, Andy Townsend and Geoff Shreeves providing touchline injury reports and scores from other games. The diverse commentary provides gamers with a greater in-depth experience of the game, and makes them feel like theyíre watching an actual game on the television. The previously mentioned Match Day feature adds to the commentary, with friendly matches between teams being provided with actual team statistics in real life. Itís really cool, however the variety of information commentators provide is lacking, but itís really the best they can possibly do. The soundtrack of FIFA 13 is easily the best one Iíve heard in years, beating my previous favourite in FIFA 06. EA has selected a great variety of tracks, ranging from indie-pop to club hits that all work well in making navigating the menus that little bit more exciting. Crowds are loud and exciting, although it is odd to hear large crowds in games involving less popular teams (Wellington FC vs. Western Sydney FC, for example). Still, the audio on display in FIFA 13 is the most immersive the series has ever seen. Iíd go so far as to say itís nearly flawless.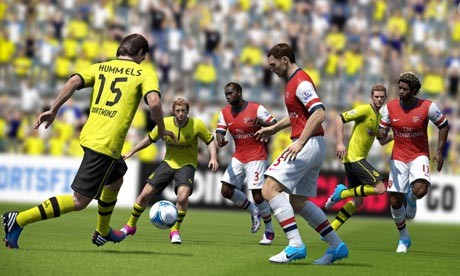 Final Level
If youíre one of those people who think that holding out for a few years until FIFA gets better and better is a good idea, stop right now. Get out of your homes and buy FIFA 13. Itís an amazing experience that must be played at least once by every soccer fan. Everything you love from recent versions is bigger and better, from the look and the feel to the sound and the content; itís easily one of the most satisfying gaming experiences Iíve ever had, and Iím sure itíll be for you to.