EyePet Move Edition
Just released over a year ago, the EyePet targeted the casual game and more specifically children which allowed them in interact with this strange furry creature, thanks to the PlayStation camera in this virtual pet game. Some kind of intelligent and friendly mythical monkey, this game turned the PS3 into a fully fledged animal pet simulator. Although the controls were relatively impressive, it still left a little to be desired and with the PlayStation Move controllers finally out, this game now becomes a fully interactive experience thanks to this new technology from Sony.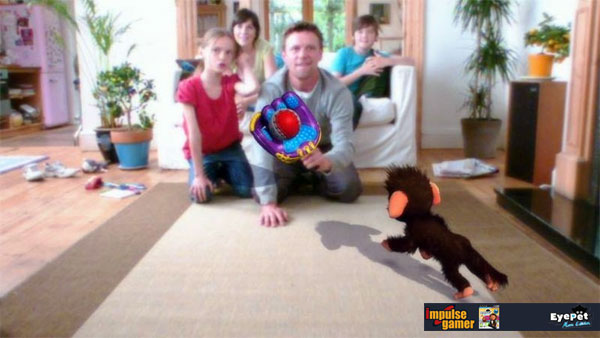 As the game displays the creature and yourself on your TV, you can now interact with the EyePet via the Move controllers which are exceptionally quite accurate. Not only is the interaction better but the developers have enhanced the existing "gameplay" and incorporated some fun new features such as the fish tank. But not all games require the use of the move controller and some require your voice, your body and your hands.
But as the game now tracks the Move controller, playing with the EyePet is considerably easier as is drawing in the world of the EyePet and creating a new interactive world from planting plants and even helping your pet jump on a trampoline. What is the flaw? It's the gameplay and if you're over 12, you might find this title a little dull but as an older gamer, I can appreciate the technology and what the developers are trying achieve, especially for this market.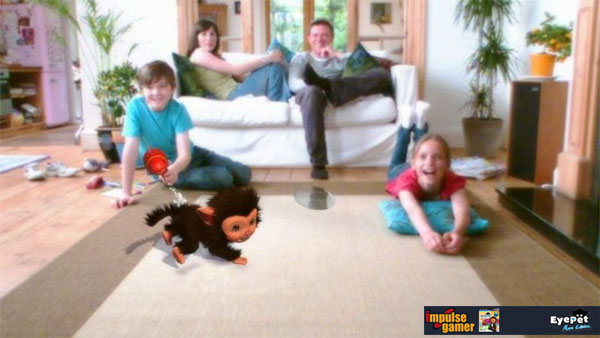 Key Gaming Features Include
EyePet reacts to every movement and command - tickle EyePet, and he laughs, pet EyePet and he purrs, rolls a ball and EyePet will chase it

Customize EyePet to show your flair - Change the length of hair, color of fur, and choose from over 250 unique outfits

Draw toys for your EyePet - and watch them turn into three-dimensional toys
Take movies of your favourite moments with EyePet and then share them online with friends

Take care of your EyePet - feed, wash and give your EyePet a health scan to ensure he is in excellent condition and as a big "Thank You" for taking care of your pet, you will be rewarded with special prizes
Another issue is trying to rearrange your lounge room in order to fully interacte with this furry Gremlin. In terms of setting up, allow a good 20 or so minutes to get out any chinks. But once it is setup, this will definitely keep children entertained as they play with, name and groom their virtual pet. The fish tank and pond game were so fun though as attempt to do a variety to help your EyePet.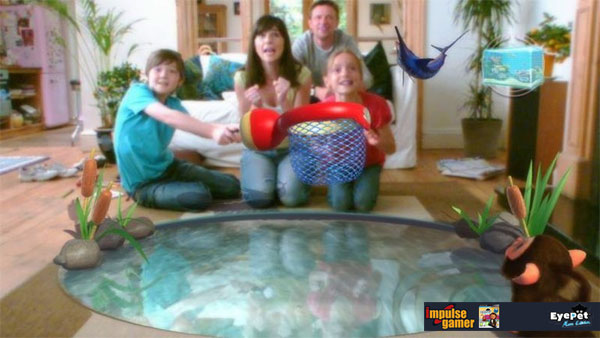 Accessing the menus is also improved as you select toys, games and grooming utensils. Apart from gaming, there are various challenges that must be completed on a daily basis in order to keep your EyePet happy and for those sadists, you cannot kill your EyePet. But you can throw your EyePet at bowling pins though! In terms of challenges, there are a total of 60 challenges that run over a 15-day period.
Add in some unlockable content and this will keep younger gamers occupied over the holiday season and really gives them the illusion of a virtual pet in their living room. You can even create an online profile for your EyePet to display your proud new pet to the world and lastly, the microphone also plays a big roll in keeping your EyePet happy and safe.
Graphically, the game is reminiscent of the previous game, however this instalment supports 3D and unfortunately I could not test this feature. The sound effects are great, especially this cute little critter as is the soundtrack which is quite mellow and subtle.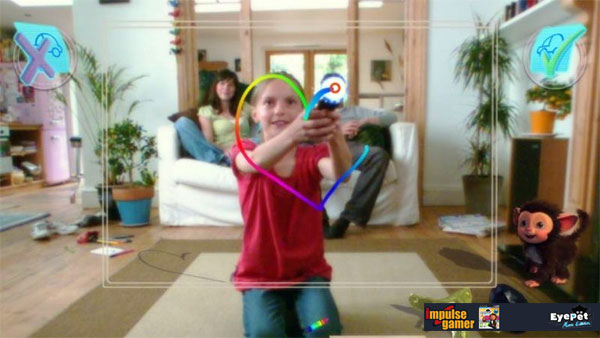 Final Thoughts?
We may have seen it all before but the EyePet Move edition transcends the original premise and creates a rather well made virtual pet game that is so abundant on the Wii and the DS. Great graphics, good use of the PlayStation architecture, this might become a must have game for the younger gamer..