One of the longest dance series makes its way onto the PlayStation 3 with Konami's entertaining party game, DanceDance Revolution New Moves. Reminiscent of those classic arcade dance machines where you had to match your feet with the colours on the floor, DanceDance Revolution (DDR) follows a similar trend as the game comes with its very own dance mat. Not to be confused with the "board" game Twister (e.g. the mat), this game requires the players to dance to their hearts content as they step on the appropriate shaped colours displayed on the screen with those on the dance mat.
Coordination and timing play a key role to this title and without it, you'll be the next YouTube sensation... think about it. Never having played a dance game before, DanceDance Revolution New Moves has elements of Guitar Hero and SingStar combined into the title but opposed from "playing" an instrument or "singing", the game rewards you on how well you dance as you build up your groove gauge in order to unleash a rather special dance move. It's actually very cool!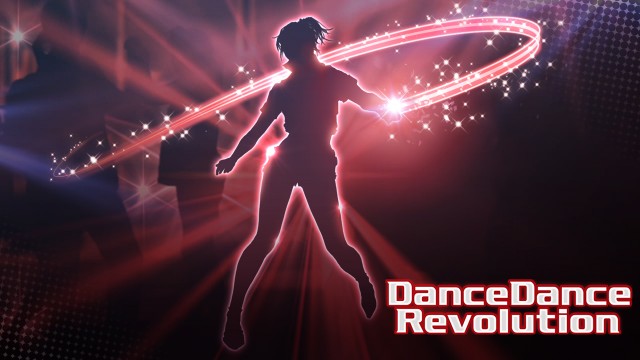 Features :
Comes with 25 all-new original songs by KONAMI's original artists in addition to 20 licensed tracks from some of today's hottest artists.
The music never has to stop, because now players can download new songs and add them through the PlayStation Network.
Offers two all-new gameplay modes -- Dance Off Mode & Club Mode. The Dance Off Mode is similar to a dance battle between players where they take turns to play. The player who was able to step and dance more accurately will gain more points and will be the winner. The Club Mode is geared more toward hardcore DDR fans where the player can play songs consecutively. The difficulty level varies depending on how well the player is dancing and several different gimmicks appear as well. Players can dance from four to 20 songs consecutively in this mode. If the player changes the options to non-stop, they can keep dancing until their gauge is empty!
Special high-difficulty level -- the Challenge Level -- for the experienced player where there are not only just up, down, right and left arrows but with four diagonal arrows as well making it the ultimate challenge!
Brings owners of this console the same fitness benefits that PlayStatio ģ2 owners and other consoles have all enjoyed. The original get-up-and-move video game, DanceDanceRevolution has become known worldwide for its effectiveness as a fitness and weight loss tool. Like its predecessors, the PS3 version comes with a user-friendly Workout Mode that allows players to easily manage their personal information and watch their calories melt away on a calorie display located at the results screen.
With high definition graphics on the PlayStation 3, DDR is a very slick looking game that would not look out of place in a nightclub due to its colourful presentation from the menus to in-game graphics. The game even supports the PlayStation Move controller that can be used in conjunction with the mat if you want to take your skills to the next level, however this is not mandatory.
Like previous Konami dance games that is also similar to the SingStar franchise, players are awarded a score on how well they dance. Unlike the aforementioned franchise, DDR actually rewards you on how well you dance as opposed to humming the right notes and if your actions coincides with those displayed on the screen, you will be awarded points which means the better you dance, the higher the score will be.

The mat has been well designed which has four arrows on it that mimic the DualShock controller pattern. It may not be the sturdiest looking thing around but it does the job rather well. We did use the mat throughout the weekend and surprisingly it stood up quite well to our dancing.
If you're still a little apprehensive about making the purchase of DDR, especially if you're a little wary of your dancing skills, the title contains four different difficulty levels that range from beginner to expert. And just like Guitar Hero, by choosing the lower difficulties, it will help teach you the basics of the game and assist with your coordination. As you progress and find your dance mojo, the beats will become faster and there will be more arrows that the player will be required to stand on. The tutorial of DDR explains the concepts behind the game well and for those who think they will be the next backup singers to Pink or Lady GaGa, there are several options to tweak the game to make it more difficult.
New players might find this difficult at first, but it is very easy to work your way up the difficulty levels, especially after you have finished the tutorial. As for the more experienced players, there's an unlockable Challenge difficulty mode, but if that's still too easy, the game features different options you can apply to increase the difficulty such as having the arrows disappear as they scroll up the screen, scrolling the opposite way or at a much faster speed than usual. This will prove a challenge for even the most experienced players, but all in all this is one of the easier DDR games due to the lack of challenging beats in the songs.

There are also several control configurations for the player that include the dance mat, DualShock controller and the PlayStation Move controls which can all be muddled up. To play the title properly, the dance mat is essential and a Move controller will enhance the experience by giving you access to more dance routines by using your upper body to get your move on.
It does take practice and needless to say, our Friday night gaming session was a pure blast. In terms of multiplayer, the game supports up to four players and it is possible to use two mats at once that is great for those players who are competitive or for that old analogy, the more the merrier. Even though the game supports DualShock, it is too clunky to play when you have the Move controller available. Unfortunately there is no online mode available for DDR but hopefully if this game is successful, Konami will investigate this possibility.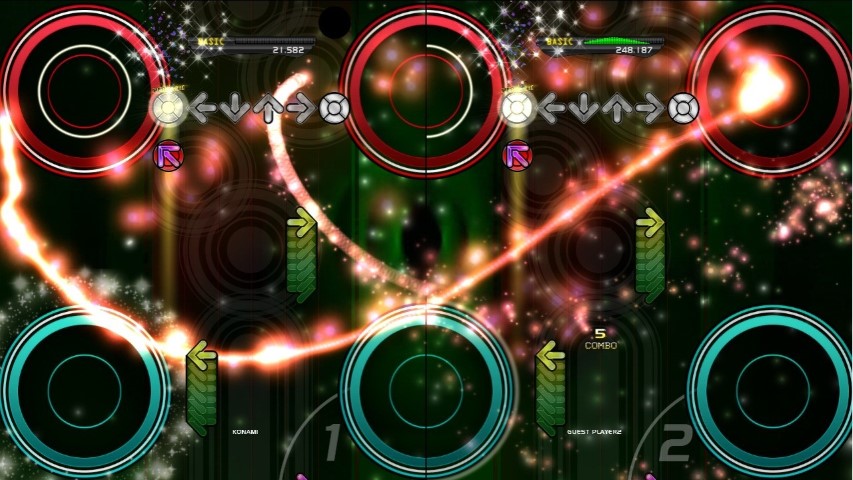 DanceDance Revolution contains a variety of modes such as Club, Dance Off, Free Play, Move & Step and Training Modes which include co-operative and competitive modes. The club mode is great for those people who want to play solo or to practice their dance moves as you dance in a variety of clubs as the songs and manoeuvres get harder and faster.
Once you have finished this mode you are once again awarded a score, including calories burned and if you're lucky, you may have unlocked some more songs. Move & Step is great for two players who just want to dance together, especially with the Move controller, whereas Dance Off requires the players to outdo each with their dance moves that is similar to the boss challenges in Guitar Hero which allows you to get power-ups and negative power-ups. Free Play allows you to play any of the songs that you have unlocked and just dance but you are scored on points and even calories burned. Apart from dancing and trying to beat your scores, sometimes the game will require the player to perform a particular trick such as some outrageous dance manoeuvre and if you succeed, your score will increase.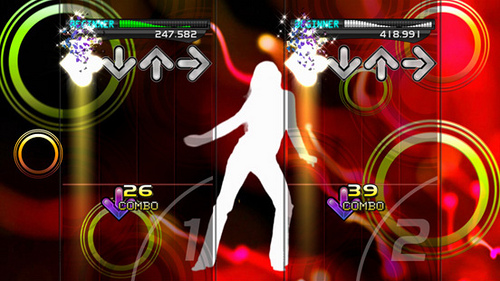 For those extravert gamers, the title even allows you to record your dance performances via the PlayStation Eye camera and these videos can then be shared with your friends via YouTube and FaceBook. It should be noted that only Konami songs can be recorded due to copyright but when it comes to mainstream artists, the title contains a wealth of artists such as Kelly Clarkson, Lady Gaga, Gorillaz and even Sister Sledge for "We are family!". Graphically, the title mimics the "club" scene and all the characters, moves and menus are well made and have this real dance/music feel to it. It may not be the most amazing game graphically but it does its job quite adequately.
ORIGINAL MUSIC BY KONAMI
| | |
| --- | --- |
| Song Title | Artist |
| Rescue Me | NAOKI feat. Fracus |
| dreaming can make a wish come true | jun & NRG Factory feat. Anna Kaelin |
| Private Eye | atomsoak ft. cerol |
| IN THE ZONE | U1 (NPD3 style) & KIDD KAZMEO |
| Top The Charts | J-Mi & Midi-D feat. Hanna Stockzell |
| Letís Get Away | NAOKI featt. Brenda Burch |
LICENSED MUSIC
| | |
| --- | --- |
| Song Title | Artist |
| According to You | Orianthi |
| Animal | Ke$ha |
| Bad Romance | Lady Gaga |
| Battlefield | Jordin Sparks |
| Celebration | Kool and the Gang |
| crushcrushcrush | Paramore |
| Dancing in the Street | Martha and the Vandellas |
| Hey, Soul Sister | Train |
| I Got You | Leona Lewis |
| Iím Yours | Jason Mraz |
| Love Like This | Natasha Bedingfield |
| Love Shack | The B-52′s |
| Missing | Everything But The Girl |
| My Life Would Suck Without You | Kelly Clarkson |
| Need You Now | Lady Antebellum |
| Plastic Beach | Gorillaz (feat. Mick Jones & Paul Simonon) |
| Rio | Duran Duran |
| So Fine | Sean Paul |
| Venus | Bananarama |
| We Are Family | Sister Sledge |
Final Thoughts?
In conclusion, DanceDance Revolution New Moves for PS3 is a long overdue game on this console and if you want to dance on your PS3, not to mention exercise as well than what better way to do it than with DDR. With a plethora of gameplay modes, multiplayer with up to four people and a wealth of fun and boppy songs, there's little to complain about DanceDance Revolution and provides the gamer another alternative than just first person shooters or karaoke games. It may not change the world of dancing games but it does provide good old fashioned dance fun, check it out!