Buzz! Brain of Oz
Buzz! Brain of Oz! arrives on the PlayStation 3 that promises "aussie" gamers a truly Australian and international quiz experience. With the Australian flag proudly being displayed in the game, the game developers have added in a plethora of Australian based quiz questions in the latest edition to this franchise. So What's new in the franchise? Nothing really, just 4000 new questions and if you're a Buzz! fan, than that should be enough or if you have never played the series before.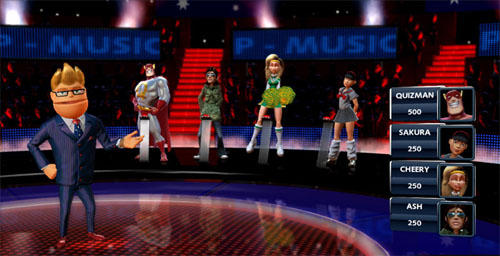 Features
Over 4000 all-new questions included alongside hundreds of licensed picture assets and videos.

8 player local multiplayer get buzzing with friends and family.

Play Sofa Vs. Sofa online and take on the nation!

Extend your quiz experience with downloadable quiz pack from PlayStation®Store.

Create your own quizzes about any topic you like with MyBuzz! you need never run out of questions again!

5 question topic channels to test your knowledge (Movies and TV, Sport, Music, Lifestyle, Knowledge).
On the PlayStation 3, Buzz is as close to most of us mere mortals will get to starring in a quiz show and on this console, it comes with four wireless buzzers (4 Players, although 8 is possible) to assist in that quiz show experience. The game can either be purchased with or without the buzzers. Hosted by the annoying and sometimes funny Buzz who is voiced by Jason Donovan, gamers must engage in a variety of challenges in order to become the the Brain of Oz!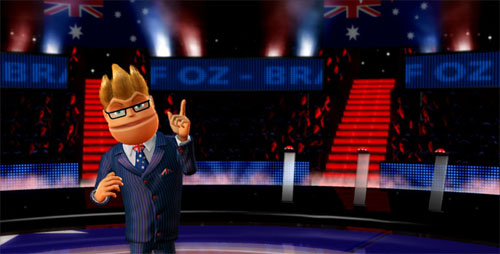 Featuring a variety of different categories that include music, sports and films to name a few, players compete against points which are generally rewarded by either answering questions correctly or by stealing points from another player. Whether casual or hardcore gamers, Buzz's appeal caters for everyone and is definitely one of the great party games. Apart from playing with friends in your lounge room or home, gamers can also challenge other gamers from around the world, more specifically from Australia for this current incarnation.

Gameplay wise, Buzz supports quiz games that include Point Builder, Pass the Bomb, Fastest Finger, Pie Fight, Point Stealer, High Stakes and Final Countdown that offers thousands of different questions. In terms of Australian content, there is quite a few "aussie" questions but there's also quite a few international questions too and considering that there a variety of different versions of this game, it's understandable.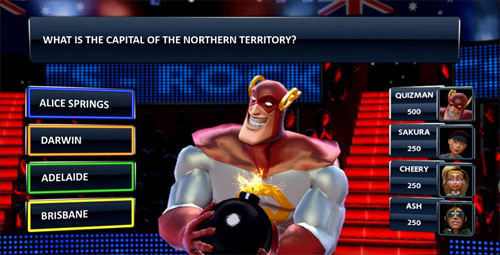 The beauty of Buzz is that anyone can pickup the controller and start playing the game immediately. The buzzer contains a large red button on the top of the controller with four coloured buttons below it that correspond to the answers displayed in the game. In its essence, it's the perfect control system.
In terms of graphics, the title is similar to the previous game, however with an added paint of the Australian Flag to give it the title some local ownership. Needless to say, it's quite cartoony and looks exceptionally colourful on a HD screen. The voice acting is as clichéd and as forced as ever and actually suits the game perfectly plus the commentator also throws in a few "aussie" gangs, slangs and colloquisms.
Buzz! Brain of Oz! doesn't try to be clever, rather it gives the user several thousands upon thousands of new quiz questions, some locally based for Australia. With no real new gameplay, Buzz! Brain of Oz! is still entertaining and is definitely more enjoying as a party game. It's fun, just don't expect anything groundbreaking.