Comics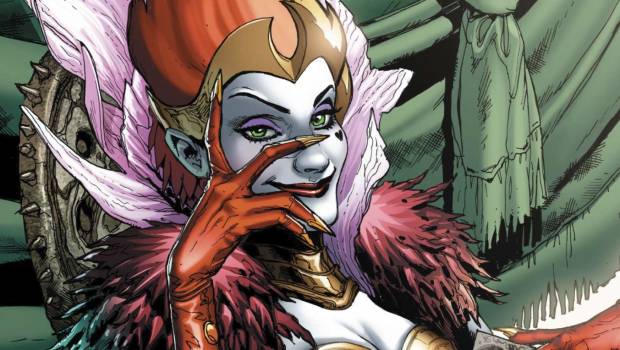 Published on January 10th, 2018 | by Andrew Bistak
0
Justice League of America #22 Review (Justice is a story where everyone dies!!!) *** SPOILERS ***
Summary: Justice League of America #22 returns the Queen of Fables!
In the last issue of the Justice League of America Caitlin Snow revealed to the team that she was cured from her icy infliction that turned her into the villain known as Killer Frost. The issue picks up the night before this revelation as Caitlin is given a glimpse of here 'future' as she destroys the planet due to hunger to have heat. However we learn that there was a price to be 'cured' and as more mortals accept the wish from this entity, it will bring her closer to returning to Earth as its Queen, more specifically the Queen of Fables.
Sure. 'Cept I guess he fragged that up…
– Lobo
Meanwhile back in the present, we discover that Lobo was Batman's wildcard should the Might Beyond the Mirror return, including the other members who couldn't be tempted… however it appears that Bats messed up with Caitlin. I also like how this issue mentions the Dark Nights event and as more people around the world are freaked out by the evil Batmen, more wishes are being granted. As a result, the Queen finally gets her own wish as she walks the realm of man, including defeating the League and imprisoning them.
But monarch's don't do well here.
– Vixen
Elsewhere the Ray is battling his own villains, the Three Devils who have been given a power upgrade thanks to the Queen. Elsewhere and although Mari (aka Vixen) manages to escape and almost free the League, she is seemingly defeated and like a classic Bond villain, the Queen of Fables gives a great monologue on how she will ascend to Immateria and control the imaginations of man to become one of the most powerful entities in the universe.
She's the only one who can help me, Ryan!
– Killer Frost
Wow… writer Steve Orlando really delivered in this issue as he successfully brought back the Queen of Fables in spectacular fashion.  As per usual, there's some great characterisation and dialogue that is complemented by artist Neil Edwards which creates another blockbuster event for the Justice League of America. Edwards really brings this issue to life and I love his rendition of the Queen of Fables. With the cards down and Batman busy, I'm wondering what ace card will be for the League in order for them to defeat the Queen… and I'm guessing it will involve Caitlin Snow.
… you will know your Queen
– Queen of Fables
Final Thoughts?
Another fun issue by Steve Orlando and crew!
Gallery