Raze's Hell
A darkly comic action-shooter set in a fantasy world overrun by fiendishly cute creatures, Raze's Hell follows the exploits of Raze, a monstrous anti-hero who takes a no-holds-barred approach to stopping an onslaught of adorable characters and restore his planet to its naturally ugly state.
Features
20 massive mission-based levels set in surreal alien landscapes

Xbox Live Aware with four gameplay modes

Play the entire campaign alone or with a friend via slip-screen cooperative action

Intense large-scale battles, intelligent AI that takes cover, sound alarms and fights back

Over 10 devastating organic weapons that mirror traditional military weapons plus rolling, stealth, and melee attacks

Over 20 fiendishly cute enemy types armed with deadly jack-in-the-boxes, lollipop axes and even bunny rocket launchers

Riotously grisly deaths and devilishly fun mini-games

Dolby Digital 5.1 sound support
As per the name of the game, players get play to Raze, a real-world anti-hero who attempts to return his world to its natural state or chaos and order. Although, that's where the toughness ends as this title follows an amusing storyline where the Princess of the Kewletts, a race of extremely cute creatures is trying to wipe out all ugliness on the world. Fortunately for Raze and his follow denizens, he has engaged in a mission of extermination but just because the Kewletts are extremely cute and cuddly, they are more deadly than Raze ever imaged.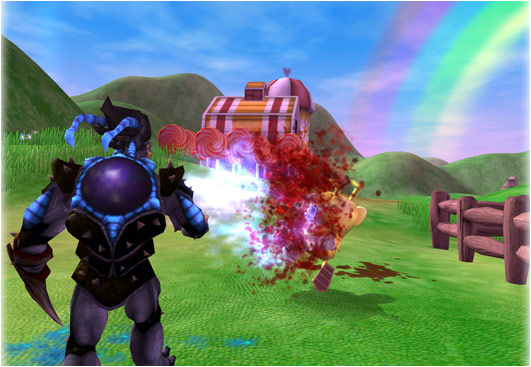 The gameplay of Raze is a traditional third person action shooter that uses the XBox controls perfect that allow you to perform a variety of maneuvers and also switch between a plethora of different weapons. Apart from battles, the game contains a variety of different puzzles to keep it challenging and for those that want to play co-op, this game supports it all. The enemy in Raze (although on purpose or not) are rather dumb but then again you are dealing with a race of cuties that suits the gameplay perfectly.
The game also contains over 20 different levels that all range in different quest objectives from escort, search, defend and even ambush, ensuring that this title keeps you entertained from start to finish. Apart from that, there are also a variety of mini-games (golf) that shows the love that developers have put into this game. With that said, I'm guessing that Raze in years to come with see a plethora of sequels.
Graphically, Raze is an extremely impressive title on the XBox that features some beautiful character designs, high resolution polygons and a variety of special effects from the darkness of Raze to the rainbow lands of the Kewletts. Probably the most impressive character in this game is Raze himself who looks quite out of place in the new world of the Kewletts but looks damn cool.
All the texture details in the game have been professionally designed with some brilliant bump mapping and match that with the awesome background environments and you have a match made in heaven. Unfortunately the game suffers from "stuttered" frame rate every now and does become a little annoying from time to time.
As with the graphics, the audio has been professionally designed and implemented into this game, from the cutesy sounds of the Kewletts to the roars of Raze and add in a little demon with a British accent and you can almost be forgiven you are in some bizarre world of Monty Python.

In conclusion, Raze is a great game by THQ that features an entertaining storyline, easily to master game and a plethora of different quests or mini-games. Although it has a rating of MA, this game is not for goods. Good stuff!