Advent Rising
Advent Rising is the first in an epic trilogy of action/adventure games, presented in a stunning cinematic format to deliver an unprecedented variety of game play experiences. Built on the Unreal Warfare engine, it offers precise, refined play-dynamics with action-packed adventure and style, wrapped in a visually imaginative universe. Advent is akin to a fast-paced action movie where the player is swept up in a continuously evolving series of sequences and events.
In Advent Rising, gamers are transformed into the role of rookie space pilot Gideon who puts everything on the line when he challenges the Seekers, a deadly race of evil aliens intent on eradicating the human race. Unfortunately for Gideon, his brother and girlfriend are also drawn into this conflict that makes things extremely difficult for our hero but thankfully Gideon has the gamer on his side.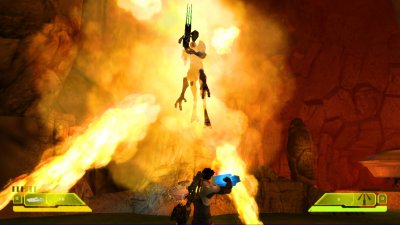 With that said, Advent Rising is an extremely polished game that is extremely similar to the Halo universe that allows gamers access to a variety of different weapons, vehicles and of course enemies. Although the game can be played in a first person perspective, some areas need a third person view that fortunately can be switched back and forth.
An unprecedented single-player gameplay that allows gamers to play through the thrilling action sequences of a blockbuster movie or game, rather than just watch them

Switch between 3rd and 1st person point-of-view

Built using next-generation Unreal technology, integrated with the Karma physics engine

Unprecedented collaboration with award-winning, sci-fi author Orson

Scott Card on sweeping storyline

Downloadable level from Xbox Live and PC online

Develop amazing superhuman powers including energy blasts, levitation and energy shields

Wield an arsenal of awesome weapons, all with unique alternate fire abilities;

Command a vast array of incredible vehicles including human and alien assault vehicles, hover tanks and flying vehicles

Versatile control scheme that allows for acrobatic movement and precise targeting of enemies while quickly switching between weapons and powers

Musical score features 70-piece Hollywood union orchestra and members of legendary choir

Dolby Digital 5.1 support
Although the game in its essence is a first person shooter that is based on the award winning Unreal engine, the game does suffer from a few issues that hampers the enjoyment of this title such as frame rate issues, especially when the action heats up.
Although the game can be played as either a first person or third person view, the game revolutionizes a new targeting system called flick-targeting that basically allows the gamer to use the right thumb stick to direct their aim at different aliens on the screen. Although a novel approach, it also effects the gameplay as this control is also used to navigating in the gaming environment, so one minute you may be fighting the Seekers and another minute, you might be viewing the lush environments in the game.
The player also has access to a myriad of weapons and vehicles (ala Halo) and as Gideon masters the weapons he uses, his abilities are also upgraded to make you one mean hero. This aspect of the game is almost a tad RPG and actually helps immerse you into the character because he's not just a stock standard first person shooter her.
Graphically, the architecture looks great in Advent Rising and all the characters, vehicles and special effects have been successfully implemented into the title that truly gives this universe its own unique feel and experience. I applaud the developers for their high resolution texture details and various special effects such as lighting, explosions and shadows but unfortunately the game does suffer from poor frame-rate issues, especially when the enemy starts to multiply or when you are engaging a boss enemy.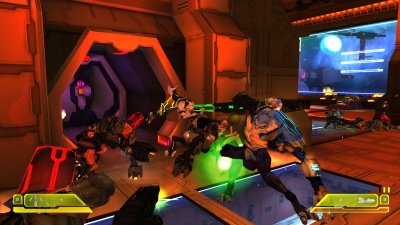 Advent Rising features a very majestic soundtrack, thanks to the in-game Dolby Digital 5.1 and match that with a variety of different futuristic sound effects and its almost as if you've wondered onto a Star Wars movie. It should also be noted the voice acting of the title has been professionally done and nothing sounds too forced or contrived. Great stuff!
In conclusion, Advent Rising is an interesting game that is unfortunately plagued by a variety gaming issues such as poor frame rates and fiddle some controls. However, the game can still be completed, provided you are not too frustrated and hopefully the storyline will keep you going. Rent before you buy!