With characters from the original two Disney movies and inspirations taken from the real-life 4D Toy Story Mania ride at the Disneyland, Wii gamers can now experience this attraction with a variety of mini-games using the cordless controllers of this console.
Developed by Disney Studios Interactive, the game even supports 3D glasses to assist in immersing the gamer into this carnival atmosphere. Add in the memorable characters from the movies that includes Woody, Buzz, Bo Peep, Rex and those classic Army Men and fans of the CGI movies may finally get their treat.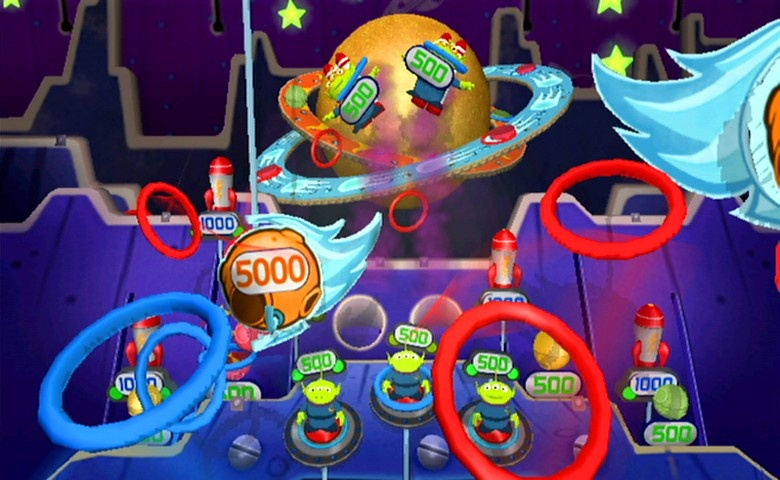 So what exactly is Toy Story Mania!? Apart from being based on the Disneyland attraction of the same name, it's basically a shooting game that replicates those classic shooting galleries of the carnivals. It's highly reminiscent of those single screen shooting games of yesteryear, whereby players must use the controllers to shoot a variety of targets with Toy Story inspired backdrops and characters making an appearance.
The various carnival games do mimic the real-world activities quite well such as the player throwing pies at targets who happen to be held by Buzz and Woody or even those classic balloon games that is usually run by the one eye carnie. Add in a shooting range and even that tacky fish game where you need to collect plastic fish, it ironically works with the wireless controller and best of all as this game does not use MotionPlus, the accuracy mimics these rigged real-world games quite well. Of course, this is where the game begins to fall over from its inconsistent control system. Never the less, there are a total of around 25 mini-games in Toy Story Mania!
Although the gameplay works on some higher level, it does become a little boring as you progress because the games are rather quite unimaginative. The developers have given the player some incentive through the use of tickets that are won by completing the games and these can be used to purchased additional mini-games. And yes, the game is aimed at children!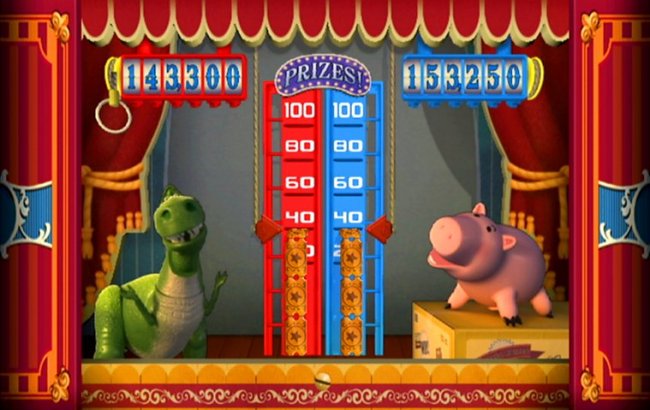 The game even contains a story mode based straight out of Andy's bedroom and by playing this, it allows you unlock the games in free play mode which does help as a party game. One issue we did notice is that we could not find a way to restart the mini-games which means you have to bomb out to restart, very frustrating indeed.

Graphically, the game looks quite good that is oozing with Toy Story references and stars from Woody to Buzz and the entire gang. The animation is rather decent and mimics the carnival atmosphere quite well. Unfortunately the graphics glitch at times which interferes with the gameplay, especially the targeting of certain games.
It should also be noted that the title does use 3D glasses for certain games and depending your eyes and TV setup, this may work for you. Interestingly enough, it worked for me but not my partner. Very surreal indeed!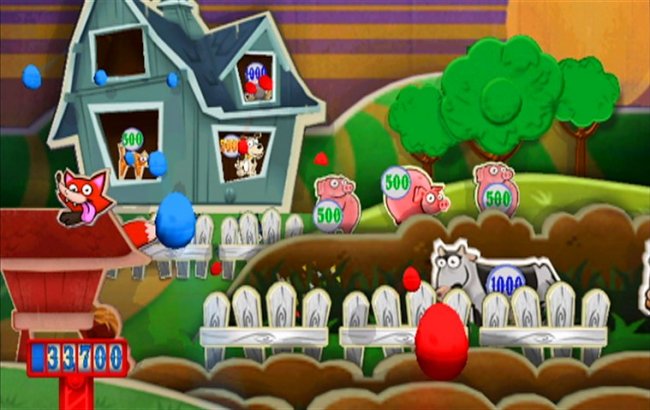 Fortunately when it comes to sound bites, they do mimic their movie counterparts well and the game does feature those great "clank" noises and there is even a little bit of background ambience. There's some great one-liners in the game too which did bring a few smiles to our faces.
In conclusion, Disney have a fantastic franchise and it's a shame that they drop the ball every now and then and unfortunately Toy Story Mania! is one of those moments. The gameplay works at times, however it does become quite repetitive and of course there are some graphically issues with the game which does hamper the title. We know it's aimed at children but even kids need to have their games thoroughly tested by the quality assurance team. Consider the end of the rollercoaster ride.