There's never enough fighting games, especially on the Nintendo Wii and thankfully our friends at Capcom have created an extremely sturdy fighter that pits two legendary universes against each other in Tatsunoko vs. Capcom: Ultimate All-Stars.
Broken down, Tatsunoko vs. Capcom: Ultimate All-Stars is your traditional Capcom fighter that may not offer the world of fighters anything awe-inspiring, however at its core, it's a pure fighter that is brimming with a jaw dropping amount of combination attacks. So if you're a lover of combinations, than you've come to the right place.
For the purists, the characters included in the game are as follows;

Tatsunoko Characters

1. Casshan (From Neo-Human Casshern)
2. Doronjo (From Yatterman)
3. Gold Lightan (From Golden Warrior Gold Lightan)
4. Hakushon Daimo (only in Japanese version. From The Genie Family)
5. Ippatsuman (From Gyakuten! Ippatsuman)
6. Joe Asakura (From Gatchaman)
7. Jun the Swan (From Science Ninja Team Gatchaman)
8. Karas (From Karas)
9. Polimar (From Hurricane Polymar)
10. Tekkaman (From Tekkaman: The Space Knight)
11. Tekkaman Blade (replacement for Daimo in Ultimate All-Stars USA/Europe version. From Tekkaman Blade)
12. Yatterman-1 (From Yatterman)
13. Yatterman-2 (From Yatterman)

VS



Capcom Characters

1. Alex (from Street Fighter III)
2. Batsu Ichimonji (from Rival Schools: United By Fate)
3. Chun-Li (From Street Fighter)
4. Frank West (From Dead Rising)
5. Soki (From Onimusha: Dawn of Dreams)
6. Ken Washio aka Ken the Eagle (From Science Ninja Team Gatchaman)
7. MegaMan Volnutt (From Mega Man Legends)
8. Morrigan Aensland (From Darkstalkers)
9. PTX-40A (From Lost Planet: Extreme Condition)
10. Roll (From Mega Man)
11. Ryu (From Street Fighter)
12. Saki Omokane (From Quiz Nanairo Dreams)
13. Viewtiful Joe (From Viewtiful Joe)
14. Yami (From Okami)
15. Zero (From Mega Man X)
Add in a variety of different gaming modes and Wii gamers are in for a treat as they choose their avatars to fight. As you punch, kick, fly and perform some great combo attacks, some almost impossible to achieve had I not seen one of our fellow reviewers pull them off, this game turns classic fighter to something more.
In terms of control, Tatsunoko vs. Capcom: Ultimate All-Stars works well on the Wii controllers and the developers have ensured that its accessible to a wide birth of gamers, from novice to professional. Best of all, the game supports a range of controller options from classic to Wiimote and Nunchuk and I must admit that all methods quite work well. Novice gamers can pick up the controls and start playing immediately, and depending on difficulty level, more advanced gamers will be able to jump straight into it and start pulling those impressive combo attacks.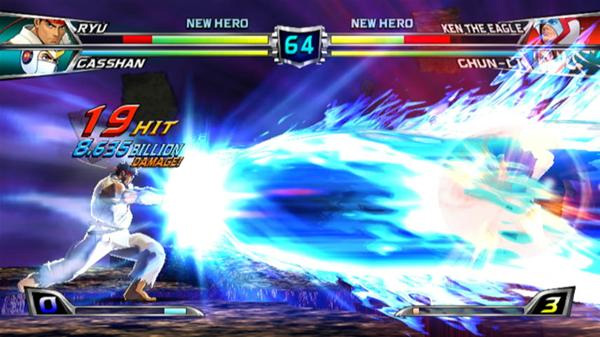 As each character has a different set of combo manoeuvres, this is where the game excels and whether it's Ryu, Gold Lightan or Viewtiful joe, most characters handle a little differently, ensuring extra longevity. Add in a hyper-combo attack that can only be used once the gauge is full and you can truly unleash some great combinations toward your enemies. With characters punching, blocking, jumping and even flying, the game can become more than just a fighting game as a healthy amount of strategy is needed, especially with the various characters and bosses that you fight.

The game boasts quite a few different modes of play from AI battles to human and even online play and although it's purely a fighting game, the developers ensure that there is enough unlockable content to keep the good fight going. As you do progress, new characters are unlocked, including outfits, galleries and even items. Thankfully, depending on your difficulty level, the AI gradually goes up and the game will only start challenging you when you're ready.
Graphically, the game is a very good looking game on the Wii and all the characters look like their counterparts from their particular universes. Some of the Tatsunoko characters may seem new to certain gamers but they are visually pleasing to the eye and I'm sure most gamers will enjoy playing them.
Add in some interesting special effects and cartoon inspired backgrounds and there is little to complain about Tatsunoko vs. Capcom: Ultimate All-Stars. And yes, the backgrounds are 2D but the 3D character interact quite well with them. Match that with some fast and furious sound effects and a rocking musical score and you'll be drawn into this universe quite easily.

In conclusion, Tatsunoko vs. Capcom: Ultimate All-Stars is definitely one of the better fighting games on the Wii and even though it's old school, the old analogy of if it isn't broke, don't fix it works perfect with this title. A decent fighting engine, great characters and some impressive controller options, Tatsunoko vs. Capcom: Ultimate All-Stars is definitely for the fighter in all of us! Especially with the wide gamut of combination attacks that puts many fighters to shame.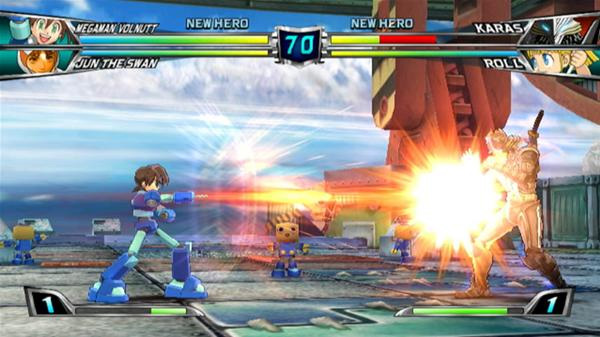 Features
More than 20 fighters to choose from:

Capcom: Ryu, Chun-Li (Street Fighter), Batsu (Rival Schools), Alex (Street Fighter III), Morrigan (Darkstalkers), Soki (Onimusha: Dawn of Dreams), Mega Man Volnutt (Mega Man Legends), Roll (Mega Man), Saki (Quiz Nanairo Dreams), Viewtiful Joe, PTX-40A (Lost Planet) and more to be announced
Tatsunoko: Ken the Eagle, Jun the Swan (Science Ninja Team Gatchaman), Yatterman, Doronjo (Yatterman), Casshan, Tekkaman, Polymar, Karas, Ippatsuman and Gold Lightan, plus others to be revealed.

Possible additions to the game: the team is exploring adding new Capcom and Tatsunoko characters as well as online gameplay.
Two-man tag team action: Players build their own perfect team and use Assist Attacks and each character's special moves to create their own unique fighting style.
Four button fighting controls: Easy-to-understand four button control scheme opens gameplay up to new players with familiar movements and combos
Depth of gameplay: Once the basics are mastered, players can go deeper into the fighting game controls to master Aerial Rave air combos, Delayed Hyper Combos, Mega Crash defensive moves, Assault attack moves and the Baroque extended combo system.
Fast-paced action and huge attacks: Each characters has a unique arsenal of moves, including spectacular Hyper Combos that literally take over the screen with devastating results.
3D characters, 2D fighting gameplay: As in Street Fighter IV, TATSUNOKO VS. CAPCOM ULTIMATE ALL-STARS has bright, 3D rendered characters battling it out in familiar 2D style.