The face of SEGA has returned on the revolutionary Wii console in Sonic and the Secret Rings that returns the franchise to its original humble beginnings with classic high speed gameplay and stunning 21st century graphics.
The story of Secret Rings revolves around our favourite hedgehog hero who is visited by a genie in his dreams who gives Sonic the quest of stopping a nefarious genie that has discovered how to escape his book of Arabian Nights and enter the world of Sonic.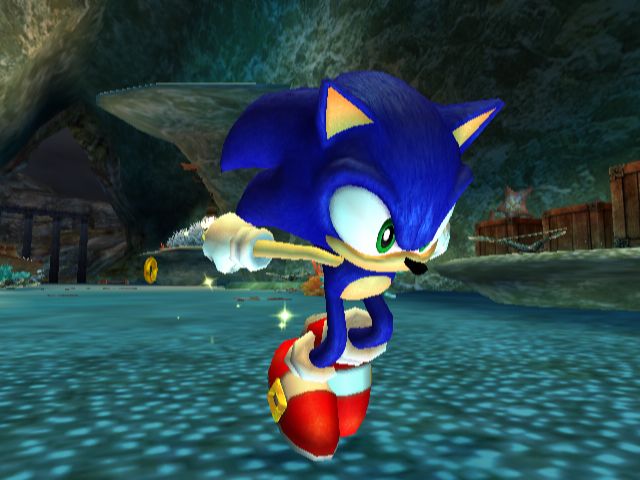 Unlike other incarnations of Sonic, the gamer enters a variety of fantasy based worlds (seven to be exact) in order to collect magic rings and ensure that Erazor remains in his 2D world.
Although Erazor may be in a 2D world, the gameplay is pure 3D enjoyment where you must run, fight and think your way out of a plethora of issues. These levels are quite varied and diverse that include an ancient prehistoric level with dinosaurs and other strange beasts to something more familiar to a world of pirates and damsels in distress.
The gameplay of Sonic and the Secret Rings offers a variety of challenges to the gamer such as running from one end of the level to another in a set time or locating and fighting a boss character but as you progress, more and more challenges are opened to the player, ensuring the replaybility of the title. As you progress through the game, the player is also awarded experience points that can assist Sonic in upgrading his abilities in order to successfully complete the game.
Once again the Nintendo Wii controls are used to give a truly unique gaming experience such as moving the control sideway in order to turn Sonic left or right, with the other buttons used to run and jump. The challenge is navigating Sonic through a highly detailed 3D world and watching out for whatever obstacles come in your way.
In order to attack your enemies, Sonic needs to basically jump on them or even use obstacles to assist in the process. Needless to say, there is a tutorial level and you will definitely die numerous times before mastering the control system but it is a riveting experience.
The developers have also included a variety of great multiplayer mini-games that allows you play up to three players in some outrageous activities such as shooting balloons or paddling a canoe and would be a great introduction for those who have never played a Wii before. With that said, the more experience gamer may not get as much entertainment and replay value out of it compared the newly Christened Wii gamer.
Graphically, Sonic and the Secret Rings is a visual treat that contains massive draw distance, highly detailed background environments and a variety of sharp and colorful environments. The sense of speed is truly awe-inspiring and you really get the notion that Sonic is running at dangerous speeds.
Apart from the gaming environments, the title also contains a variety of special effects from lighting to explosions and also some highly detailed characters that appear to have been taken from a Saturday morning cartoon. Great stuff! As with the graphics, the musical score of Sonic features your traditional sounding SEGA theme song with a plethora of entertaining affects.
In conclusion, Sonic and the Secret Rings brings classic Sonic to a modern platform with exceptional graphics, entertaining gameplay and an easy yet sometimes frustrating control system. It's time to run again!