Although the Tony Hawk series is the definitive skating game in the console world, there have been many attempts to knock this title from its perch and EA Sport's Skate has come close but not quite.
This is where you may think Skate City Heroes comes into the picture, however unlike the two aforementioned games, Skate City Heroes is aimed at a different market, that of the younger gamer.
The game even contains a story that has the player trying to find their kidnapped friend by the dangerous villain known as Virus and in order to find your friend, you need to become a skating master. Grabbing your board and even a grappling laser (remember it's a kids game), you need to venture into this city and start searching and performing your skate moves in order to save your best friend.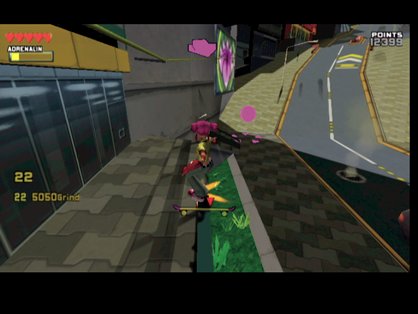 The main mode of play is the single-player mode where the player must select their skater and then start exploring the world. As you progress, new areas will be unlocked and even new skaters will be unlocked, each with their pros and cons.
Thankfully the game contains a tutorial level which teaches you the basics of the control and how to control your skating avatar in this 3D world. Best of all, the game supports the cool wireless controls of Nintendo Wii and if you have a balance board, you can even take skating to the next level. Unfortunately it doesn't work too well.
Once you have completed the tutorial which is quite engaging as it shows you virtually all the tricks in the game, you can then embark on your mission. The missions in the game revolve challenges from Virus such as collecting various items in the game or performing tasks for certain people. Basically, you need to ensure that Virus does not take over the city or destroy it and this is where your tricks come into play. The unfortunate aspect of the missions is their repetitive nature which is a shame because the gaming environment is quite well designed.

Another issue with the game is the varied control system and needless to say, depending on what Wii equipment you can have, you can mix and match in how you play. This is probably the undoing of Skate City Heroes because no one set of controls is easy to master.
Our preference however was the Balance Board which did mimic the skateboard world quite well and is a little easier and more realistic to play... not to mention, it gives you a great mini-workout. In terms of the Wiimote and accessories as the game does not support the new MotionPlus control system, the accuracy of the motion controls are a little wishy washy which does make pulling off certain tricks a very frustrating experience.
At least the game features some interesting mini-games for the multiplayer mode such as Combo King, Tricky DJ and our favourite Death Match that has the gamer trying to knock down as many people as possible in the shortest amount of time. There are quite a few mini-games in Skate City Heroes and as party games, they work extremely well.
Graphically for the Nintendo Wii, the game is quite colourful and the gaming environment has been well designed and looks like one of those Saturday morning futuristic cartoon shows. At times, it has this cell-shaded feel of simplicity to it. Match that with some hard and fast skater type music a variety of sound effects and the game is not a bad looking game.

In conclusion, the developers tried to be a little too clever in terms of controls and they should have focused on just one control system, rather than attempt to cater for everyone. It feels a little rushed in this department which makes mastering the tricks a very hard experience. Given that this game targets the younger game, I predict quite a few frustrated gaming moments. Where the game does shine is through it's party game modes that is actually quite fun and entertaining, although we would have preferred a more polished single-player mode.