Glee... you either LOVE IT or HATE IT and if you're reading this review, you're probably in the camp of Glee lovers as opposed to those who detest this popular musical drama TV series with a touch of comedy. So what better way to pay homage to the colourful world of Glee, than a karaoke game for the Nintendo Wii as gamers join the New Directions group in order to belt out a variety of songs from this popular TV series. With that in mind, the game has definitely been designed for fans of Glee as you can even sing-a-long with the characters from the TV series such as Bryan Ryan. Oohh. There are are also two versions of this game available, one with the microphones and one without.
The Review
At its colourful musical soul, Glee is basically a rebadged version Karaoke Revolution that is reminiscent to titles such as Singstar and Lips. However developers Konami did not sit on their gaming laurels for this title and have included a few interesting twists such as Scrapbook mode. Scrapbook mode allows the Glee gamer to select one of the over the top Glee characters such as Mercedes or Quinn where they need to perform a certain number of songs for that character.
It's an interesting take on the traditional karaoke method and is actually quite fun, provided you like the character. Another gameplay mode is Shooting Star that requires players to shoot falling stars in the game while the other player sings. This mode supports up to 6 players (4 to shoot stars and 2 to sing) which definitely adds some spice to the title.

But if you just want to have your musical fun without any interruptions, the Quick Play mode allows you to select your own songs and is great for parties or solo outings. Like most video game karaoke titles, players are awarded for how well they match the original words through pitch and rhythm. Although similar to other console karaoke games, this game uses Karaoke Revolution's proprietary voice recognition technology that is supposedly more accurate than its competitors. WIth that said, the closer your rhythm and pitch matches the original, the more points you will be awarded, however when you go off key, the game throws a slushy at your screen in order for you to "try" a little harder next time. And the crowd doesn't like it either when this happens.
The point system however is great for those perfectionists or when you are singing against other players that opens up the game for some great replay value. Add in a variety of unlockable awards and Glee Karaoke Revolution Volume 2 has enough content to keep you interested and entertained in the game. If you never played a karaoke game before on a console, it's quite easy, the words are displayed on the screen with a bar of how long you need to hold that word for. With a relatively easy learning curve, it will take most players around 5 minutes to master!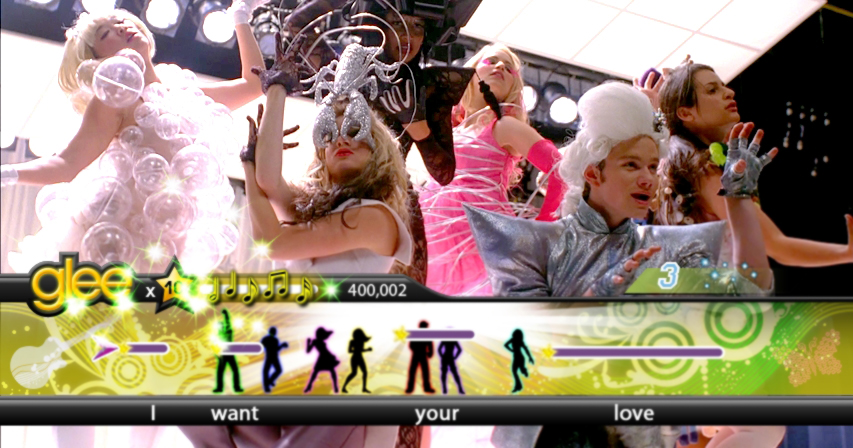 Graphically, the game is oozing with Glee references from the design of menus, characters and more importantly, the original videos to accompany the songs. Konami have done a great job at recreating the Glee universe on your Nintendo Wii with a few special effects thrown in for good measures.
However the star of Glee Karaoke Revolution Volume 2 is the diverse songs from the TV series that include greats such as "Total Eclipse of the Heart" or my favourite, albeit quite embarrassing, "Ice Ice Baby". Given the limited capabilities of the Wii when compared to the high-end consoles (e.g. FULL HD), Glee is a good looking game that is made even better by the outstanding track listing. The songs are taken from season one of Glee.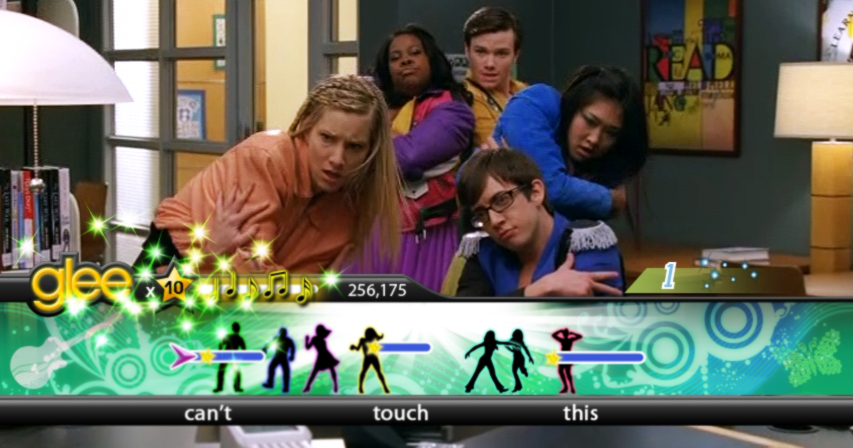 In the end, Glee Karaoke Revolution Volume 2 on the Nintendo Wii is easily a must have game for Glee fans or "Gleeks" because some thought did go into making this title. Best of all, it is a game that can be played by people of all ages, whether you're 5 or 50 and with a few twists and turns thrown there and there, it's not your average Karaoke game. Add in 20 songs and you'll soon be a certified member of New Directions, whether solo or through multiplayer. Given these facts, Glee Karaoke Revolution Volume 2 is definitely worth checking out, especially if you're a fan of Glee and Karaoke games.