Got a daughter or a young female relative who owns a Wii? Than Dora Save the Crystal Kingdom may be the game for them. From the highly popular Nickelodeon cartoon series come Dora, heroine and explorer to the world as she goes on her first magical journey on the Nintendo Wii.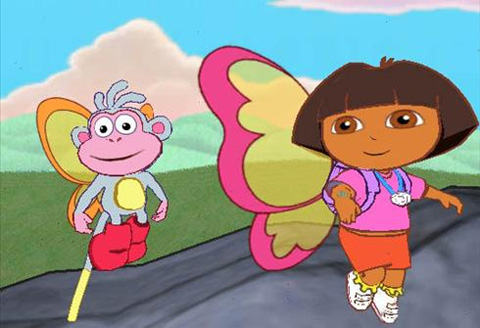 For the uninitiated, Dora Marquez or "Dora" to her friends is an explorer and in her cartoon series, each episode is spent exploring the world and generally helping someone in need out. It featured colourful animations, larger than life characters and even animals who seemed more human than animals. It's easy to see how Dora became so popular.
It should also be mentioned that Dora saves the Crystal Kingdom is not like the other edutainment titles from Dora the Explorer but is an actual arcade style Wii game which uses the motion sensitivity of the Nintendo Wii controls. With that said, the story is definitely aimed at the younger gamer and I do emphasis that word greatly.
Thankfully, my five year old daughter was the perfect victim... err assistant for this review and I'm guessing that it does help that she owns a Dora the Explorer backpack and merchandise. Okay, enough of the bias! So what is Dora save the Crystal Kingdom all about? It's got nothing to do with Indiana Jones but seriously, it's basically a side scrolling arcade game that is at times, a little... reminiscent of Super Mario.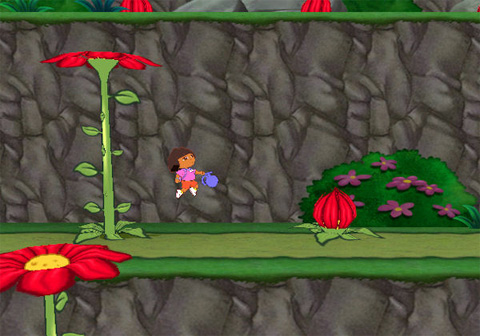 In this current adventure for Dora, she must return the crystals to the Crystal Kingdom which have been hidden away by diabolical and greedy king. For the king, he does now want the kingdom to share in the magical colours of these crystals and with that said, it's up to Dora to find them and bring colour back to this colourless land. Apart from controlling Dora, players can even control Boots, Dora's monkey sidekick which does add an element of replay value to the game.
From looking for the diamonds, solving some simple puzzles and having fun, Dora must also collect coins which can be used to purchase stickers and even flying boots. As mentioned, there are some puzzles in the game but thankfully they are quite simplistic as are the mini-games such as Dora racing on her roller skates. Thankfully... Dora is wearing the appropriate skating gear! It's also fun or so my daughter says, exploring this grey and dreary world as you collect crystals and you use the Wii motion controls to colour the world in as sometimes you need to help the world out a little more than just collecting.
Some parts of the game require you to change to Boots, your monkey sidekick because he's a little smaller than Dora and can reach smaller areas. Your flying boots, just like Boots... also helps you fly to other places and of course collect those ever so precious coins.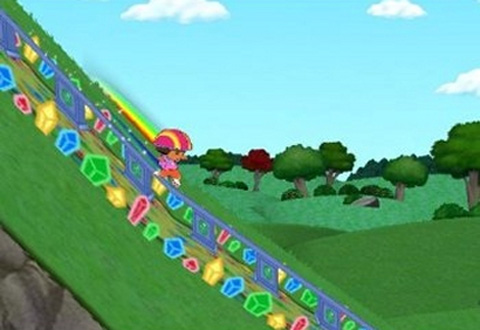 As a game made for children, Dora save the Crystal Kingdom works quite well, however there are a few annoyances as well. Some parts of the game are a little challenging and will require adult intervention. The other issue is the graphics and although most levels are well illustrated and created, some appear a little flat and quite uninspiring. The music in the game is well done as is the voice acting, even though at some points, both my daughter and I scratched our heads because Dora was speaking in Spanish.
I applaud 2K Play for creating a girl only game and thankfully it's not edutainment or a game that has been slapped together. Mirroring many aspects of other arcade games, Dora save the Crystal Kingdom is a colourful delight that will captivate the younger gamer while they explore a variety of worlds and meet familiar faces from the Dora the Explorer Universe. Not bad at all!