Some gaming characters will stay with you forever and the iconic Donkey Kong is one of those characters. Donkey Kong and I have had a great relationship over the past 25 or so years. I remember playing Donkey Kong of the original LCD handhelds, then on the Super NES, Nintendo 64 and GameCube. Great times for all!
The best Donkey Kong game created was Donkey Kong Country on the Super NES which is still one of the best arcade games of all-time. This game had everything, from a cool sidekick called Diddy to a variety of challenging levels that involved Rhinos, Ostriches and the nefarious Kremlings, the enemies in the game. It was a classic side scrolling arcade game with 3D inspired graphics.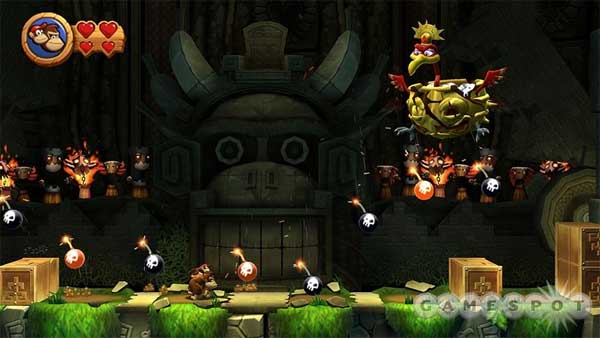 So when I heard about Donkey Kong Country on the Nintendo Wii, I was over the moon. Would it be a remake or would it be something totally different? Thankfully the game pays true homage to the original title but thanks to new developers Retro Studios, they created a game in its own right. It may look like another side scrolling arcade game as you jump, swing on vines, collect bananas and fight evil... but boy is it fun!
The new story has forced Donkey Kong and his nephew to once again save Donkey Island from the evil Tikis or more specifically the Tik Take tribe who have stolen Kong's bananas and made the animals on this island act a little strange. Yes my fellow arcade gamers, the Tikis have been very very and it's up to Kong and Diddy to save the day in this all-new instalment of Donkey Kong Country Returns.
Like the previous games, players control Donkey Kong but if you find Diddy, Donkey's nephew, he jumps on your back for some additional support. Certain areas of the game make it easier if you have Diddy, just like the original. One cool factor about this new Wii game is that the game supports a 2-player mode where one player plays Donkey Kong and the other Diddy... very cool! At its delicious gaming heart, the game is oozing with retro gameplay such as the limited health for Donkey Kong and even a jetpack for him.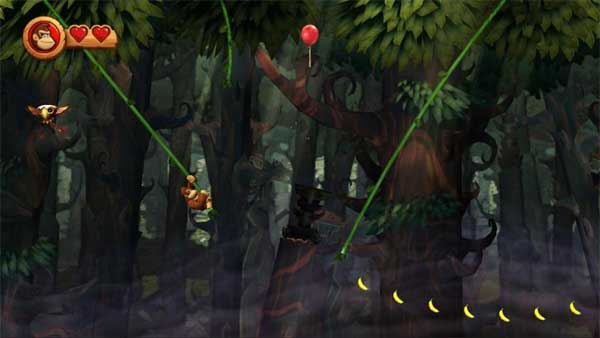 Apart from jumping around, defeating enemies and looking for power-ups. You need to find secret areas and collect the letters K, O, N & G which we all know what it spells. It's great that the developers have kept its classic arcade feel with exploding barrels, banana coins and great boss battles. If you do get stuck, the game contains a Super Guide feature like New Super Mario Bros., this means if you feel too challenged, the game can assist with your current level. There is even mine cart races as well! YAY!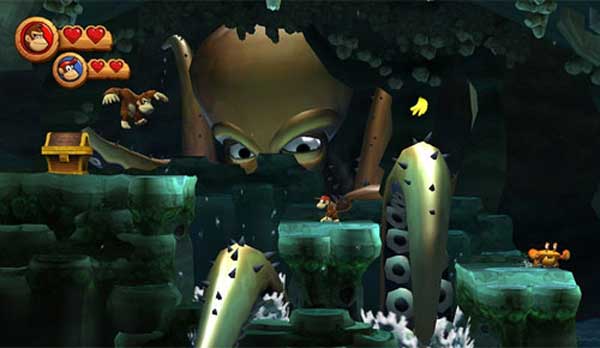 The control system is perfectly mapped on the Wiimote and the game plays extremely well. The response time is great as you time jumps and defeat your enemies with help from your little sidekick. If Donkey Kong does manage to lose all his hearts (health), you've always got Diddy to try and get him back.
Just like another Nintendo game, by shaking the controller, this unleashes Donkey Kong's rage and he smashes the ground to stun the enemies around him. You also need to use the nunchuck which moves this game away from the "classic" control system and brings the gameplay to the 21st century.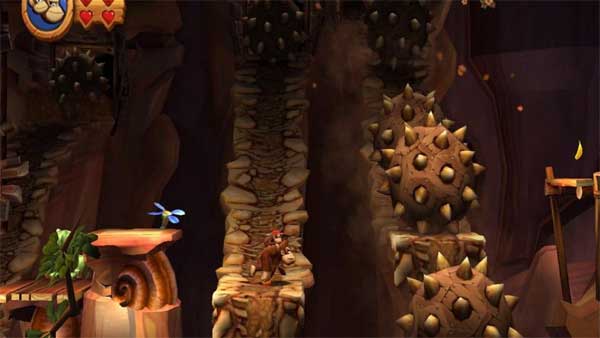 The game does support multiplayer but at times, it does become a little frustrating because there is no "lock" function, if a player gets too far behind, it effects the gameplay. You're also both penalised for losing a life as well. But once you get the hang of multiplayer, it's actually not that bad. Single player is far superior but multiplayer has some merits as well.
Graphically, this is a visually pleasing game. The animation mimics those classic Saturday morning cartoons with vibrant colours and lush animations. The characters look amazing, especially if you have your game connected to a FULL HD TV. Even though it's not FULL HD game, the Wii does not support this, it still looks gloriously fun through the component cables. The environments are quite diverse from jungles to beaches and forests. Unfortunately there isn't any underwater play which was a highlight in the classic game.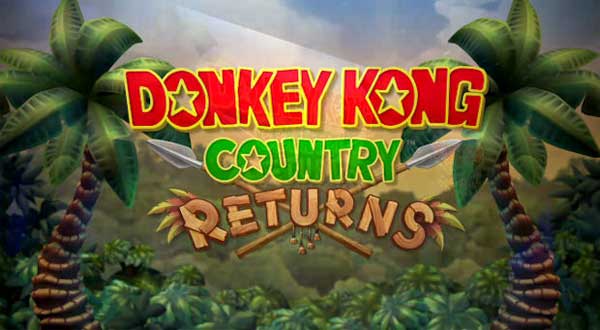 WOOHOO!
The soundtrack of Donkey Kong Country Returns on Wii is easily the best sounding game of the year and pays good homage to the titles before it with that jungle type music with the drums. The sound effects are quite fun as well which suits the premise of this game perfectly, just like a cartoon. Great gameplay, great graphics and great sound! That's an A+ for me!
Conclusion
This is how games should be made and kudos to Nintendo and Retro Studios for nowt trying to re-invent the wheel in Donkey Kong Country Returns on Wii. With almost flawless gameplay, awesome graphics and good old fashioned arcade fun, I can see lots of people playing this game over Christmas because by MARIO... it's the most fun I've had in a long time! Awesome awesome awesome!