DanceDance Revolution Hottest Party 4
In the arcades that still exist, dance games are still one of the more popular gaming machines on these premises as it allows people to unleash their inner dance muse. Watching people play these machines can sometimes be quite amusing, not because there are some great arcade dancers out there but for those uncoordinated dancers like myself that put a big fat smile on my face. This is where DanceDance Revolution Hottest Party 4 comes to the rescue!
Thankfully DanceDance Revolution Hottest Party 4 is for everyone and whether you're a dancing expert or someone who wants to dance in the privacy of their own home, this is the game for you. With over 50 pumping tracks which include 20 licensed tracks such as Bad Romance by Lady Gaga or Celebration from Kooland the Kang plus Wii Balance Board compatibility and a handful of gaming modes, you have everything you need to start dancing!

Although the game can be purchased without the dance mat, the bundle which we reviewed comes with an extremely well made mat which displays four arrows and two letters, B and A in the top left and right hand corner of the mat. These are the controls that you need to dance and installing the product is quite simple but if you want to further challenge yourself, you can also use the Wii Remote and Nunchuk controllers. Also, as mentioned, the product does support the balance board but in our opinion, it's no way as near as fun as with the mat.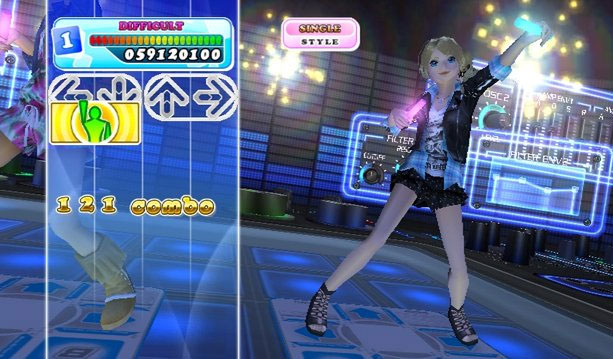 As opposed to the arcade machines that generally focuses on your feet, Dance Dance Revolution Hottest Party 4 incorporate the Wii controls which allows you to use your hands as well. Given that, it does feel a little clunky using the Wii controls but where the game does shine is through the dance mat that comes with this game. Just like all those rhythm based games, Dance Dance Revolution Hottest Party 4 follows a similar premise which requires the player to match their feet with the arrows displayed on the screen. The idea of Hottest Party 4 is to match your footwork and arm movements with the arrows displayed on the screen. By corresponding to the arrows correctly with the dance pad, you are awarded points which is where the player is allowed to dance, dance and dance.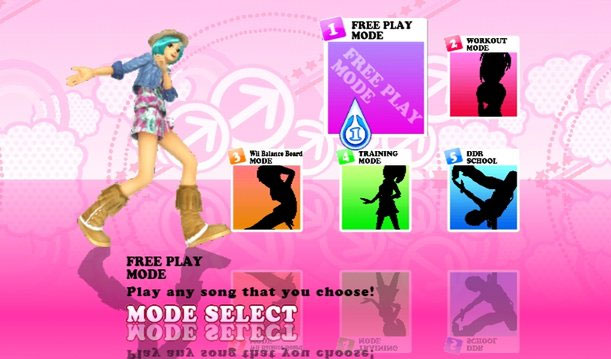 For those of you who have never played a dance game before, it is actually quite difficult in coordinating your feet but after an hour or so, especially with some friends present, things slowly start to fall into place. If you want to up the difficulty, this is when you introduce the controls as you use your hands with the wireless controllers to mimic more dance moves. For those that just want to focus on their feet, there is thankfully an option to turn the Wii controllers off and this is suggested to newcomers to the franchise.

In terms of gaming modes, the title contains the following modes of play that include Dance Mode, Workout Mode, Training Mode and DDR School plus a Wii Balance Board Mode. Dance Mode is the heart of the game which allows you to play up to four players and is broken down into four modes that include normal (just dancing), friendship (2+ players in a non-competitive environment), Sync (2+ players in a competitive dance off) and Family (2-4 players which mixes up the arrows for each player and is quite messy to play). You can also select music and a style of dance such as choreograph (feet and hands) or classic, just feet. Another mode is Club mode that basically allows you move from club to club as you dance your way through 4 to 20 songs.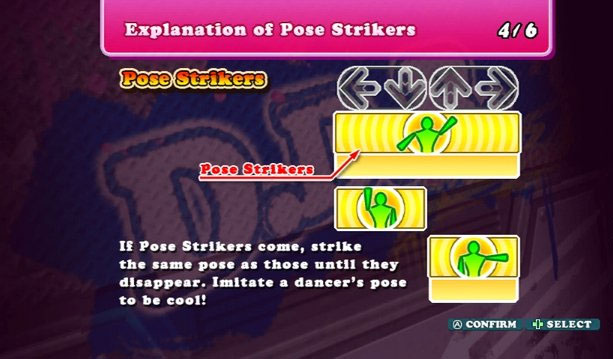 Training mode is just that, a training mode which allows you to have some assistance from the game to help with your dancing moves and is ideal for newbies. DDR school which requires the Wii Balance Board and also assists in mastering your moves. The biggest problem with the game however is the lack of any real original game modes and it seems that Konami is focusing this title more on exercise as opposed to gaming not that this is bad mind you. Songs play a key role in the game and even the non-licensed tracks, 30 to be premise are actually quite pumping but of course you cannot beat the licensed content.

In the end, Dance Dance Revolution Hottest Party 4 is definitely a genre targeted game and if you're not into this sort of thing, you should probably look elsewhere to your gaming fix because this game is all about dance and is actually quite physical. Best of all, the gameplay works well on the Wii, even with the Wii controls used to assist your hands with the dancing. routines With a great track listing of 50 songs plus some decent graphics, Dance Dance Revolution Hottest Party comes together well on the Nintendo Wii but unfortunately it's missing something a little more meaningful.
Official Video