Boom Blox is the latest craze to land on the Nintendo Wii that was created by awarding winning director Steven Spielberg and EA Games which is one of the most original, unusual and entertaining games of 2008. Utilizing the unique control system of the Nintendo Wii, Bloom Blox is a game that can be played by children and adults alike with a variety of entertaining gameplay options, making this one of the best puzzle games... dare I say, since Tetris.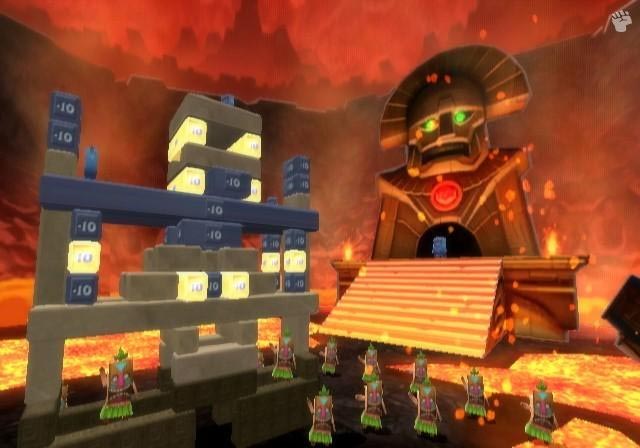 Before starting the game, players must create their rectangular shaped "avatar" animal such as a penguin or a dog and then select the gameplay mode, be it Create, Party or Play. The main method of play for single-player is the "Play" mode that creates a variety of different games such as Adventure and Explore, allowing for endless hours of entertainment.
In its essence, Boom Blox is a puzzle game with blocks (think of Jenga) and to make things even more interesting, there are also chemical blocks that when tipped over will explore and shake your world. The developers also make good use of the Wii features as you need to use the Wii remote to throw balls at the blocks which can be thrown at a variety of different speeds.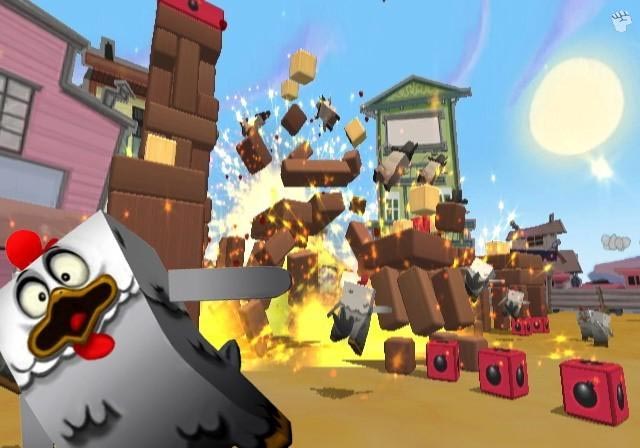 There are even some stages where you use weaponry to interact with the gaming environment through bombs and laser guns. The adventure mode is also quite entertaining as you need to defeat your enemies by throwing a plethora of blox at their structures. The beauty of Boom Blox is that the medal system that awards the player for their prowess in the game by giving them access to a variety of rewards and missions.
The "Create" mode is also great for designing your own levels which is only limited by your imagination and you can even share them with WiiConnect. The title also shines with the multiplayer mode which allows you compete against your friends in either a competitive or cooperate mode. In the competitive mode, having the last block standing is quite an impressive feat and is thoroughly entertaining to achieve. Unfortunately the game does not offer online play through the Wi-Fi connection which is a shame but hopefully future additions may involve this aspect.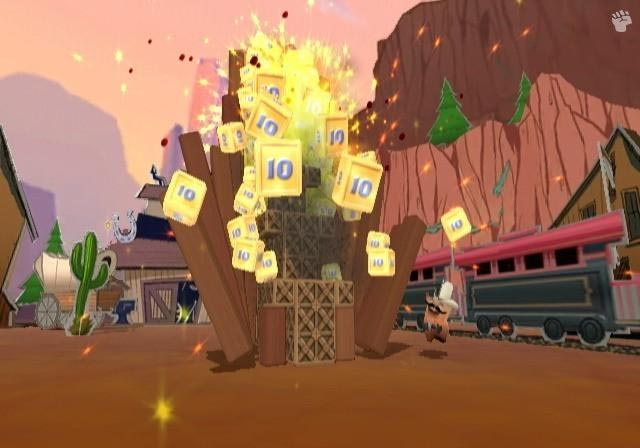 Graphically, the title is rather lacklusture but does contain some great colored blocks which can viewed from a variety of different angles. The strange rectangular shaped animals also add some ambience to the game who cheer your every move as you attempt to do the impossible. The backgrounds look like something out of Looney Tunes!
With that said, the game is oozing with clichéd Nintendo Wii graphics which as far as this gamer is concerned, suits the game perfect. The sound effects match the graphics with the strange cute noises of these rectangular animals and add in some background music for a touch of ambience plus Hollywood style explosions and you have everything you need for a fun time.
In conclusion, Boom Blox is a highly entertaining game from the mind of Stephen Spielberg that is almost like a modern version of Jenga, however the blocks explode and it's thoroughly more enjoyable... even more so than Indiana Jones and the Kingdom of the Crystal Skull. The game is perfect for all gamers, not just for kids that is extremely addictive and highly rewarding.
Exciting from start to finish!!!