PS Vita
Sony's latest portable console, the PS Vita was just released in Australia (23/02/2012) and unlike the Nintendo 3DS, the hype in mainstream media has been relatively quiet. The console itself is reminiscent of the 2005 PSP (PlayStation Portable) console due to its shape, however the PS Vita is considerably larger. Consider the PS Vita the Mark 2 of the PSP!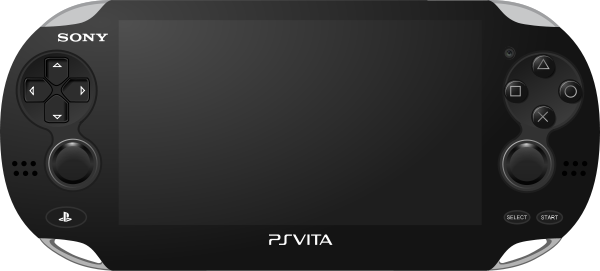 The PS Vita
As the PSP mirrored the PlayStation 2 console, the PS Vita mirrors the more powerful PlayStation 3 console. However the biggest difference between the PSP and the PS Vita is the inclusion of an OLED (organic light emitting diode) touchscreen which seems to be the go at the moment. Add in a powerful ARM® Cortex™ A9 core (4 core) processor, a SGX543MP4+ GPU, 512MB memory and 128MB of VRAM plus a 3G model and this console has definitely been made for all sorts of gaming goodness. Unfortunately there is a price to be paid for all this gaming goodness.

The price is the pockets of Australian Gamers. Firstly, the console at most major retailers in Australia sell the standard WiFi model for $349AUS. Our American counterparts only pay $249USD which as of this review (02/03/2011) converts to roughly $230 Australian Dollars. Australians are paying an additional $119 Australian Dollars which is a huge injustice. Why is there such a difference? Only Sony knows. Even worse is that the 3G/WiFi version in the US costs only $299USD!
Then you get the memory card issue. In order to use the PS Vita, a memory card is needed and this adds an additional cost to the console from anywhere between $26.95AUD for a 4GB card to $44.95AUD for 8GB and $64.95AUD for 16GB. 32GB cards are also available, however I have found no major retail in Australia that stocks the larger card.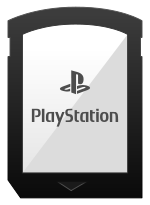 PS Vita Memory Card and Memory Stick for purchased Games
These memory cards are also specifically made for the PS Vita and with so many formats available, it's a wonder why Sony didn't use a pre-existing format. Finally, you then need to purchase a game on top of all this to play the PS Vita. This console is definitely not for someone on a budget.
In our opinion, the PS VITA should have been bundled with a 4GB card and maybe a game like Ridge Racer which is like a tech demo... or alternatively, a few demos. But it's not all bad and after my negativity rant, let's move onto the full specifications of the PS Vita and how it works as a console and a smart device.
Technical Specifications
Model number: PCH-1000 series

CPU: ARM® Cortex™-A9 core (4 core)

GPU: SGX543MP4+

Main memory: 512MB

VRAM: 128MB

External Dimensions: Approx. 182.0 x 18.6 x 83.5mm (width x height x depth) (tentative, excludes largest projection)

Weight Approx: 279g (3G/Wi-Fi model), 260g (Wi-Fi model)

Screen: 5 inches (16:9), 960 x 544, Approx. 16 million colors, OLED, Multi touch screen (capacitive type)

Rear touch pad: Multi touch pad (capacitive type)

Cameras: Front camera, Rear camera; Frame rate: 120fps@320x240(QVGA), 60fps@640x480(VGA); Resolution: Up to 640x480(VGA)

Sound: Built-in stereo speakers, built-in microphone

Sensors: Six-axis motion sensing system (three-axis gyroscope, three-axis accelerometer), Threeaxis electronic compass

Location: Built-in GPS (3G/Wi-Fi model only), Wi-Fi location service support
Keys/Switches: PS button, power button, directional buttons (Up/Down/Right/Left), action buttons (Triangle, Circle, Cross, Square), shoulder buttons (Right/Left), right stick, left stick, START button, SELECT button, volume buttons (+/-)

Wireless communications: Mobile network connectivity (3G/Wi-Fi model only), 3G modem (data communication): HSDPA/HSUPA *specification for Japanese region, IEEE 802.11b/g/n (n = 1x1)(Wi-Fi) (Infrastructure mode/Ad-hoc mode), Bluetooth® 2.1+EDR (A2DP/AVRCP/HSP)

Slots/Ports: PlayStation®Vita card slot, memory card slot, SIM card slot (3G/Wi-Fi model only), multi-use port (for USB data communication, DC IN, Audio [Stereo Out / Mono In], Serial data communication), headset jack (Stereo mini jack) (for Audio [Stereo Out / Mono In]), accessory port

Power: Built-In Lithium-ion Battery: DC3.7V 2200mA, AC adaptor: DC 5V

Operating environment temperature: 5℃~35℃
Supported AV content format: Music - MP3 MPEG-1/2 Audio Layer 3, MP4 (MPEG-4 AAC), WAVE (Linear PCM). Videos - MPEG-4 Simple Profile (AAC), H.264/MPEG-4 AVC High/Main/Baseline Profile (AAC). Photos - JPEG (Exif 2.2.1), TIFF, BMP, GIF, PNG
As you can see from the above specifications, the PS Vita is definitely a beast when it comes to gaming but it can also to some extent replace your Smartphone.
The first thing that you will notice about the PS Vita is the size of the wide screen which is 12.7cm and supports a resolution of 960x544. Although not as clear as the iPhone 4 or iPhone 4S screen, it's definitely far superior than the Nintendo 3DS. The console is also quite light and weighs 279g (3G/Wi-Fi model) or 260g (Wi-Fi model) depending on which model you are after.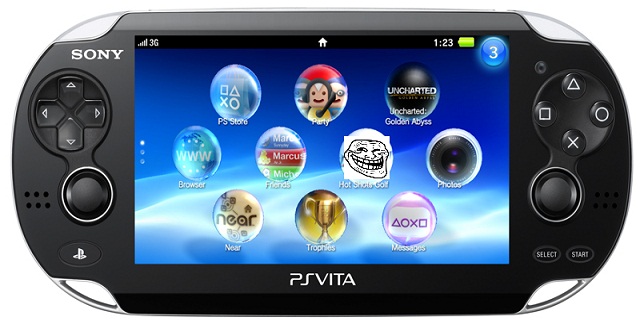 The 3G model of the PS Vita basically lets you log onto the internet and the PlayStation network anywhere you have access to 3G, however a SIM card is required and a plan. Although for an additional $70, the 3G model does allow you to access the internet but most smart phones can already do this so you need to weigh up the worth of this additional feature. In our opinion, the base model PS Vita is definitely the better choice if you own a Smartphone. Also, as the console is considerably larger than the PSP which could fit in your pocket, the PS Vita is a little too big for this and given the price, you do want to invest in a case and screen protectors.

As mentioned, the PS Vita is quite light and more importantly, the layout of the console is extremely user friendly and comfortably fits in your hands. All the buttons such as the power, d-pad, volume and of course dual analog sticks feel just right. With all the trademarked Sony buttons, the PS Vita feels like a mini PlayStation 3.
The console even has a rear touch pad on the back of the console to add another feature to this device but sometimes less is more. The touch screen of the PS Vita is easy to use as you scroll, pinch the screen and navigate through its operating system, the internet or games. The only downside to the controls are the "select" and "start" buttons which require a bit more force than the other buttons. I found that using your finger nail on this buttons works better than trying to push down forcibly.
Conversely where the PS Vita shines over its Smartphone counterparts is with games. Products such as the iPhone 4S or Android Tablets have some amazing games available on it but when it comes to controls, they are hampered by the touch screen. This is not the case on the PS Vita, although the only drawback with this console is that some developers are using ALL its features which results in some overkill. Like I said, less is sometimes more and when you're using the gyroscope, touch screen or rear touch-pad, some games become a little messy. Of course as time goes on, I'm sure developers will only stick to a couple of its features as opposed to all. Needless to say, some of these features are well suited for portable gaming such as the 6-axis accelerometer for racing games.


PS Vita Controls
The operating system is reminiscent of the PlayStation 3 as users use their fingers to navigate through the menus with ease and simplicity. In reference to the operating system, the O/S music definitely needs to be turned off as it sounds like a bad Wii game. I must admit that Sony have made the operating system a little more Wii than the PS3 which some Nintendo users may appreciate.
There are two cameras on the device, although the front camera seems a little off and we would have preferred it centred. On the top of the console, there are two slots for your gaming cards and memory cards. These are a little tricky to open and I'm predicting that these little lids will be broken by little fingers (e.g. children) who are not careful when they try to swap games or insert memory cards into their consoles so parents need to be wary of this.
When you first get your console and turn it on, you need to set your country, time-zone and connect it with a PSN account. If no account is available, you can create your own account. The only tricky aspect of the installation process of the PS Vita was entering your Wi-Fi code into the console which needs to be gotten through your router via the PC. Thankfully the manual is quite in-depth.
Unfortunately we could not link our PSN account immediately when we turned our PS Vita on the first time as we needed to update our console with the latest update. Once updated, we then linked our PS Vita to our pre-existing PSN account for our PlayStation 3.
The battery life of the console is around four to five hours which is dependent on whether you are playing games or doing something less intensive like surfing the net. Just be warned that like the iPhone, the PS Vita for now does not support Flash. Once you have run out of charge, you need to either connect the device to the 240 (cables included) or via your USB connection. Charging is also relatively quite fast.

The operating system contains a wealth of apps available to the user that include Welcome Pack, Party, PS Store, Near, Friends, Messaging, Trophies, Photos, Browser, Music, Videos, Remote play, Content Manager, Maps and Settings. I also like the multitasking of the unit as well and in order to swap between apps, you basically swipe the console like you would a page. You can even use social media apps such as Facebook and Twitter! All in all, the operating system is quite easy to navigate, although some things are hidden through its menu system.
Surfing the net on the PS Vita was also quite cool, due to the screen size which is considerably larger than my iPhone 4S! It was just as quick as well! You can also watch moves on the console, take photos and make your own videos thanks to the two cameras. For videos, both cameras support a frame rate of 120fps@320x240(QVGA) or 60fps@640x480(VGA).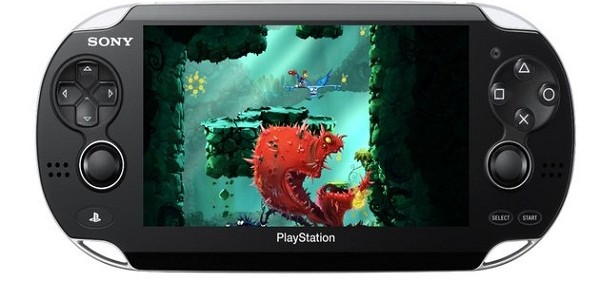 Another standout surprise of the PS Vita was the audio quality. The sound quality through the speakers of this console is quite amazing and the clarity is exceptionally clear. Our first game that we tried was Rayman Origins which produced some very clear sound effects and music. Even MP3's sounded great as well.
Although no games come with the console, there is one app called "Welcome Pack" which teaches you the features of the PS Vita in "game" type environments. The augmented reality options of the console is similar to the Nintendo 3DS and the iPhone but it's still fun to have it on a Sony product. So when is EyePet coming out for the PS Vita? One title that does use the AR cards that come with the console is Reality Fighters. This game was quite fun to play.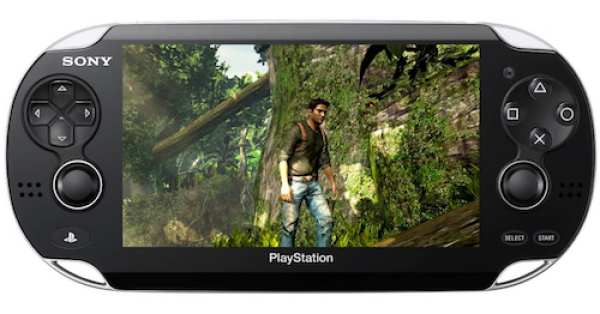 Games for the console can either be downloaded from the PSN or purchased on a memory card from a store which is our preferred option. The launch titles for the PS Vita include the following fun titles;
Non-Sony companies like UbiSoft also have their own launch titles like Rayman Origins (which is brilliant) and Asphalt Injection.

Although there's some great launch titles for the PS Vita, it's still early days and in the coming months, we'll be seeing some A-grade titles that include Call of Duty, Little Big Planet and Assassin's Creed. I just hope that we won't be seeing too many titles ported from other consoles onto the PS Vita and we'll see some games specifically designed for the PS Vita.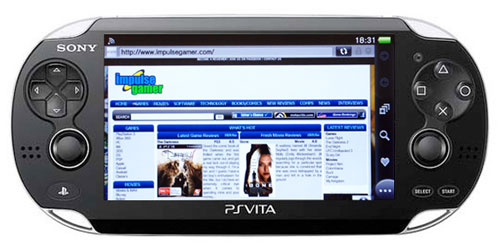 Final Level?

So is it worth it? If you love technological advances, especially in the gaming world than you should check out the PS Vita as there are some amazing titles currently available like Uncharted: Golden Abyss and Rayman Origins plus some soon to be released games that look amazing.
It's definitely the most powerful portable console at the moment but does come at a cost to the Australian user because for $349, you can buy a PS3 for that price and even a little cheaper if you look around. It's also a very expensive toy for children should they accidentally drop the unit. However if you're a hardcore gamer, than you'll probably be more than happy with the launch titles and hopefully the console won't be inundated with cheap and badly programmed iPhone casual games.
Taking your fun with you just got better!