Asphalt Injection
Asphalt Injection has received some harsh reviews by some critics, however as it's the only racing game for the PS Vita at the moment, it does showcase the capabilities of this console and what the future of this genre may hold. Given that Ridge Racer Unbounded is just around the corner, I'm sure we'll be getting more of the same when that one is released.

Not being negative, Asphalt Injection is not perfect either and it feels a little "light" in terms of content when compared to other racers on home consoles such as the PS3. With that said, Asphalt Injection feels like a more powerful iOS game that at the end of the day, gives you that true sense of speed and some decent controls on the PS Vita. Add in good graphics, a pumping soundtrack and all in all, you get a rather honest racer for the PS Vita, even though it feels a little rushed.
At its heart, Asphalt Injection is a true arcade racer so if you're expecting the next Gran Turismo, you best look elsewhere for your simulation fun. This title has jumps, shortcuts, sharp corners and glorious nitro to help you win the races. Impressively enough, it has 52 licensed cars that include cars such as the Ferrari or my favourite Bond car, the Aston Martin. All cars also drive differently.

Navigating the menu system for Asphalt Injection is done through the touchscreen and controls are well mapped on the PS Vita itself. I must admit that using the analog stick to control your vehicles definitely adds to racing experience and it even uses the six axis gyroscope for true motion steering. Because of the amount of screen size, the gyroscope feature of Asphalt Injection was actually far superior than both iPhone and iPad racing games but if you want accuracy, than analog is the way to go.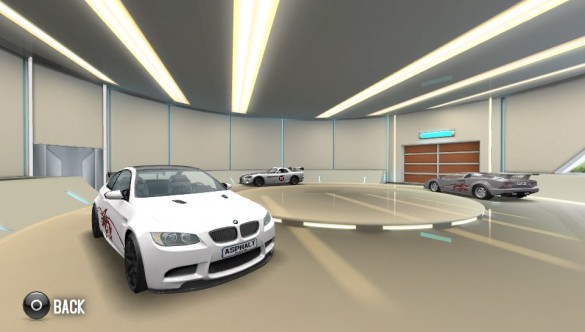 If you want to fine-tune your controls, the title does allow you to tweak, however we found the standard settings were more than ample. But unlike other racing games such as on the PSP, I did find Asphalt Injection a little too patronising towards the player in terms of challenge and dare I say a little easy at times.

The main gaming mode in Asphalt Injection is the career mode which boasts over 100 events from time trials to duels with around 20 or so tracks. By winning races, this not only allows you proceed to other events but it rewards the player with trophies and more importantly money. Money can then be used to purchase additional cars and parts to hot up your car.

Petrol heads will be pleased with the additional tweaking of cars through new parts or just changing the decals which is done through your garage. Apart from the lengthy career mode, the title does support a multiplayer mode, although once again we had difficulty in finding reliable players. When we did find players, we did suffer from some lag issues but this not from the game.
Graphically, the game looks quite good the PS Vita, especially the backgrounds which look rather impressive in its widescreen format. Cars looks quite realistic and do mirror their real-world counterparts. Sound effects are rather generic and the game does produce some impressive bass through the PS Vita speakers. The highlight of the sound department is definitely the soundtrack and some thought has gone into selecting the music.

Final Level

Gameloft'sAsphalt Injection is the first racing title to arrive on the PS Vita and the next racer won't be released until the end of March which will be Ridge Racer. So if you're a car fan, you might want to check this out. Asphalt Injection is an interesting and fun racer on this console, yet ultimately forgettable as it doesn't really stray too much from the safe zone. Single-player is sturdy and when you can find online racers, there's plenty of excitement to be found there. This game receives a racing position of 7 out of 10!