Zendoku - Sudoku Battle Action
ZENDOKU blends exciting puzzle battle action with addictive Sudoku gameplay. Set against a whimsical Far Eastern backdrop with a light-hearted martial arts theme, ZENDOKU offers a variety of colorful characters and a comprehensive range of single-player and wireless multi-player game modes.
Players choose a character and use the unique controls of the handheld console to attack or defend against a challenger, or race against the clock, all while completing one of an infinite number of ZENDOKUís puzzle permutations. With an intuitive play style, an accessible learning curve, and entertaining character storylines, audiences everywhere can find the path to enlightenment with ZENDOKU.
Sudoku is a world wide phenomena that is played by millions of people and Eidos have tried to capture the market with their own version of this popular game in Zendoku - Sudoku Battle Action which features cute Manga type characters that was once a pen and puzzle game now converted to the portable gaming market.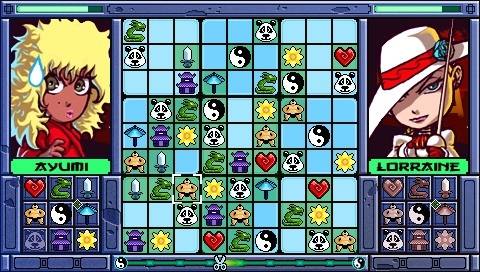 Zendoku is played on a 9x9 square grid, with the aim of the game to fill every row, column and 3x3 sub-box with one of each number from one to nine. There can be no repeats and only logic can be used to fill the grid. Manage to slot everything in its right place and hopefully you can beat your opponent.
Unlike traditional Sudoku, Zendoku is almost like a fighting game meets Sudoku where the player must compete against a variety of opponents in order to try and fill a grid first. As a result, the puzzles are a little on the easy side but the pressure of having to race an opponent makes this quite frustrating at times.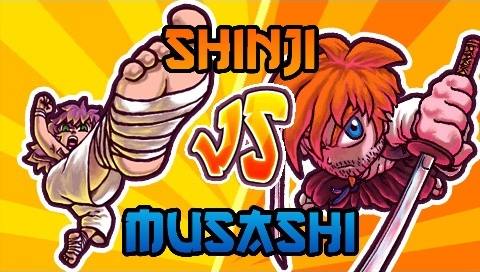 The player can also choose between eight characters to choose between as they right their way through a variety of levels based throughout the world. The developers have also included some interesting cutscenes between the levels as you progress to becoming Doshu, the king of fighters... er... Sudoku... uhmm... Zendoku!
Graphically, Zendoku may not appear to be much but is actually quite "cute" with it's basic animation that is reminiscent of a Japanese cartoon. There are some special effects but the majority of the title is 2D. As with the graphics, the sound effects are quite "cute" and really suits the title perfectly.
In conclusion, Zendoku on the PSP is a fun game, provided you like Sudoku and cute Japanese type characters. Definitely a game that can be played forever, however for those that are not into puzzles or Sudoku, you may wish to look elsewhere before spending the Devil's candy.