World Championship Poker 2
featuring Howard Lederer
World Championship Poker 2 allows gamers from across the globe play against some of the world's best poker players which include greats such as Annie Duke, Howard Lederer and Thomas Bihl who have been faithfully recreated in the gaming environment. Even on the PSP version, the developers have done a great job at recreating their actual likeness. Best of all, World Championship Poker 2 allows gamers to play 19 different styles of poker from classic Texas Hold'em to something a little more modern in Razz.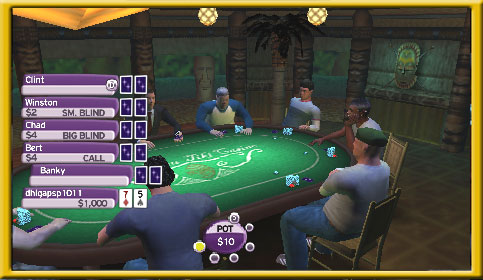 In its essence, Poker is a card game in which players bet that they hold the highest-ranking hand. In Texas, players are given two cards and they can either fold, call or raise depending on the cards they have been given. The game itself consists of both luck and skill and fortunately the title contains a great tutorial for those who are unaware of the game poker but wish to learn.
Before becoming a poker champion, the player must create their own avatar by choosing either male or female characters. Once the sex has been chosen, gamers can then modify their facial features and even give them their own personalities. Once created, you are then ready to engage in some of the world's greats thanks to the AI of this program. Each player also has their own personality "poker" traits which does make for some interesting gameplay.
The game features three different modes of play which include Quick Play, Career and a Multiplayer mode. For those that want extras, there's even some interesting mini-games which are more like tutorials but still fun for those that don't know better. You can even play the title against PS2 owners through its great online mode.
Features
Play 19 of today's favorite poker variations from Texas Hold'em and Five-Card Stud to Deuce-to-Seven Triple Draw and Razz

Compete against the amazing likenesses, play styles and signature personality traits of six of the world's best professional poker players

Become your own card champion with an enhanced Create-a-Character mode including more variations of skin tone, clothes, hats, and accessories

Experience an enhanced look-and-feel, with more realistic characters and advanced animations something happening all the time!

Discover six new themed poker environments to host the action with multi-table online tournament capabilities

Challenge yourself like never before with smarter AI that actually thinks ahead

Both experienced players and casual gamers will enjoy hours of heart-pounding poker excitement
The game is quite entertaining on the PSP, however the title is extremely slow to load certain aspects of the game with the poor little UMD drive spinning furiously as it tries to load the game. The title is also compatible for online play with World Championship Poker All-In PSP® system users which is definitely a bonus feature for those that wish to challenge real players. However in the end, World Championship Poker 2 featuring Howard Lederer is just a poker game that happens to feature a variety of different incarnations that is definitely a title you should consider if you enjoy playing the game of poker.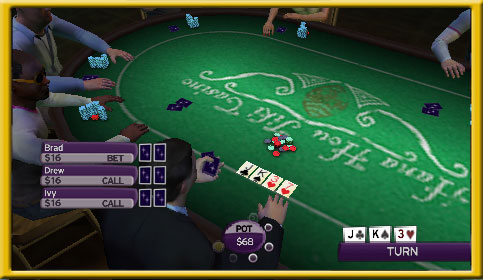 Unfortunately World Championship Poker 2 on the PSP is a little lackluster when compared to its console cousins and features a "poker" type environment where the player is located in one of the many Casino type poker rooms. The characters have been professionally designed and featured 3D character models that move quite realistically on the platform.
Apart from the players moving, the cards are dealt to the players and that's probably where the animation finishes. There are some facial expressions as players try to "bluff" their way through their hands and your character will seem pleased when they win. Still... for a portable PSP poker game, the graphics are not bad.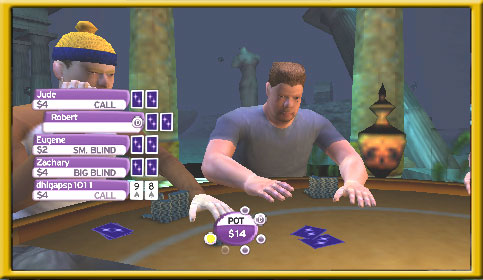 Musically and sound wise, World Championship Poker 2 is a little lapse in this department. My biggest gripe is that when you select your characters personality, this is not reflected in the sound department which is a shame as I was looking forward to some of their cute personalities.
In conclusion, World Championship Poker 2 featuring Howard Lederer is true poker game on the PSP that features good graphics, okay sound and decent gameplay. The only drawback are the sometimes excruciating load times but if you're stuck in the middle of nowhere, waiting for your flight, friend or an alien invasion, then you might want to check this game if you love the game of poker. Interesting!