Taito Legends Power-up
Ok classic gaming is back again on the PSP with Taito Legends Power Up. Just to whet that whistle here are the games that you can play on this disc: Space Invaders (1978), Phoenix(1980), Space Invaders Part 2 (1980), Colony 7 (1981), Electric Yoyo (1982), Jungle Hunt (1982), Zoo Keeper (1982), Elevator Action (1983), Great Swordsman (1984), Return of the Invaders (1985), Bubble Bobble (1986), Gladiator (1986), Tokio (1986), Exzisus (1987), Plump Pop (1987), Operation Wolf (1987), Rainbow Islands (1987), Rastan (1987), Super Qix (1987), The New Zealand Story (1988), Operation Thunderbolt (1988), Battle Shark (1989), Continental Circus (1989), Plotting (1989), Volfied (1989), Ninja Kids (1990), Space Gun (1990), Thunderfox (1990) Tube It (1993).
Now the powerup section comes from the fact that a number of the games have been updated for a new generation of gamers. These are Balloon Bomber, Crazy Balloon, Cameltry and Legend of Kage which all play very nicely and are great to see with a new spin on them.
I always wonder about these compilations and how popular they will be, keeping in mind that at this time of writing I am in my thirties and remember when the games came out, right back to the first time I played Space Invaders at our local chip shop when I was about seven years old.
I am sure that there are gamers out there just as old as me who would love to get their hands on these titles and trust me folks they all play really well. For the newer younger gamer though I worry that there simply is not enough to keep them happy as they are old games and look and play that way (as they should).
There are a number of titles here that donít really fit the bill as far as Legends go, I would have really liked to see some other titles being on the disc in place of others, but for the most part this is a strong selection that should keep gamers happy for quite a long time. Possibly my main point of contention is having more than one version of Space Invaders on the one UMD. Just not necessary.
The appearance of the games on the screen in their original formats is sometimes a chore with the resolution making the game sit in the middle of a screen instead of using all of it. There is a mode that will make the game fit to the whole screen but you will pay the price with slightly blurred graphics and text that is hard to read on occasion.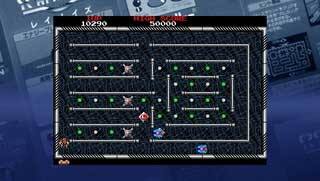 Now despite this I did enjoy playing the games and at the lower price they are being sold at, itís not that much of a cash ordeal to enjoy some old skool gaming even if there are some that you will only play your way through once. I feel that I always have to say this though; it is a collection of old games, looks like a collection of old games and plays like one. Not an issue to be sure, but possibly one for you younger pups.