Smash Court Tennis 3
Smash Court Tennis 3 slams its way onto the PlayStation Portable that allows gamers to become tennis stars as they compete to become number one. Featuring a variety of gameplay modes and all your favourite tennis starts, this current incarnation of Smash Court Tennis will definitely win fans.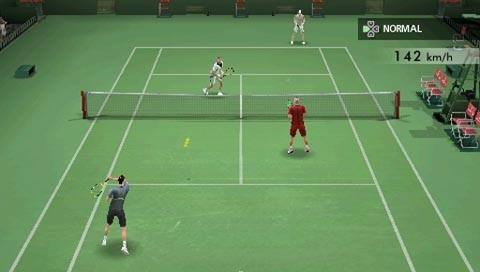 The title is your traditional arcade sports simulator that revolves around the game of tennis. Fortunately for those novice gamers, Smash Court Tennis 3 provides an in-depth tutorial to teach the gamer the basics of the title. There are a variety of different shots that the gamer can make which include power shots, slices, lobs, flat shots and topspins. As with all tennis games, timing is imperative and fortunately the control system is well thought out on the PSP. Although most arcade games are your stock standard button mashers, Smash Court Tenni3 features a rather interesting levelling system that is extremely reminiscent of RPG titles. A great little twist for the franchise.

The title features two modes that include arcade and "pro tour" which arcade allowing for a quick match of tennis and the "pro tour" allowing you to engage in the carer mode of tennis. You basically create your character and slowly move up through the ranks of the tennis world. However, once you complete a match, you are awarded experience points that can then be used to upgrade your skills and even unlock new shots and different techniques. You also play against some of the great tennis greats such as Roger Federer and Maria Sharapova.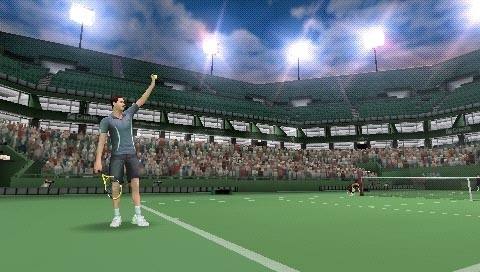 Graphically, Smash Court Tennis 3 is a visually impressive game on the PSP with realistic player animation and good looking background environments. As with the graphics, the sound effects are quite realistic, although some of the player sounds do get a little tiring.

In additional to the standard gameplay modes, Smash Court Tennis 3 also features a grat multiplayer mode, a variety of mini-modes, an exhibition mode and even a challenge mode to increase your tennis skills. Although the min-games may be fun at the start to play, they are a little strange and lacklustre when compared to the main gameplay modes such as hitting a gial pac-man tennis ball across the court or stopping a space invader style of invasion.

In conclusion, Smash Court Tennis 3 is a sturdy game on the PSP that features great graphics and a rather impressive game engine. The new inclusion of the RPG aspect in career mode is a great change of pace to the franchise. Definitely one of the better tennis games on the PSP at the moment.