Shinobido tales of the Ninja
Shinobido: Tales of the Ninja transforms gamers into a deadly ninja that is based on the PlayStation 2 game of the same name which has now sliced its way onto the portable hand held market.
The title itself revolves around 16th century feudal Japan that has the peaceful lands of Utakata now in danger of being overrun by war. Unfortunately for the citizens of Utakata, the Asuka Ninja Clan have almost vanished into the sands time who would have normally banded together to challenge this threat, fortunately the last member of the Asuka clan Goh has once again taken up his ninja-to to once and for all end this evil that has scourged the lands.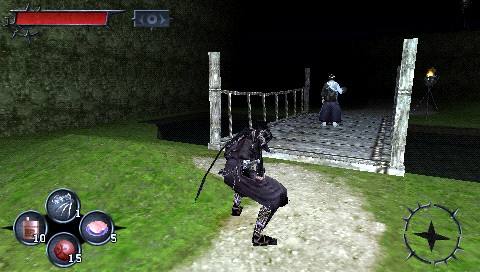 The gameplay of Shinobido: Tales of the Ninja features your traditional arcade adventure game that contains a healthy dose of combat, stealth an an immersive storyline that has you scaling the walls with your grappling hook, assassinating enemies and mano-a-mano combat with your sword and martial arts.
With that said, the missions are extremely reminiscent of the Tenchu series such as stealing items, protecting powerful Nobles or going on a kill spree through an enemy town that is disturbingly entertaining.

Apart from battling your way through the lands of feudal Japan, Goh must also use a variety of magic potions to assist with various missions that can be used to increase your powers, health or even distract guards with magically created women.
As you complete missions, more ninjas are unlocked and each one's skills can be enhanced with new moves and talents. As with your main character, this ninja army that you are building also play part of the storyline that makes a great change from Goh.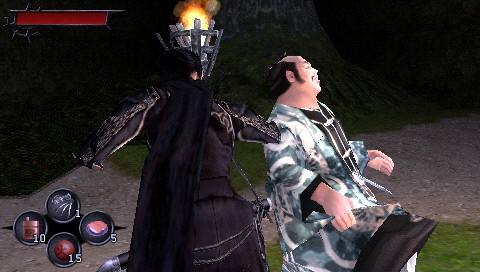 Graphically, Shinobido: Tales of the Ninja borders on average to good, especially with the background environments that are extremely PSOne reminiscent, however the characters in the game are rather impressively created with realistic texture details from their Samurai amour to their dangerous feudal weapons.
Another downside to the graphics is the camera angles that sometimes become stuck or move the wrong direction which does become frustrating when you are in combat. The musical score and sound effects also go hand-in-hand with the genre and although no awards will be one, it does keep things in perspective with all the sounds of this ancient land.

In conclusion, Shinobido Tale of the Ninja is a decent game that unfortunately suffers from stagnant gameplay and graphics that are a hit and miss. Although there is an ad hoc wireless battle mode for up to four players and downloadable content, there is still enough in the title to keep you entertained. If only the developers put a little bit more effort into this title and would have equaled or even rivaled the Tenchu series.