Ratchet and Clank: Size Matters
The latest Ratchet and Clank game arrives on the PlayStation portal that follows the goofy yet exciting adventures of two best mates, Ratchet and Clank. Developers High Impact Games have written the wheel in their latest instalment of the Ratchet and Clank series that continues from their previous instalment on the PlayStation 2 and now its time for our heroes to have a well deserved break… or so they thought.
When a young girl called Luna who hero worships the pair gets kidnapped, it's up to our dysfunctional heroes to come to the rescue in their latest adventure Ratchet and Clank Size Matters. The game combines a healthy dose of arcade action, puzzles and traditional platforming action in this extremely entertaining title.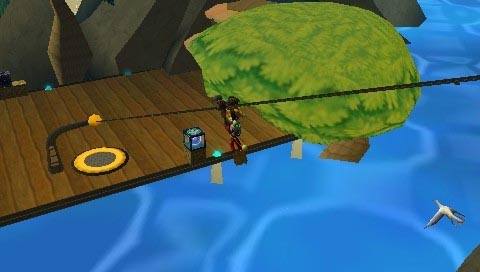 Features
Graphically, Ratchet and Clank: Size Matters is a masterpiece of the PSP and once again shows the power of this hand held console. What really catches the eye are detailed background environments and exceptional frame rate. All the characters have been professionally designed and look like they are straight out of a Saturday morning cartoon series. Honestly, the game looks almost as good as its older brother on the PlayStation 2.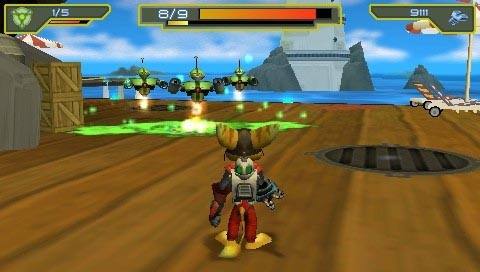 Another impressive feature of this current incarnation is the professional and entertaining voice acting that goes hand in hand with the gameplay. Match that with a variety of humorous sound effects and a subtle musical score and you have everything you need in a well made arcade game.

The title plays like your traditional platformer where you must navigate a variety of obstacles and enemies in order to progress through the game. Your characters also engage with the other characters in the game to go on missions and even purchase weapons. There are also a variety of mini-games available such as space invader style shooters and even a Lemmings style of game.

The control system of the Ratchet and Clank: Size Matters has also been rewritten on the PSP which uses a combination of the analog stick, shoulder buttons and d-pad to control your characters through the gaming environment. The camera angles are also relatively fine, however a push of the shoulder button and the camera has been reset.

Apart from the main game, the title also features some great multiplayer modes that include death match, team death match, capture the flag and Iron Lombox Challenge which allows the player to challenge other players in order to become the ultimate Ratchet and Clank player.

In conclusion, the developers have created an extremely sturdy arcade game on the PSP that not only showcases the power of the handheld console but also the quality of the games available. High Impact Games have taken the original concept of Insomniac Games and created a true sequel to the PlayStation 2 games. Great graphics and gameplay!