Phantasy Star Portable
One of the most long memorable gaming universes (for some anyway) finally revisits the modern world of gaming and best of all, it's targeted the neglected PSP console. In this current installment, Phantasy Star Portable begins with a time of peace where the infestation of the alien SEED is now under control, however a new menace now creeps throughout the galaxy and threatens everything in its pass.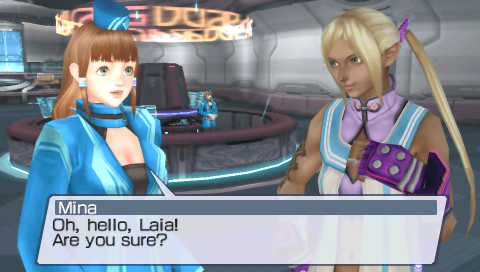 Features
Longtime fans and new players to the series will enjoy the original content from Phantasy Star Universe and Phantasy Star Universe: Ambition of the Illuminus.

Exclusive New Content for the PSP - Phantasy Star Portable players will experience a whole new storyline and meet new characters, while the new record book feature keeps track of over 150 new collectable items

Customizable Avatar - Players can create their own avatar with the rich Character Creation system, or port in their character from the Phantasy Star™ Portable downloadable demo.

Multiplayer Mode - Up to four party members can team up via Sony wireless.

Multiple Endings - The first Phantasy Star experience that offers a different ending depending on the player's actions!
Now gamers must take their party and visit the fringes of the galaxy in the Gurhal system where they must investigate this contamination and hopefully discover its origin and how to stop this deadly threat. As you can see, the storyline of this currently installment is oozing with Phantasy Star goodness.
At its core, Phantasy Star Portable is an engaging RPG/Dungeon Crawler title that allows the gamer to fully customise their character and best of all, this current installment allows the gamer to play with three other friends via the wireless connection.
Even if you don't have any "human" players available, the single-player game is thoroughly engaging that will immerse you into this rich universe for hours, days and weeks. The single-player mode has a decent AI system and introduces three CPU controlled characters from healers to warriors to name a few.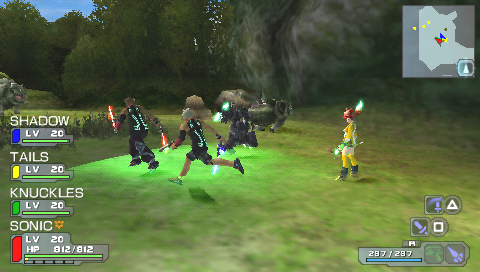 You will also be accompanied through the game with Vivienne, an android from the CAST who happens to provide some comedy relief which gives the title a human face. However, before starting the game, you need to create your avatar who can be of a number of different races and looks. Although it's fun, it can become time consuming.
The gameplay has been slightly changed for the PSP in terms of how you navigate through the gaming universe, however where the title does shine, apart from exploring new worlds is the battle system and the RPG aspects of the title. Of course in its essence, it's still a dungeon crawler but a fun dungeon crawler with heav Japanese RPG elements.
The developers have ensured that the control system on the PSP feels "quite" right as you fight, discover items and level your characters. Compared to previous versions, it's actually considerably faster in terms of gameplay. Combat does involve some strategy in order to time your attacks for more power and thankfully your team members will assist, AI or real.

The missions in the game are very well structured and will not force the gamer onto difficult quests. Rather, the gaming is quite well paced and as your character progresses, so does the difficulty through the quests and the enemies that you encounter. As you explore, things change and this ensures that nothing becomes too repetitive as you find new items, armour and weapons to assist you in your goals.
Graphically, the title is reminiscent of previous Phantasy Star games with anime inspired graphics, great colour palettes and some impressive special effects. Match that with Phantasy Star inspired music and it's almost like coming home to your parents house again.
In conclusion, this game does add another level to the franchise that has been successfully transferred to the PSP with strong gameplay, decent graphics, although sometimes a little dated and an impressive soundtrack. I was extremely pleased with the control system of Phantasy Star on PSP, although after a few hours of playing, it does hurt your thumb but it's a small price to pay for saving the universe. The only downside is no online play.