Mortal Kombat Unchained
Fight fans will be rejoicing as much as I am for this new game for the PSP in the Mortal Kombat series. It translates really well to the smaller screen and is as much fan as the others before it. Which makes perfect sense really as it is a port to the PSP of Mortal Kombat Deception.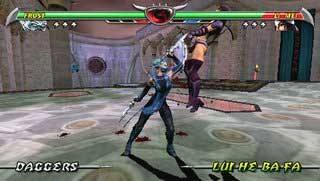 The Mortal Kombat series is easily one of the most entertaining and perhaps the most popular fighting franchises of all time which originally started as a modest, yet hardcore 2D fighter. Since then, the series has appeared on almost every console in existence and has now matured into a fully fledged 3D fighter with the same excitement, corny voices and fighting action that has kept the Mortal Kombat competition going strong worldwide with a huge fan base.
Fortunately the action continues on the PSP and the storyline takes up from where Mortal Kombat: Deadly Alliance left off and once again the insidious Dragon King has returned to manipulate and torture the contestants of the Mortal Kombat. Speaking of contestants, the PSP title introduces six new fighters for your gaming pleasure; Kitana, Jax, Frost, Blaze,Goro and Shao Kahn
Midway have really pulled no punches in this current incarnation of the game as everything is bigger and better but maintaining the nostalgia of the original series. For instance, characters now have two fatalities instead of one that include Hara-Kiri moves (self-inflicted fatalities) and also those combination move fatalities that we have all learned to love.
Apart from the regular gameplay modes, the game also includes some new additions to the franchise that includes online play, Puzzle Kombat and Kombat Chess. The fighting in Mortal Kombat: Unchained is entertaining and continues on the same exciting vein from Deadly Alliance where each character has three different fighting styles. Midway has also added a limited-use combo breaker that uses a memorization combo system.
For instance, you input a series of specific buttons with little regard for timing and the game does your combo for you, whereas, normally you are at the mercy of the opponent when this happens. Now three times per match, you can perform a combo breaker that interrupts someone's combos.
Although these do no damage, they only knock your opponent down which gives you some breathing room. In addition to beating your opponent to a pulp, certain arenas contain weapons which you can pick up and use against your opponent. There are also arena-dependant death-traps that really take the gameplay to a new stage with all the deadly traps that really makes a mess of the characters in the title.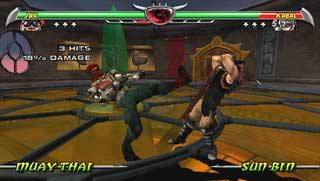 Graphically, Mortal Kombat: Deception has about the same amount of detail as there was in Deadly Alliance and the characters contain a high amount of polygons with high resolution texture details to make them look extremely realistic. The backgrounds seem larger and a little more busy with extra animation such as various mechanics and special effects in the background.
The audio of Mortal Kombat: Unchained is excellent and you really get the nostalgia goose bumps when Shao Kahn yells "Finish Him!" at the end of each match. The game's soundtrack has a few remixes of old Mortal Kombat songs but also many new ones which fit the dark attitude of the game. With that said, each character has some really bad but entertaining character acting that goes hand-in-hand with the gameplay of the title.
In conclusion, Mortal Kombat is a great fighting game. If you are a fan of the Mortal Kombat series than you really need to get this game or if you have never played that series before and you really want a fighter, you best check this title out. Highly Recommended!