Media Manager for PSP
Media Manager for PSP® software lets you experience the full capabilities of your PSP® (PlayStation® Portable). Much more than a game console PSP® is a multifunctional entertainment device—use it to view and share movies and photos listen to music and enjoy your favourite podcasts on the go. Media Manager for PSP® software is easy to use—just drag and drop to move files to or from your PSP®

The PlayStation Portable (PSP) is easily the best hand held console currently on the market that is not just a games machine and allows the user to listen to music, watch movies, view photos and even surf the internet. Unfortunately these "extras" are not included in the basic PSP pack and in order for users to access this functionality, they must purchase an additional USB cable and third-party software in order to copy movies, sound and photos. Needless to say, this should have been a standard with the PSP unit as it is with digital cameras.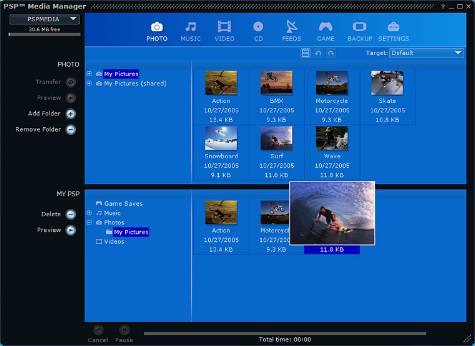 Once the user has purchased the cable, there next step was either to navigate manually through the PSP that require intermediate computer skills in order to know where to copy each file or to purchase a third-party program that would allow the user to achieve this. With that said, there are also some "free" PSP media programs available on the internet, although not as professional as Movies to Go for PSP or Sony's new PSP Media Software that has just become available in Australia.

Sony's new Media Manager for PSP costs around $29.95 that basically allows you to connect your PSP to your computer via a USB cable. Once the software was installed that took only a few minutes to successfully initialise, impulsegamer were ready to test this software package.

The interface of the Media Manager for PSP is quite easy to use and has a professional feel to it that allows the user to convert and copy vides to your PSP and copy sound & pictures to the PSP in order to allow the user to have freedom via mobility.

In conclusion, this software package should have been available with the PSP, however if you do not have any media programs available for your PSP, then I would recommend either Sony's media program or Manaccom's Media program (provided you only wish to copy movies), however Sony's version basically lets do all these aspects with just a few clicks. Check it out