Hard Rock Casino
Hard Rock Casino by Oxygen Games is the latest Casino simulator for the PlayStation Portable that allows gamers to experience the high rolling gambling world as they attempt to tackle more than 20 different games.
Unlike traditional card games where gamers play a variety of casino games such as Poker or Slot machines, Hard Rock Casino allows the the player to customise their character as they attempt to become the highest roller in the Casino world. It's The Sims meets the world of Casinos!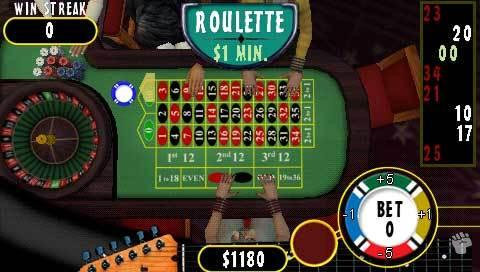 Before beginning Hard Rock Casino, players must first create their casino avatar by selecting their sex, body shape, hairstyle and a variety of other attributes that gives ownership to the player. Once created, gamers can then attempt to challenge the best as they begin the game with $1,000 dollars.
For those players who are not familiar at the variety of different Casino games such as Craps or Black Jack, the game offers a great tutorial mode which teaches the player the rules, strategies and tips for each game. Even for a seasoned veteran like myself, this did come in handy.
Although the title features 4 different themed casinos, gamers must first conquer the current casino that they are in and this is achieved by winning certain goals of each game and of course obtain more money. Once you have completed certain objectives, it's time to explore other casinos.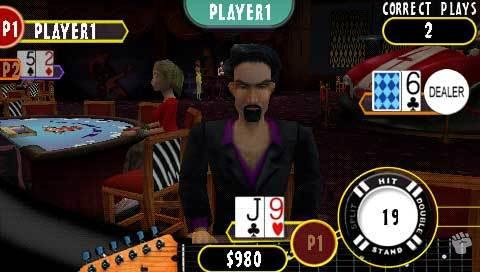 Oxygen games have attempted to introduce some AI into the title as each of the players that you compete again have their own personalities and goals, some are also extremely annoying and sarcastic.
As you progress through the game, you also start earning a reputation plus more money (follow the theme of this game?) which allows you to access other areas in the game that are not open to mere gambling mortals.
The gameplay itself is quite entertaining, provided you are into casino games, however for those players that have never played a card game or more specifically a casino game before, they might want to rent before they buy. With this in mind, the title is also the perfect compendium to learn the rules of the various games inside a casino.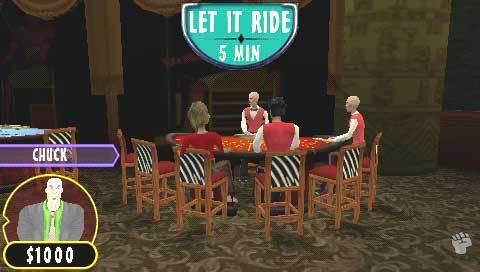 Graphically, Hard Rock Casino is quite impressive on the PlayStation Portable that features simple yet sometimes impressive graphics with a few special effects here and there thrown in for good measures. Add in an elevator soundtrack, various sound bites and voices and it's almost as you are in a real casino like Jupiter's on the Gold Coast or Crown Casino in Melbourne Australia.
In conclusion, Hard Rock Casino is an entertaining and interesting Casino Game, provided you enjoy those sim style of games. The title also features realistic casino gameplay, decent artificial intelligence and everything you would expect to find inside a casino. Definitely for the high roller in all those gambling addicts.