Gran Turismo
The world's most definitive racing simulation is now available on the PSP that offers gamers a portable and slightly cut down version of this PlayStation great. Although slightly deviating from its big brother, Gran Turismo on the PSP contains over 800 cars to be selected and raced plus a variety of different circuits, making this a very detailed and realistic driving game on this console.
Featuring a variety of different gameplay modes, including multiplayer fun, Gran Turismo throws the player straight into the world of high speed racing from the driving challenge mode to a plethora of races.

In single-player mode, the gamer is spoilt for races, time trials and driving skills events, ensuring diverse and interesting gameplay. With a wide gamut of tracks available and cars, the control system on the PSP actually works quite well with the game, although the console does get a little heavy if you play too long.
Novice players will have no issue in picking up the PSP and start playing and with veteran gamers, a higher difficulty level will assist in challenging them. I was impressed by the realistic tracks in the game that include Suzuka and the Fuji Speedway plus some realistic locales that include New York and the Swiss Alps.
The good thing about the tracks is that they are quite different and are not just another different colour palette, hence they actually look like their real-world locations. The game does offer some tweaking, although some it has been cut for the PSP version but for us, it was more than enough. Those purists of the series may be a little upset though for the lack of true customisation.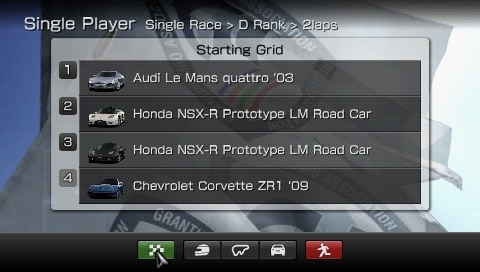 As you win races, you are awarded money that can be used to purchase additional cars and of course, unlock new tracks and new cars. Whether your competing in one off events or embarking on the challenge mode, Gran Turismo offers short amounts of play or long gaming sessions, depending on how much time you have to spare.
As you progress, you are awarded trophies for your prowess, with gold being the elusive trophy that can be quite difficult to achieve at times but if you do, you'll be awarded some great cash. Although the game contains no tutorial per se, the best part to hone your skills is through the Challenge Mode that is similar to the license mode in the original game.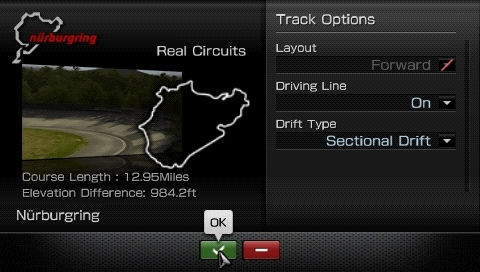 Another cool aspect of Gran Turismo on the PSP is that you can create your own soundtracks that allows you to listen to MP3's while you race. Our biggest gripe with the PSP version is the lack of a true definitive career mode that allows you to start as a humble racer and race your way through the ranks. Unfortunately nowhere to be scene.
An interesting twist to the PSP version is that when you are ready to purchase a new car, the game slowly makes cars available to you which is a great incentive to continue and save your money for that elusive Skyline or the like. Your cars can even be shared with friends who own this game and is an interesting tactic by the developers.

Apart from a sturdy single-player mode, Gran Turismo does contain a variety of multiplayer games, catering for both novices and professionals. Our favourite mode in multiplayer was "Shuffle" that automatically assigns a player a car, however if they win the race, they are awarded a slower car and the person that came last is given something faster. Definitely quite challenging and a twist to traditional multiplayer racing.

Graphically, the title is well presented on the PSP with a modern interface and some impressive gameplay graphics from realistic cars (great special effects) and great looking environments such as the Grand Canyon or the Swiss Alps. It actually looks like the PS2 game but better, thanks to the power of the PSP and the small screen. Add in some realistic grunts from the cars and the sounds of brakes and tires and Gran Turismo is a very good looking and sounding title. The ability to add your MP3 collection to the soundtrack is definitely a step in the right direction.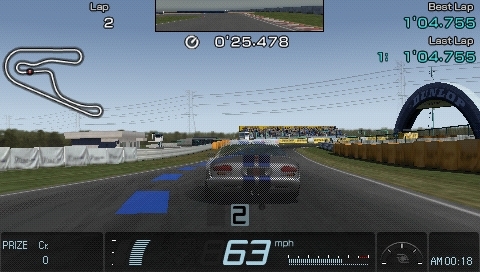 At the end of the day, Gran Turismo on the PSP could be considered Gran Turismo light in some aspects, however if you're looking at a racing simulation with real-world cars and decent gameplay, than this is one title you should investigate.
The control system works very well on the PSP and best of all, the value for money of the game is worth every penny because you can virtually play this game for quite a considerable amount of time.
If you're a PS3 owner, you can even share your cars with Gran Turismo 5 when it is released sometime next year. Sure, it may not have a career mode but racing is all about the races and Gran Turismo was all about simulation and this game succeeds in that aspect quite well.