Ghostbusters the Video Game
Ghostbusters The Video Game could be considered the official third movie in the franchise and is penned by Dan Aykroyd and Harold Ramis who really give this game some credibility.
Best of all, the dialogue is top notch and all the actors really get into their characters again, apart from Bill Murray who sounds like he has better places to be. Even so, the story is oozing with Ghostbusters fun and gamers play a new up and coming Ghostbuster (male or female) thanks to the tutorage of the gang.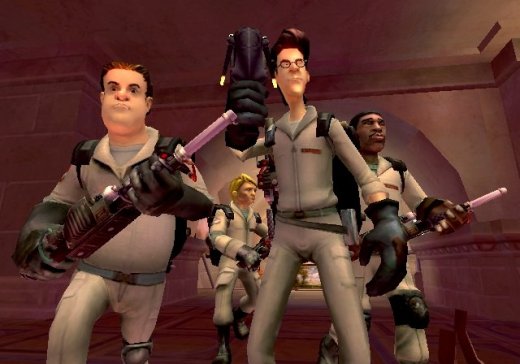 The story is set after Ghostbusters 2, two years to be precise and not much as changed in New York. The Ghostbusters are still "busting" ghosts for the Mayor and unfortunately for them, the villain from the original movie, Gozer is once again about to cause all sorts of grief for not only the denizens of New York but the Ghostbusters as well. Needless to say a cool story.

The gameplay on the PSP is a third person game as you tag along with the original Ghostbusters and attempt to send these spooky apparitions back to the nether verse where they came, thankfully with all the cool Ghostbuster weapons and gadgetry as you attempt to control your proton stream which is extremely reminiscent of the movie.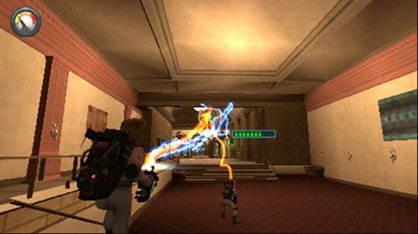 Unfortunately the control system on the PSP is a bit of a hit and miss affair as you use the analog stick to control your player in the environment with the buttons used to control the crosshairs and use your weaponry which is a tad awkward.
Unfortunately it becomes a little fiddle some at the best of times, especially when you're trying to target several ghosts. Thankfully the game is quite forgiving when it comes to accuracy and "damage". Needless to say, the developers put too much "port" than "thought" into this title.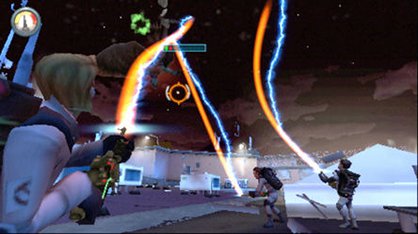 Although we've reviewed the PS3 and PC version of this game, I must admit that both were quite entertaining to play and nice on the eyes. The PSP version has of course received a massive downgrade of facelift.
The realistic graphics of the high-end consoles are gone and the characters have been replaced by cartoony looking characters. The environments are also a little bland with some annoying camera issues and popups. Probably the biggest saving grace for the game is the dialogue which is pure Ghostbusters fun.
At the end of the day, Ghostbusters for PSP isn't a bad game but seems like a bit more work would have helped push this over the thresh hold. Although the graphics are a little simple, it's fun but unfortunately the awkward gameplay only causes frustration rather than entertainment which is a shame.