FlatOut: Head On
FlatOut: Head On is the latest extreme racing title to skid its way on the PlayStation Portable which feels like an amalgam of Burnout meets Stunt Driver, offering the gamer a variety of different gameplay modes, locations, tracks and cars in this exhilarating racing destructing derby title.
Match that with a variety of great multiplayer options and you have everything you need to keep you entertained and get your racing fix for quite some time. With that said, FlatOut: Head On is not your average car game... no it's far from it!
Features:
Carnage mode with more than 36 quick play challenges

Fully integrated FlatOut championship career mode

9 Demolition Derby arenas with Deathmatch and Last Man Standing modes

12 different Ragdoll events mode including darts, bowling, and ring of fire

6 locations, 40 tracks and 45 unique car models including rigs and school bus

4 player wireless racing, 8 player mini games and tournaments
So what exactly is FlatOut on the PSP? It's basically a racing title that contains stunts, demolition derby and the chance to create as much carnage as possible with your motor vehicles.
For instance, in the Demolition Derby arenas, players are rewarded points for as much damage as they can inflict. The gameplay is not static but more dynamic, offering the gamer 12 different ragdoll events which has the gamer using the car to perform a variety of ridiculously dangerous stunts with your avatar such as braking the car at high speeds in order for your driver (their body) to get as much as height as they can.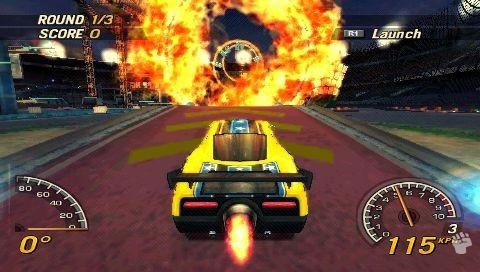 Other strange ragdoll events include dartboard and bowling pins which has the player using their car to through their drivers into the air to hit either a dartboard or bowling pins. Needless to say, the gameplay is quite strange and sometimes over the top but at the end of the day is entertaining and unique.

Graphically, FlatOut on the PSP is quite impressive on the console with detailed cars, tracks and gaming environments, giving the gamer a full racing and stunt experience. What really sets FlatOut apart from its competitors in the racing genre is the realistic physics engine which have been perfectly created on this title.

Add in a variety of moveable objects in the gaming world such as shopping trolleys and car parts and you have one visually impressive title with some great special effects from fire to lighting. Some of the levels have this almost "Bronx/Mad Max" visual quality to them which also assists in immersing the gamer into this interesting universe.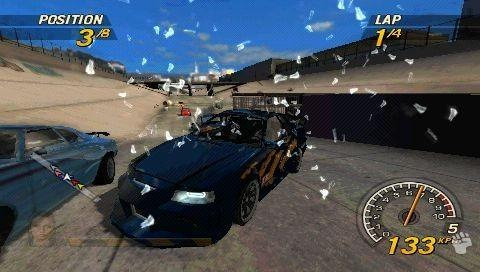 FlatOut features a great soundtrack which suits the genre perfectly with its "Heavy Metal" scores. Match that with a variety of realistic car sounds from crashes to the wild background sounds and FlatOut is great in this development department. Ok... it's a little clichéd but really suits the genre perfectly.

In conclusion, Flatout is a clichéd extreme sports car game that works quite well on the console with over the top gameplay and exaggerated stunts which are quite entertaining. It's fun and easy to pickup and best of all, it's a little different from all those stock standard car games currently on the market. Check it out... you may just enjoy it!