Fat Princess: Fistful of Cake
I'm the first to admit that the PSP has been quite stagnant of late, especially with the inclusion of the PSP GO. With the advent of downloadable games from the net, the calibre of releases has been a little lacklustre and if I wanted downloadable games, I would have got an Apple iPhone. Not that the Apple iPhone is bad but its games are more casual. With that said, the architecture of the PSP is capable of so much much more, as opposed to third, more likely fourth party downloadable games. Even though Fat Princess: Fistful of Cake is a port of the PS3 game which ironically is available online, the transfer to the PSP is perfect and truly stands apart from its high-end console sibling, making this a worthy physical purchase.
In terms of story, Fat Princess: Fistful of Cake involves around a meek little princess, however by feeding her more "cake", she eventually becomes morbidly obese in order to prevent the enemy from stealing her away. Add in elements of real-time strategy, resource building and team work and although this is one of the strangest games we've played, the result is addictively quite annoying.
In terms of gameplay modes, in single-player or aptly dubbed Play With Yourself, it contains a story mode called Legend of the Fat Princess, Mess About that allows you to play through the single campaign when you don't want to get stuck in the story mode and lastly, Gladiate which is reminiscent of a hoard mode that has you battling it out as the different classes in the game with a almost never ending army of enemies. Thankfully, the like the PS3 version, Play With Others is another fun experience that boasts up to 8-players in the campaign mode.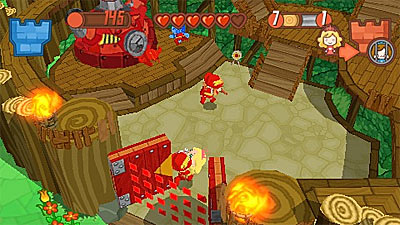 The learning curve of the game is a little steep at the start but thankfully the first few levels in the story mode act as a tutorial to this colourful world of princesses and cake! At it's core, Fat Princess: Fistful of Cake is a game similar to capture the flag and by feeding your princess more cake, she becomes heavier and heavier, thus making it more difficult for the enemy to take away this cute but obese princess.
There are even RTS elements thrown into the mix as you have a variety of objectives to complete, including resource building plus some mini-games thrown in as well. Classes also play a role in the game but thankfully you're not limited to just one class and by changing hats, you might go from Priest to Warrior or the like. It may be a little confusing at the start but it works quite well as changing classes helps other characters, whether you're a priest healing or a worker fixing. Another interesting aspect of the game is that no matter what you do for your class, you are awarded "experience" for doing what their class is supposed to do which is quite unique in itself. To change class, all you need to do is pickup a hat and presto, you have changed to a worker or back to a warrior. In terms of other classes, you have ranges, mages (great spells) but interestingly enough, I had fun controlling the workers who harvest, build, repair and wait for it... demolitions!
In terms of multiplayer or Play With Others, unlike the PS3 version which allowed up to 32-players, the PSP has been cut down to 8 which is a little dull in comparison. However, the developers have upped the ante in terms of game modes which include Demolition, Grim Reaper, Invasion, Jailbreak, Queen's Rules, Rescue the Princess, Snatch 'n Grab and Team Deathmatch. Although some of these game modes are a bit of a hit and miss, three quarters of them are actually quite fun to play, provided you can find some people.
My favourite is the Grim Reaper which allows you to kill other players with one hit but of course, everyone else is gunning for you which is quite fast and frenzied but thoroughly fun. Lastly we have Queen's Rules which is basically soccer but think of a more violent version. Clever and fun! The only issue with multiplayer is that some of the games do drag on which is not a limitation of the console but rather some of the players that you are playing with. There needed to be a timer or something to push things along.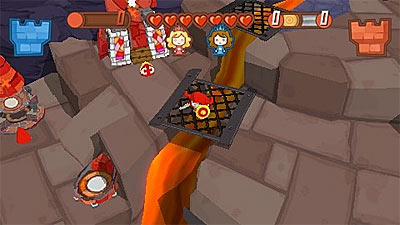 Graphically, the title looks good on the PSP with some good attention to detail, especially seeing all these little characters fight on the screen. The game has this great cartoon style of graphics which looks cutesy but in actual fact, it's not. Add in some great special effects and lighting and this is one good looking game on the PSP. To compliment the game, the soundtrack is brilliant as are the little voices of your Princess' army in the game… very fun to listen to. With gaming environments, there are 17 maps to engage in and this is one game which will drain your battery from the addictive nature of it.
In conclusion, Fat Princess: Fistful of Cake is a fun game on the PSP and although I would not recommend it to owners of the PS3 version, unless you're a die hard fan but for owners of the PSP who've never played it, this is definitely one of the better releases for 2010 thanks to itsvery quirky gameplay and a fun storyline. I mean, come on now… forcing a Princess to eat cakes to become fat so she cannot be stolen… priceless! With elements of RTS, RPG and arcade moments, this is one game that I'll be playing for quite some time. Recommended!