Daxter
Being a huge fan of the Jak and Daxter series on the PlayStation 2, I was pleasantly surprised to know that a new version of their legacy would be released on the PlayStation Portable that would bring forth elements of all the original Jak and Daxter games and create something unique and individual for this powerful mobile gaming unit.
FEATURES:
Play as the Dastardly Daxter - Daxter allows gamers to play from his
perspective offering a distinctive set of moves with agile abilities that
allows players to climb walls, creep up on enemies, fit in small places and
maneuver vehicles.

The Best In Action Platforming - Taking a job as a pest exterminator, to
fight an ongoing invasion of metal-bugs, Daxter comes equip with gadgets to
rid the city of these metal nuisances. Get close up and personal by using your
flimsy bug swatter to squash an army of attacking insects or your spray gun to hover around a variety of environments while picking up various upgrades.

Exciting Wi-Fi Gameplay - Compete head-to-head against crushing opponents in a variety of mulitplayer combat arena challenges.

All New PlayStation2 and PlayStation Portable Connectivity - Gamers can use
their PlayStation Portable to unlock drivers, vehicles and graphics for Jak X:
Combat Racing or connect to their PlayStation 2 to open up secret features in
Daxter via USB connection.
The story interlinks with the previous games on the PlayStation and when Daxter's best friend Jak becomes imprisoned, it's up to everybody's favourite sidekick to rescue his pal. Based in Haven City, Daxter take son the role of an exterminator who must not only embark on his main mission of rescuing Jak but also solve the denizens of this world's problems by embarking on a variety of different missions and sub quests.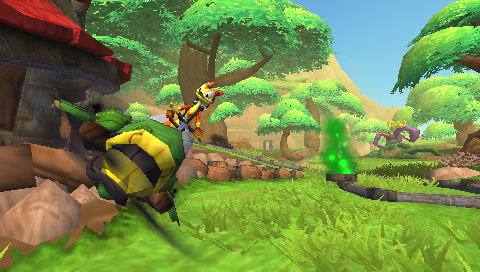 Unlike previous incarnations, this current version of the saga lets gamers play as Jak's furball sidekick called Daxter who is annoying, charming and down right entertaining all at the same which brings forth a much needed PSP created and exclusively new experience on the console.

Unlike the wide gamut of PSP titles at the moment that are basically ports of existing games that basically bring nothing "new to the world of portable gaming, Daxter has really broken the mould because not only does it play well on the PSP but it's easily the best arcade game out for the system at the moment.

The gameplay of Daxter is extremely reminiscent of the previous series and is actually perfectly suited for the PSP. Novice gamers will have little difficulty in mastering the control system of this title and more experiences gamers will appreciate the subtle difficulties that the developers have implemented into the title to give them a run for their money.

Apart from performing the stock standard arcade moves of running and jumping, Daxter must also fight his way through a plethora of enemies in order to reach his final destination and with that said, the gameplay of this title is a pure masterpiece, so be warned, your life may be dictated by this title until you complete it.
Daxter also contains an entertaining wi-fi head-to-head mode with a variety of different combat arena challenges and players can also unlock special features for Jak X: Combat Racing on the PlayStation 2. Most gamers will probably complete this title either once or twice but the bonus features do assist in creating a longer shelf life for this title.

Graphically, Daxter is the most impressive game on the system at the moment (finally a game made for the PSP) that pushes the system to its full potential, all at the same time of keeping an extremely respectable frame rate without any stuttering or slowdowns. The characters have all been professionally designed that move with a flawless grace and match that with a beautifully created gaming world and this title will easily be the game that
everybody must own for the PSP.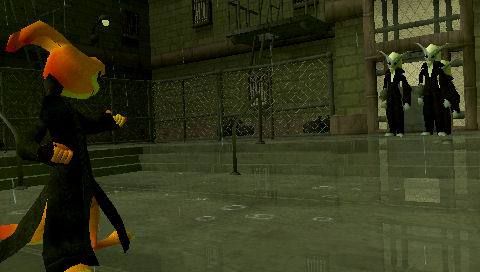 As with the graphics, the audio is similarly spectacular and add in some professional voice acting and an awesome atmospheric soundtrack and the gamer will easily be lost in this PSP wonderland. Although with that said, Daxter does become a little annoying with his sarcastic attitude but that is what Jak and Daxter is all about.

In conclusion, Daxter is a flawless piece of art that contains some of the best arcade gameplay, graphics and story to have been created on the PlayStation and I will make a bold claim here that from this date, Daxter is the best title out for the system at the moment. Highly Recommended!