The definitive quiz game once again returns on the PlayStation Portable, however this current installment is targeted towards the ďaussieĒ gamer with a variety of Australian based quiz questions added.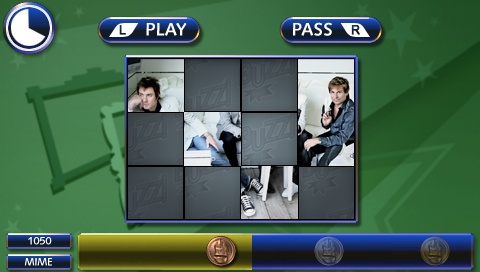 For those unaware of Buzz which was originally released on the PS2, itís a quiz show game that allows up to four players to engage in a variety of entertaining quiz questions that is hosted by ďBuzzĒ, aka Jason Donovan (Neighbours) and provides some comedic relief. Best of all, this quiz-like experience has been successfully translated to the portable world of gaming.

Features
Buzz is looking for Australia's greatest quiz brains! With thousands of questions on your Australian culture, movies, music, sport and more, do you have what it takes to be Brain of Oz'.

Over 4000 questions included (1000 unique to PSP version), alongside hundreds of licensed picture assets and videos.

Exciting Pass-Around and game-sharing multiplayer quiz modes all tailored especially for PSP.

Extensive single-player mode challenges players to beat various quiz rounds and earn medals for strong performances.

Buzz in anytime, anywhere. Enjoy Buzz! portable quizzing wherever you are on PSP.

5 question topic channels to test your knowledge (Movies and TV, Sport, Music, Lifestyle, Knowledge)
Thankfully Buzz! Brain of Oz does not take itself seriously which is probably why it has succeeded and even though the PS2 and PS3 version requires buzzers to play, the developers have ensured that the majority of the gameplay, including the fun has been successfully transferred to the PSP.
Although the PSP version boasts an in-depth single-player mode where the gamer must choose their avatar and attempt to answer an almost unlimited number of questions, itís actually quite fun in attempting to beat your previous attempts. Eventually questions will come up again, however there is a huge amount available.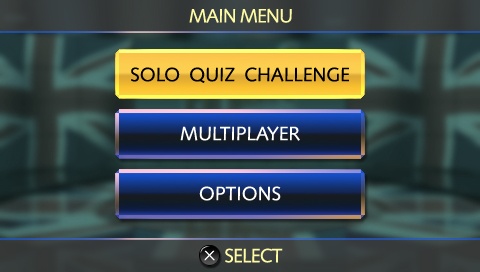 Add in an interesting and fun multiplayer version that we played on the plane from Melbourne to Sydney and this is the perfect party game for people on the go. The multiplayer version is great because no one can see the other players answers and you can even target your friends or ďfoesĒ with certain questions that may be their weak spots such as categories on music or films.
Although the majority of questions are international, the game does contain that odd Australian question and we were horrified on many we got wrong. Itís ironic that the international questions are easier to answer than the Australian questions, however Iím guessing thatís what years and years of US and UK television will do to you.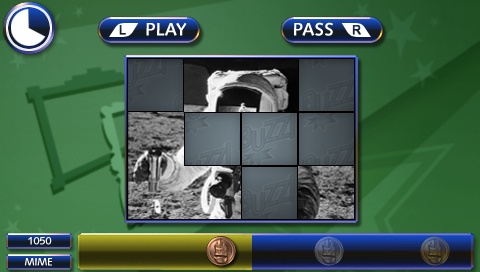 Graphically, the title is quite reminiscent of Buzz on the PS2 and PS3 and it uses a wide variety of animated graphics from the players and buzz to assist with that whole quiz show experience. Add in clips, stills and sound clips and you have one good looking and sounding game. The music sounds just like a quiz show and there is also quite a large amount of dialogue in the game.

At the end of the day, itís good to see another Buzz! game on the PSP that although doesnít add much, actually nothing new in terms of gameplay, itís good to see that there is a plethora of new questions, 4000 to be exact that should keep most gamers going for quite some time.
Definitely a fun experience that has more content than those Nintendo DS games!