ATV Offroad Fury Pro
The portable gaming world can now enjoy the thrills and bumps of ATV Offroad Fury Pro that revolutionizes the series with improved gameplay and graphics to match which make this one of the most enjoyable offroad games for the console. In its essence, ATV Offroad Fury Pro is a racing title with a healthy amount of stunts as players compete in a variety of different gaming modes to ensure victory.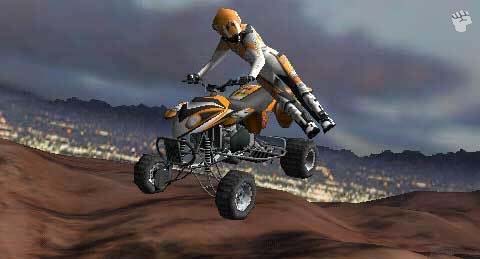 For the uninitiated, ATV Offroad Fury contains an in-depth training mode to teach you the basics of the title and is quite intuitive. Once you have completed the training or if this not for you, the different game modes include Supercross, Rallycross, nations, Freestyle, Circuit, Rally Snowcross and the main crux of the title, Championship.
The championship mode is almost like a career mode as the player must compete in a variety of events as they attempt to gain sponsors in order to unlock new parts and clothing that will give you hours upon hours of enjoyment.
The developers haven't forgotten about the multiplayer as the title contains some great online options such as single race, championship and mini-games to keep you entertained. For those not online, you can even play the title via ad-hoc connection.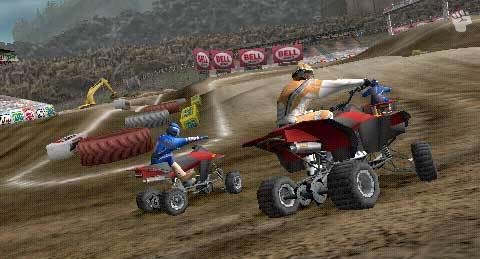 When it comes to vehicles, the game is virtually littered with a variety of ATV-based vehicles that include all-terrain vehicles (ATV), bikes, buggies, trucks, rally cars and Ski-Doo snowmobiles. Best of all, all these vehicles handle differently than each other, so each track can be played a variety of times. Of course with the Ski-Doo, this vehicle can only be raced on certain tracks but makes for some interesting gameplay.

Graphically, the title is rather impressive on the PSP that featured detailed gaming environments, realistic vehicles that move with real-world physics and some neat special effects that go hand-in-hand with the sound effects and pumping soundtrack. Best of all, even with so much detail happening all at once, the frames per second is perfect on the PSP with no tearing whatsoever that makes for an enjoyable gaming experience.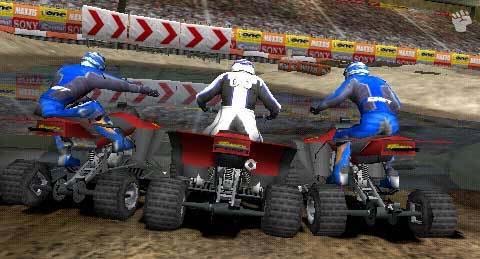 In conclusion, ATV Offroad Fury Pro is quite a decent ATV title that contains extremely good gameplay, good graphics and a truly pumping soundtrack that suits the genre. The control system is perfect on the PSP and whether you're racing on dirt or in the snow, the game handles accordingly. All in all, ATV Offroad Fury Pro is a brilliant title from start to finish that can be played over and over again.