Zone Alarm Pro 6
Manaccom's Zone Alarm Pro 6 offers computer users true affordable protection for their personal computers. Firewall, e-mail security and anti-spyware, Zone Alarm Pro 6 has the perfect protection for those users who already own a basic AntiVirus program.
Zone Alarm Pro 6 offers users the following features:
As with previous versions, Zone Alarm Pro 6 once again offers one of the best firewall options for your computer that now contains a triple defence firewall that not only stops hackers but also other internet threats such as unsolicited spyware or deadly internet worms. The triple defence firewall features include:
Blocks hackers from gaining access to your computer

Automatically makes your computer invisible to anyone on the Internet

Prevents spyware from sending your personal information across the Internet

Protects your programs and operating system from malware
Installation
The installation of Zone Alarm Pro 6 was a breeze and it simply auto installed when the CD was detected by the computer and after a few minutes, the defences of our test computer was immediately upgraded. After a reboot, scan and a download of the latest virus and spyware signatures, Zone Alarm was giving our test computer what we believed was one of the best protection schemes available.
Firewall
Zone Labs Pro 6 also allows users to tailor the software package so that you can manage your security settings for that perfect environment which is great for network control. You can also create a list of safe programs, email addresses and websites to ensure that these websites are accessed without the vigorous firewall control that not only keeps safe sites accessible but also ensures that your PC is 100% protected.
Essential Email Security
Although Zone Alarm Pro 6 features no traditional antivirus software, it does have email security that protects your emails from harmful viruses and deadly worms. The essential email security protects not only inbound emails but also outbound emails which prevents the spread of viruses if you have been infected. Although I must admit that this feature is a little strange as it almost gives you virus protection but suddenly stops. However, it's ideal for those consumers who are just running basic AntiVirus packages.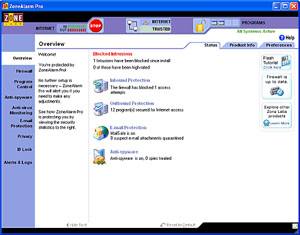 Spyware
Spyware has become a major threat on the internet these days and Zone Labs have once again come to the rescue with Zone Alarm Pro 6 that now offers users the ability to detect and remove malicious spyware. Unlike other firewall programs, Zone Alarm Pro 6 has the ability to detect legitimate monitoring software and distinguish it from dangerous and potential lethal spyware through some basic training.
SmartDefence Service
To keep your system up-to-date, Zone Alarm also features a 12-month subscription to the SmartDefense Service that automatically downloads the latest antivirus and antispyware signatures in order to keep you protected. This option is ideal for users who are always connected to the internet or for those users that spend large amounts of time online.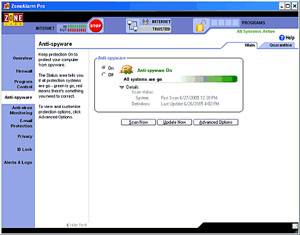 Benefits of ZoneAlarm Pro 6
Use one security application for firewall, spyware and email security

Never be bombarded again by popup ads with ZoneAlarm Pro's popup blocker

Easy to use program interface for easy navigation

Protect your computer effortlessly from hackers, Trojans and spyware with Zone Labs proven stealth firewall against inbound and outbound attacks

Protect your PC within minutes with Zone Labs straightforward and simple installation and configuration wizard

Get the support you need with a comprehensive help file and a tutorial presentation

Customise to suit your individual security requirements

Always be up-to-date and protected from malicious content

Defend personal information from hackers utilizing the Identity Theft and Privacy

Protection components
System Requirements
| | |
| --- | --- |
| Operating System | Windows 98SE/ME/2000 Pro/XP. |
| Processor | Pentium III 450 MHz or higher |
| Memory (RAM) | Minimum system RAM: 48MB (98SE/ME), 64MB (2000 Pro), 128MB (XP). |
| Hard Drive Space | 50MB |
| Other | Internet access. |
In conclusion, Zone Alarm Pro 6 is a great software package if you don't already own a decent firewall program that I would recommend to existing users of current AntiVirus programs. However, if you're thinking of purchasing an internet security suite, I would recommend that you spend the extra $30 and purchase Zone Alarm Internet Security that features a fully fledged antivirus software package. Great stuff!