Zone Alarm Internet Security Suite 6
Zone Alarm Internet Security Suite 6 is the latest and greatest security package from ZoneLabs that combines a variety of powerful security features to ensure that your computer is protected from a wide gamut of threats. For an affordable price of $99AUD, Zone Alarm Internet Security Suite 6 not only beats the competition in price but also gives the user 12 months worth of updates and gives them the best possible protection from threats such as worms, hackers, viruses and even spam.

The installation of Zone Alarm Internet Security Suite 6 (Zone Alarm) was a breeze and it simply auto installed when the CD was detected by the computer and after a few minutes, the defenses of our test computer was immediately upgraded. After a reboot, scan and a download of the latest virus and spyware signatures, Zone Alarm was giving our test computer the best protection available for under $99AUD.
Features
Anti-Spyware & Email Security

ID/Privacy Protection & Parental Control

Triple Defense Firewall & IM Protection

Wireless PC Protection & Spam and Phishing Blocker

Antivirus Protection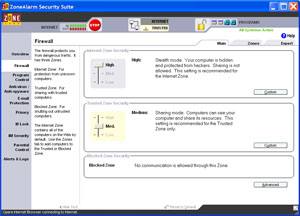 The interface of Zone Alarm uses the familiar interface of previous software packages so not only will old users be at ease but also new users who will easily be able to navigate this software package without any difficulties whatsoever. The main menu of Zone Alarm features the following options:

Overview - Status, Product information and preferences
Firewall - Main (Security settings), Zones and Expert (rules)
Program Control - SmartDefence for installed software
Anti-virus/Anti-spyware - Scan for viruses and spyware & Quarantine
E-mail protection - Mail protection
Privacy - Cookie Control, Ad Blocking, Site List and Cache Cleaner
ID Lock - Fraud protection
IM Security - Instant messenger protection (e.g. MSN, AOL or IRC)
Parental Control - Options and SmartFiltering DRTR Technology
Alerts & Logs - Notifications of threats and event logging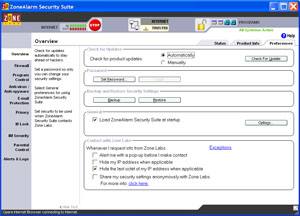 Firewall
As you can see from the options in Zone Alarm, it gives the user total control and total defense against almost any threat that is available. Unlike other internet security suites, Zone Alarm offers a triple defense firewall that protects the user from the following risks:
Blocks hackers from gaining access to your computer

Automatically makes your computer invisible to anyone on the Internet

Prevents spyware from sending your personal information across the Internet

Protects your programs and operating system from malware
The firewall also has a variety of settings from high security to low security (although high security is recommended), even if you're running on a network, Zone Alarm can also give these "Trusted Zones" a variety of different settings that is ideal for businesses and prevents unwanted security popups.

Anti-Virus & Anti-Spyware
Unlike other programs, Zone Alarm has successfully integrated Anti-Spyware with its AntiVirus program that first scans your computer for viruses, then scans your computer for spyware, although these can both be performed individually. Whether it's worms, viruses or spyware, this aspect of Zone Alarm automatically removes these threats if it detects an incoming threat.
SmartDefence & a 12-month subscription
The new SmartDefence Service offers users the best possible protection with new real-time security updates and new attack protection capabilities that ensures that you are always protected from the latest dangers that have been found on the internet which is perfect for broadband owners who are always connected to the internet.
Wireless Protection
Even our wireless devices that are connected to our main test machine are protected with Zone Alarm that included our laptop, pocket PC and even our PSP and as mentioned before, for a price of $99AUD, it doesn't get any better than this.
Benefits of ZoneAlarm Internet Security Suite
Chat securely online with Instant Messaging security

Install one application to look after all of your electronic security concerns

Save time sorting through emails with the spam filtering feature

Get rid of the rubbish - filter malicious websites

Protect your computer effortlessly from hackers, trojans and spyware with Zone Labs proven stealth firewall against inbound and outbound attacks

Protect your PC within minutes with Zone Labs straightforward and simple installation and configuration wizard

Get the support you need with a comprehensive help file and a tutorial presentation

Customise to suit your individual security requirements

Always be up-to-date and protected from malicious content

Antivirus protection blocks outgoing viruses being sent to family & friends
An interesting feature of Zone Alarm Internet Security Suite 6 is the Automatic Kill Control which shuts down any suspected malware behavior, whether internal or external which could really save you in any potential disaster events. Fortunately, this option was never needed in our testing but it's a nice feature to have to prevent any doomsday scenarios.
Privacy
For those users that need total privacy, Zone Alarm also offers privacy protection to ensure that your personal files, documents and passwords are protected on your PC and prevents any outside forces from accessing this information.

In conclusion Zone Alarm Internet Security Suite 6 is the perfect accessory for your computer that I would highly recommended. Although it does take some time to train the software (e.g. allowing certain programs to be run or use the net), the time used is well worth it. Easy to install, full 100% protection, Zone Alarm Internet Security Suite 6 is a must have! Highly Recommended!
System Requirements
| | |
| --- | --- |
| Operating System | Windows 98SE/ME/2000 Pro/XP. |
| Processor | Pentium III 450 MHz or higher |
| Memory (RAM) | Minimum system RAM: 48MB (98SE/ME), 64MB (2000 Pro), 128MB (XP). |
| Hard Drive Space | 50MB |
| Other | Internet access. |