ZoneAlarm ForceField
(Single User)
ZoneAlarm is known for various aspects of internet security and is a trusted name within the global community. Their current foray into the market is ZoneAlarm ForceField that basically gives the user added protection while using online banking, online shopping and in general, browsing the internet.
It should be noted that ZoneAlarm ForceField is a separate program from your standard internet security programs and provides added browser protection from drive-by-downloads, browser exploits, phishing, spyware and nefarious key loggers.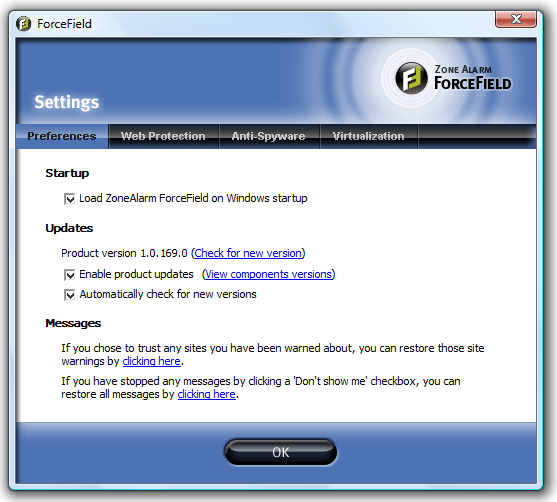 Research research has suggested that 47% of internet users believe that they are more susceptible to cyber crime compared to more traditional crimes such as burglary or assault. Needless to say, this is an alarming trend and whenever additional protection is available, users should jump on the opportunity.
With that said, ZoneAlarm ensures that personal information is thoroughly protected and for a recommended retail price of $29.95, there is little to complain about in this software package which gives the user an additional level of protection.

Features of ZoneAlarm ForceField:

Virtual Browsing creates a temporary clone of your browser so that anything you do on the web runs in a protected shell – keeping you and your PC safe.

Anti-Phishing identifies and stops fraudulent websites that trick you into revealing personal data. Uses signatures and heuristics to protect you from even the most recent scams.

Key log and screen grab jamming prevents malware from capturing user data during online banking and shopping.

Spyware Flushing auto-cleans your web browser memory each time you close it, wiping away spyware and other dangers.

Spy Site Blocking detects and blocks websites known to distribute spyware.

Dangerous download detector scans every file a user downloads from the browser then alerts users before saving a dangerous application.

Web site safety check examines the credentials on every website visited, so user knows if the website is a safe place to enter data.

On the fly file encryption protects the data users submit online from spyware.

Private Browser deletes all trace of a user's online session in their browser and on any computer to protect the their surfing privacy.
The installation process of ZoneAlarm ForceField was quite a simplistic process and after a brief installation process, our PC successfully had the program installed on our computer and was silently protecting our web browsing.
The system requirements of ForceField require a Pentium III 1Ghz or higher and at least 512MB of RAM. On our test machine, AMD Phenom 9600 with 4GB of RAM we noticed a slight performance issue with web browsing, however it was barely noticeable. The program also installs an icon in the system tray and a ForceField toolbar appears in the browser.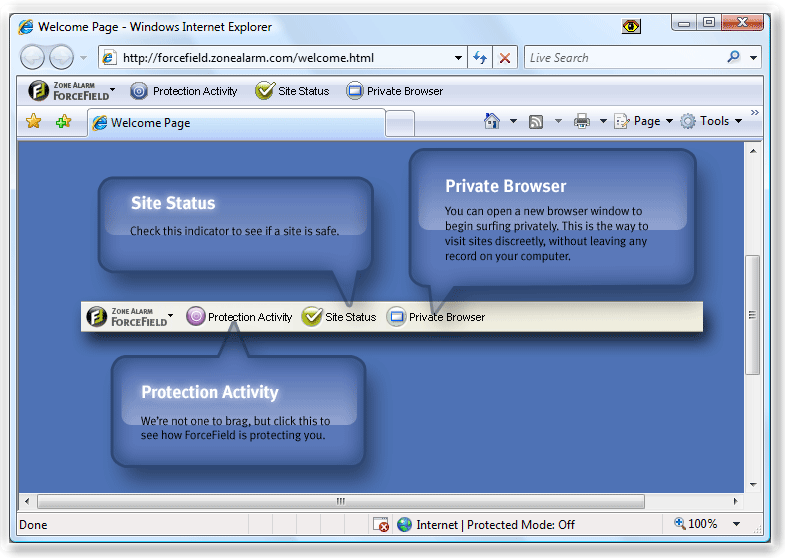 The most impressive feature of ForceField is the "Virtual Browsing" feature that basically creates a "clone" of your web browser, ensuring that nothing nefarious can infect your system. This prevents a variety of unauthorised attempts to access your computer such as cookies or programs being unwittingly installed. This feature is activated using the "Private Browser" button and ensures that no personal information is stored or displayed. The only downside to this is that you need to input your information time and time again for additional protection, in theory a small price to pay.

The program contains a great key log and screen grab feature that ensures your personal details cannot be stolen which is important for online banking and shopping. Other security features such as spyware flushing, spy site blocking adds a different level of security to your PC. The program also warns you of potential dangerous sites which is a useful feature and improves your overall safety of internet browsing.

In conclusion, ZoneAlarm ForceField doesn't replace your current internet security suite but offers the user additional protecting when browsing the internet that we would happily recommend to a variety of users, especially high traffic users that use the internet all the time. It also adds additional protection while using online banking and shopping and maybe is the must have software the year.

System Requirements for ZoneAlarm ForceField (Single User)
Operating System Windows XP or Vista (32-bit)

Processor - Intel Pentium III 1GHz or higher

Memory (RAM) Minimum system RAM 512 MB

Hard Drive Space 20MB of available hard disk space

Other Requires internet access; Install size approximately 4MB