Windows 7 Ultimate
(64-bit)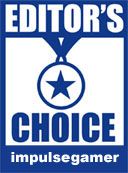 Although Microsoft received a bad rap for Windows Vista, interestingly enough, our installation of that operating system was no way near as bad as some critics had mentioned. Even so, it did have its short falls and Microsoft actually listened to its consumer base and with that came Windows 7, the latest operating system from this software giant.
With a slightly revamped interface from Windows Vista, it targeted user-friendliness and it's easy to see that Microsoft were hoping to take away some of the market from Apple, however only time will tell. But from our point of view, Microsoft have a contender on their hands and this is definitely the easiest operating system that they have developed.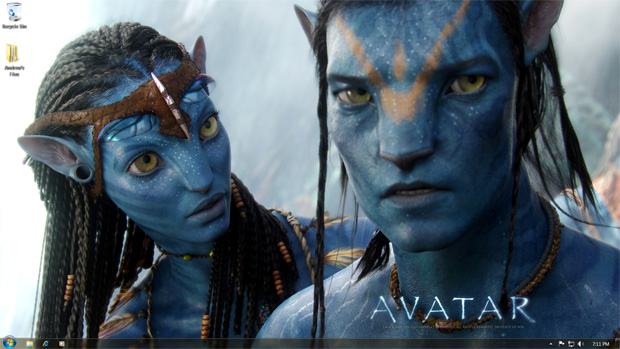 The new look Windows 7 interface - Simple, intuitive & easy to navigate
Even after using this operating system for over three weeks now, I'm still pleasantly impressed at how it runs from perfect backward compatibility, almost "AI" inspired learning and a Spartan atmosphere that works well. The only issue we had was one crash during the installation process which may have been related to hardware, so we cannot blame that on the O/S.
Like previous versions of Windows, Microsoft have a plethora of different versions (including upgrades and full versions), each targeting a particular user group from home users to large networks and even older laptops and PC's which is definitely a step in the right direction. With that said, the three main versions of Windows 7 are as follows;

Windows 7 Home Premium - Designed for home and entertainment.
Windows 7 Home Premium makes it easy to create a home network and share all of your favourite photos, videos, and music. You can even watch, pause, rewind, and record TV. Get the best entertainment experience and buy Windows 7 Home Premium.
Windows 7 Professional - Everything you need for business and home.
With Windows 7 Professional you can run many Windows XP productivity programs in Windows XP Mode and recover data easily with automatic backups to your home or business network. You can also connect to company networks effortlessly and more securely with Domain Join. With all the exciting entertainment features of Windows 7 Home Premium, buy Windows 7 Professional the great choice for home and business.

Windows 7 Ultimate - Designed for the tech savvy user.
Windows 7 Ultimate is the most versatile and powerful edition of Windows7. It combines remarkable ease-of-use with the entertainment features of Home Premium and the business capabilities of Professional, including the ability to run many Windows XP productivity program
s in Windows XP Mode. For added security, you can encrypt your data with BitLocker and BitLocker To Go. And for extra flexibility, you can work in any of 35 languages.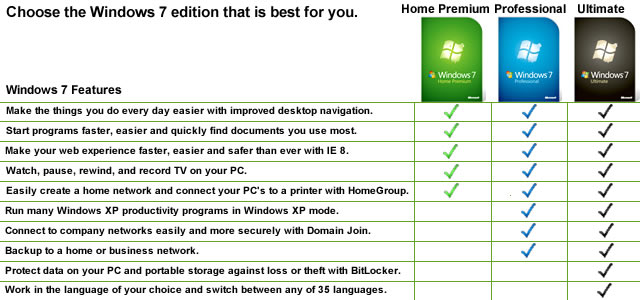 Without this review becoming another War & Peace, it will highlight some of the great features of Windows 7 Ultimate 64-bit and will hopefully give you some indication of what you can expect from Microsoft's latest operation system. Although Microsoft recommend a relatively low-end system to run the software, it's always better to aim higher than the suggested specifications. As a side note, Windows XP did perform a little faster than Windows 7 but then again, Windows 7 has a considerable amount of more features and I must admit that the boot-up speed of Windows is extremely impressive.

Installation

The best part of Windows 7 is definitely the installation process which can be installed on a clean system (e.g. no operating system) or a system with a previous version of Windows such as Vista or XP. We tested the installation both ways but where it did shine is on a clean system that installed in less than 30 minutes with minimal input from the user.
On a system that contains a previous version of Windows, the installation process is a little bit more complicated and time consuming but even so, it installed with a minimal amount of fuss. The good thing about a previous installation of Windows is the ability to revert back to your original O/S and we always recommend that you backup your data. After the installation process was completed, we were ready to begin our Windows 7 experience.
If you have devices connected to your PC such as a LCD monitor, printer/scanner or the like, Windows 7 does a good job at detecting these additional peripherals and install the correct software for it, it also helps if you have an internet connection. Although we use wired broadband, Windows 7 detected our internet connection with no issues whatsoever, however we did have some teething problems at the start where it did not detect our internet connection but after a reboot it did. Interestingly enough, this problem has stopped.
Windows 7 Features
Simplify your PC with new navigation features like Aero Shake, Jump Lists, and Snap.

Customize Windows to look and feel the way you like by changing themes and taskbar programs.

Easy to network (with or without a server).

Back up your complete system over a network.

Help protect data on your PC or portable storage device against loss or theft with BitLocker.
Designed to make your PC sleep and resume quicker.

Takes full advantage of 64-bit PC hardware and memory.

Windows XP Mode gives you the business flexibility you need.

Switch between any of 35 languages.
Watch, pause, rewind, and record TV with Windows Media Centre.

Watch your favourite DVD movies.

Includes integrated video and Dolby audio codecs.
Although Windows 7 does look reminiscent of Vista, the new streamlined interface does give users a more productive and easy to navigate O/S experience. The most noticeable difference is the Live Taskbar Preview that allows the user you to preview the applications that you have opened by moving your mouse onto it. Best of all, it supports full screen previews and easily allows you to swap and close applications from just a click of the mouse.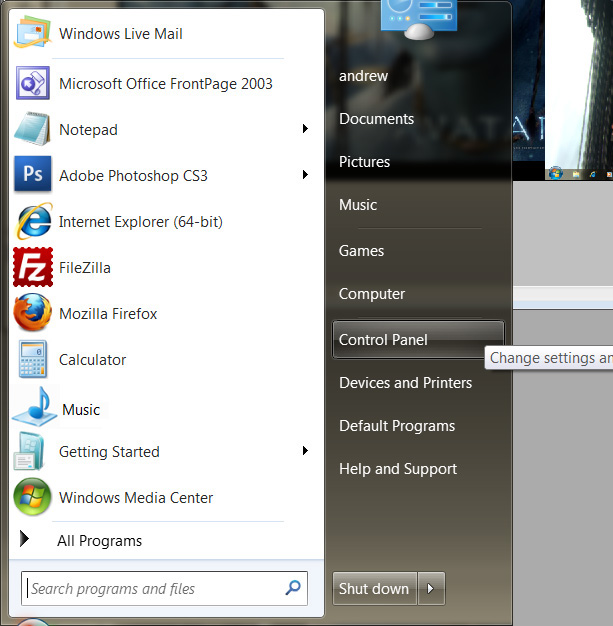 The new look "Start Menu" - Everything has a place.
Notice the Search programs and file option. Also, the O/S memorises your most used programs and cleverly puts their icons from number 1 to number 10. This will change, dependent on how often you use your programs.
One thing that did take some time getting use to is the new placement of the "Show Desktop" icon which is a brilliant feature in previous operating systems, however in Windows 7, it has been moved to the bottom right of your screen that looks like it is part your toolbar but it helps remove the unnecessary clutter from your taskbar.
Windows Explorer has now been fully integrated into all aspect of Windows and is quite minimalist at best, see following screenshot. As you can see, it doesn't get any simpler than this and once again ensures that all users should have no issues in accessing this system.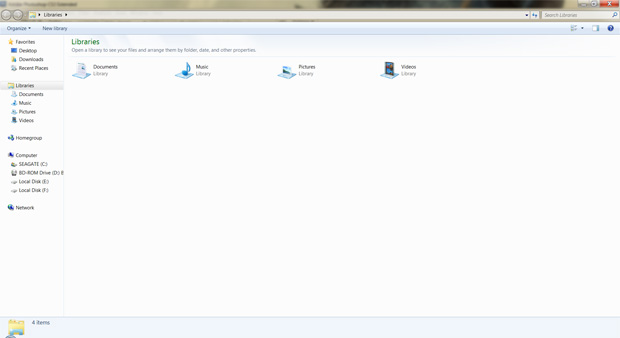 Windows Explorer
Although Vista had the "Aero" interface, Windows 7 goes beyond and introduces some nifty little options like "Shake". If you have quite a few windows open and you wish to minimise them all, except the one you are using, all you need to do is click on the windows pane, shake your mouse and presto! All your windows are minimised, except the one you are working on. If you repeat this step, all your windows will return.
Controlling different "windows" aka programs or images have received a new facelift as well and the new side by side windows feature is great as the O/S automatically splits your windows which is great for programming or comparisons.
Of course, the interface looks like more simplistic and less cluttered with everything neatly being places on your menus, desktop and taskbar. Best of all, it supports full customisation, ensuring that the user has a decent amount control over how their operating system will look and feel. There are a variety of great themes in Windows 7 with various categories but what I like about the themes besides changing the colours and the like are the interesting background pictures that they have which will change every so often, ensuring that nothing becomes too boring.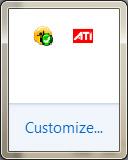 The control panel in Windows 7 is quite Spartan at best, however it ensures that all levels of expertise is catered for, whether basic or professional. Programs that were once installed in your taskbar are collected in a box in the bottom right hand corner of your taskbar. (See above screenshot) This is definitely a great feature, especially for users who have a considerable amount of software installed.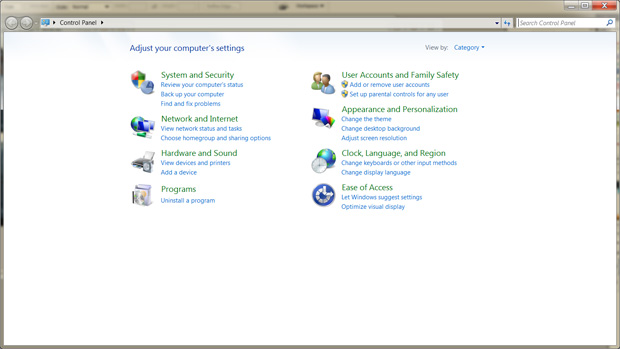 Control Panel - Streamlined
Continuing the user friendliness of the O/S, another highlight is the "Action Center" that prompts the user if there are any issues with their computer. This is displayed by a flag on the taskbar and by clicking on it, the action center is opened with an easy to read message. This may involve a variety of issues that the O/S wants the user to address such as backups or updates to Windows Defender. (See following screenshot) This can also be adjusted!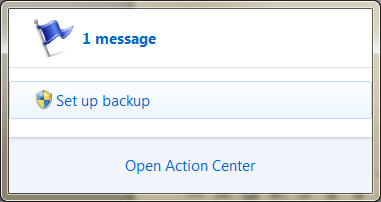 An additional feature in Windows 7 is the ability to stream multimedia files from one computer to another via networking or even the internet. By clicking on the stream option, you can easily share that particular file with another computer which was extremely easy to setup, whether a media system or another PC.

The search function in Windows Vista was fairly horrendous, however Microsoft have revamped the interface and best of all, the speed, thanks to their new indexing technology. Needless to say, it is similar to online searches which ensures that people will be more at ease using and the search results can by quite in-depth if required.
The latest version of Internet Explorer also comes with Windows 7 and if you have been keeping up to date with previous versions of this software, most users will not notice too many changes. Of course, Windows 7 does not come with everything and interestingly enough, it does not come with a mail program. What the? That's what I thought and unfortunately you either need to install a third party option or download Windows Live Essentials. This rather large download comes with;
Windows Mail

Messenger

Writer (ideal of blogging)

Photo Gallery

Movie Maker

Toolbar (customise your browsing) &

Family Safety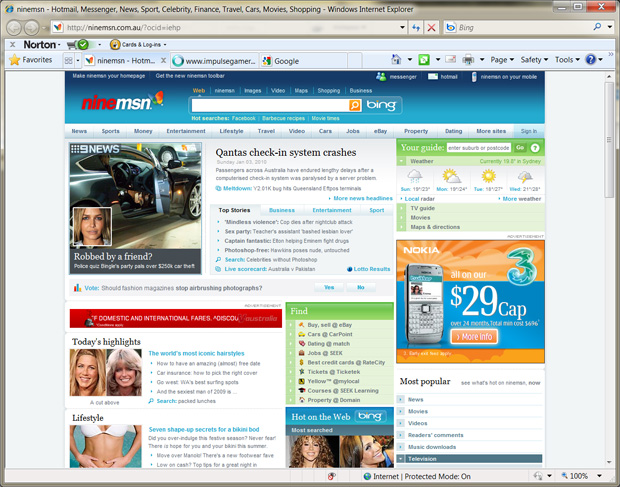 The new Internet Explorer
It's a shame that Microsoft did not include these programs in the main operating system and whether it was done due to an edict in their monopoly or some other reason, I must admit that I was a little bemused but it's definitely worth the download. The new Windows Mail does take a little time getting use to, however it has definitely surpassed its predecessor as does Movie Maker. Family Safety also has some great options for parents to ensure that their children are protected as best possible while they are on the net.

For advanced users and business professionals, Windows 7 contains a neat feature called XP Mode which is quite similar to Windows 95's ability of running previous O/S software. However in Windows 7, XP Mode allows you to run software packages that may not yet be compatible with this current version of Windows in this neat little virtual environment. For those interested in running this feature, the O/S needs an additional 1GB of RAM, 15GB of hard drive space and CPU that supports either Intel VT or AMD-V.
The security features of Windows 7 are considerably improved over its predecessor and like Vista, users of this new O/S will still require a third party antivirus or internet security program to ensure that their PC is safe. Of course this was a result of a court case against Microsoft a few years ago. The User Account Control (UAC) returns and is perfect for setting up various accounts and it ensures that only appropriate users have access to certain parts of the O/S and what software can be installed. Wish to encrypt your data on a USB memory stick? Simple! Just run BitLocker to Go and this will ensure that your data is protected which is ideal for businesses or users wanting additional security on their personal files.
Internet TV, Windows Easy Transfer (moving your old data to Windows 7), Windows Touch (touch screen displays), Multiplayer Games (Checkers to Backgammon) and the new powerful DirectX 11, the list goes on and Microsoft have definitely done their research in what users want and need.
Of course this review just briefly touched on the power of this O/S and after using Windows 7 for over 3-weeks now, I don't believe that I could migrate back to Vista or Windows XP. The speed of the O/S is quite impressive and although Windows XP beats it on a few aspects, Microsoft have excelled all of our expectations and have created a powerful, fast and user-friendly system.
Even though there were a few teething problems at the start, more specifically with our internet connection, Windows 7 had fixed this problem. So how many crashes have we had in three weeks? The answer is only 1 which was during the installation stage and we needed to manually reboot the system. We even ran the system for a week non-stop and there were no issues with memory or slowdowns at all. Sure, it may not be perfect but it's definitely bordering somewhere near there and Windows 7 Ultimate (64-bit) will definitely give those naysayers something to think about, highly recommended!
To learn more about Windows, click here to visit Microsoft to download the Windows 7 Product Guide or check out the official features page by clicking here.