UnoTelly approached Impulse Gamer in order to review their UnoDNS service. This service basically allows non-US residents (like Impulse Gamer in Australia) access to blocked geographic content.
Without this service, the user cannot access certain content in the US such as latest episodes from the Comedy Channel (e.g. South Park/The Daily Show with Jon Stewart), SyFy Channel (Ghost Hunters, Alphas) and National Graphic (Chasing UFO's, Tabboo) for example.
Given this service, I must admit that I was a little curious to UnoTelly as I think I've lost count of the number of times I've visited a US website which has refused me access to their videos.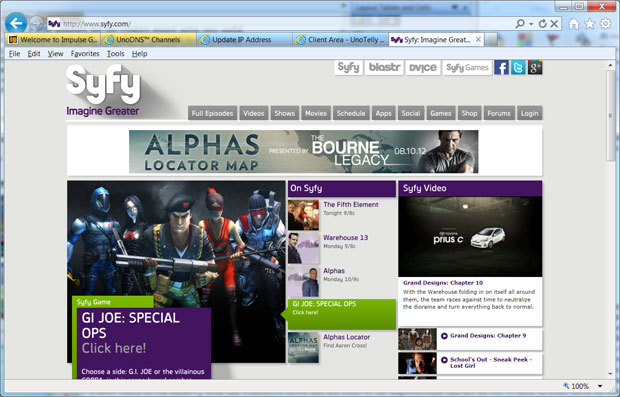 Syfy Channel - Full Access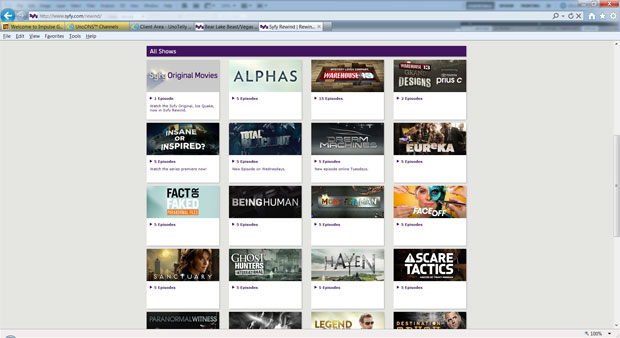 Syfy Episodes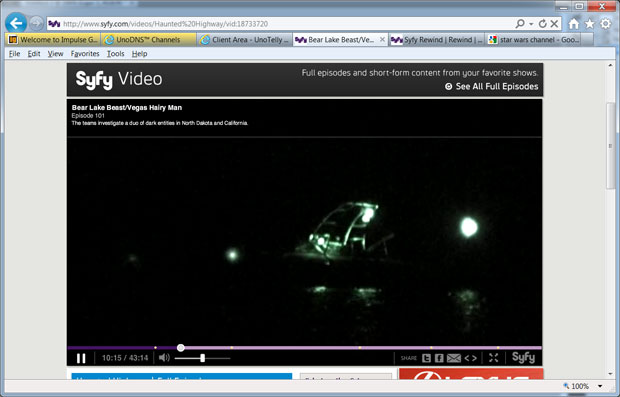 Syfy - Haunted Highway Episode.
This is not the case with UnoTelly which tricks these websites into giving you full access to their videos. More importantly, for those living outside the US, can you access online television services (for a cost) like NetFlix and Hulu Plus who have a huge backlog of US television shows.
It's quite unparalleled and best of all, the pseudo DNS that comes with UnoTelly supports a 1000MBit connection, so can you expect some extremely smooth streaming. The product works best on a PC or Mac and to an extent, you can use other devices like an iPhone, PlayStation 3 or other devices.
Setting up UnoTelly is a little awkward but the creators ensure some very useful screenshots and information to get you going. Basically, all you need to do is change the DNS setting on your computer to reflect the UnoTelly DNS. Information sent through the DNS also uses 256-bit encryption to protect your data so it's quite safe to use.
However once the DNS is changed on your PC, it basically opens up geo-restricted content to anyone outside of the United States and considering that we're based in Australia, it worked perfectly. The only other tweaking you need to do is to inform UnoDNS of your IP address. But once setup, we were ready to explore the world of American TV.
There are also three versions of UnoTelly available. A free version, a premium plan and a gold plan. The premium and gold plans come at a cost but it does give you access to a considerable amount of additional US content.
Premium Plan
Gold Plan
So does it work? You betcha! By accessing syfy.com, I was able to access a plethora of TV shows that included Ghost Hunters International, Haunted Highway and SGU (shame it's been cancelled).
Whether I was accessing the Military History Channel, Disney, CBS, Fox Network or Nickelodeon, UnoTelly DNS gave me full access. This means I didn't have to pay our local provider Foxtel (Australia's largest Cable TV provider) or way months or even years until it was shown on free to air TV.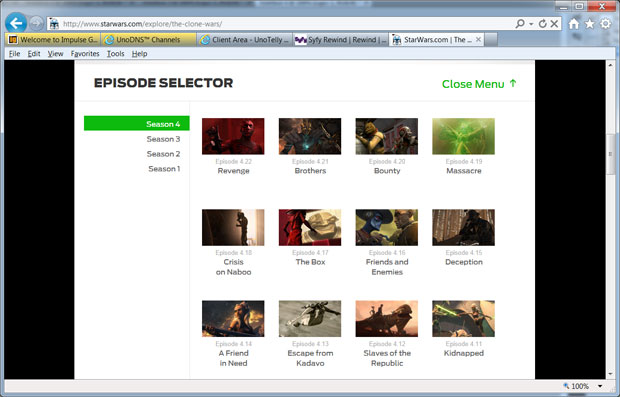 Star Wars the Clone Wars - available to anyone via UnoTelly
Another benefit is for gamers because if you change the DNS settings, this gives you full access to the PSN Store and XBox Live in the united states for the latest games and demos. Also, ny downloading apps for the 360 or PS3 such as Vudu and Amazon, this allows you to watch US content without any geographic filtering. Of course, there is a price involved if you want to use these apps on your 360 or PS3 which is generally charged per movie.
So is it for you? If you love TV from the US, then yes but you probably need a little computer knowledge to successfully use this service but once you have it running, it's pretty much a flawless service. The only issue is that you need to update your IP address which is a pain and the DNS settings. There is a free tool to download that updates automatically but it is a little fiddle some to use.
At the end of the day, UnoTelly DNS is a very impressive service which opens US and UK content to the world. As mentioned the premium and gold service comes at a monthly cost but if in doubt, check out the free version and even better, sign up with either Netflix or Hulu Plus for one month free to see if UnoTelly works for you.
Why wait for your free to air TV shows, check out UnoTelly DNS at http://www.unotelly.com!