Trend Micro Anti-Spyware 3.0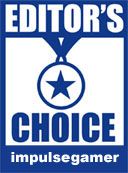 Trend Micro Anti-spyware 3.0 is the latest anti-spyware software package that removes and prevents spyware from contaminating your operating system. Spyware is a grave a concern on the internet and it can do a variety of things from benign information gathering to a more malignant purpose such as transmitting personal information back to its nefarious operators.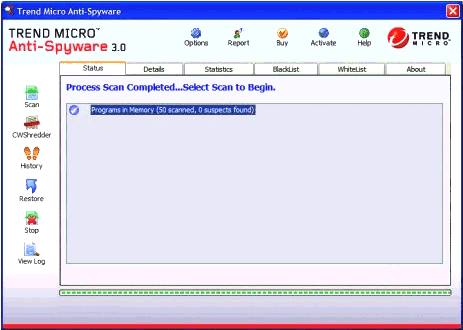 Overall Features
Spyware detection and removal

Real-time active protection

One-click privacy cleanup

Automatic frequent updates
By doing a Google search and typing "define: spyware", the following definition was given that includes:
"Any software that covertly gathers user information through the user's Internet connection without his or her knowledge, usually for advertising purposes. Spyware applications are typically bundled as a hidden component of freeware or shareware programs that can be downloaded from the Internet...
...Once installed, the spyware monitors user activity on the Internet and transmits that information in the background to someone else. Spyware can also gather information about e-mail addresses and even passwords and credit card numbers. Also called adware."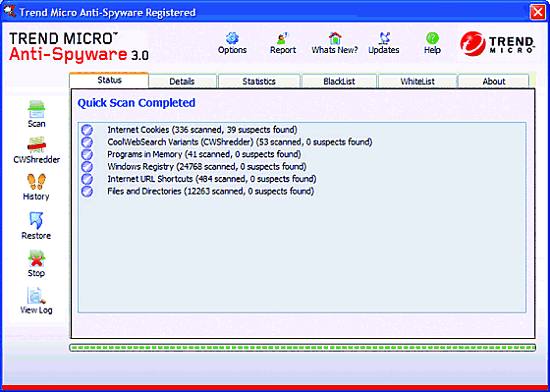 Benefits of Trend Micro Anti-Spyware 3.0
Quick and easy installation.

Frequent and automatic updates ensure that your PC is always covered against the latest spyware threats.

Convenient restore utility that allows you to undo changes made by Trend Micro's Anti-Spyware.

Easy-to-navigate program interface makes removing spyware an effortless task

Enhanced scanning engine for faster spyware detection

Scheduled threat detection gives you peace of mind that your computer will be scanned – even if you forgot to do it.

Comprehensive help only a click away – complete with step-by-step instructions

Be informed on PC threats with thorough operation logging for easy review

Save time scanning for threats by customising blacklist and whitelist feature, in Trend Micro's Anti-Spyware.
Unfortunately with the internet beings so vast and popular, it was only time before someone figured out to manipulate the content that was sent from a users computer. Spyware can even do malicious things like transmitting keystrokes or even credit card information back to servers.
Fortunately there are a variety of useful anti-spyware programs available with Trend Micro Anti-Spyware 3.0 being one of these programs which this review is about today.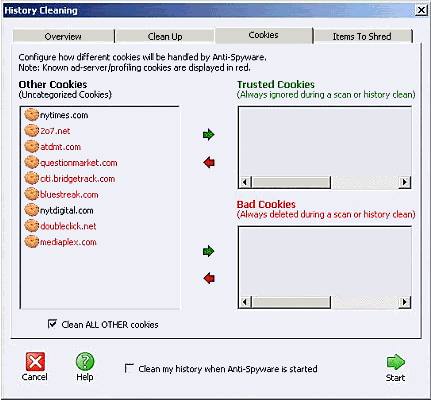 Trend Micro is also a name that the public can trust which has also been around for quite some time, battling the world of viruses, spyware, spamming and your overall internet security.
Unlike many other anti-spyware programs, Trend Micro Anti-Spyware 3.0 features a real-time monitor called Venus Spy Trap that basically monitors over 150 different spyware signatures and prevents them from being installed onto your computer. This feature is really what sets this anti-spyware software package from other contenders as it gives you a true overall protection from these nasties.
Trend Micro Anti-Spyware 3.0 also has the ability to search your entire hardware and even computer memory for any evidence of spyware and once the scan was completed, we found over 15 entries that were simply removed by a click of a mouse. Another interesting feature of this software package is the one-click Privacy Cleanup function that basically deletes all your browser and PC history, temporary internet files, cookies and tracking software with just one click.
In conclusion, Trend Micro Anti-Spyware 3.0 is definitely a program that all PC users should have that not only contains excellent support but also 12-months of upgrades to ensure that you are fully protected. Recommended for all users of the internet!
System Requirements

| | |
| --- | --- |
| Operating System | PC running Microsoft™ Windows™ XP / 2000 |
| Processor | Pentium™ class processor or equivalent |
| Memory (RAM) | Minimum 128MB RAM or higher |
| Hard Drive Space | Minimum 6MB free |
| Other | An Internet connection is required to receive product and definition updates |