Trend Micro PC-Cillin Internet Security 2005
The world is full of halfwits thatís for sure and every year this fact is hammered home by the fact that there are more and more viruses and attempts upon our privacy every day. I really donít see what people get out of doing this but in any case itís become a must that we purchase software on an annual basis that can be updated regularly and can hopefully be ahead of what the people who create these nasties make up.
Viruses Suck!
Trend has put together a really nice piece of kit here for those who want to have it all in one package. Itís here however that you also find that there are some holes in the overall functionality of the software. Why? Simple. Some parts of the package are a hell of a lot better than the others.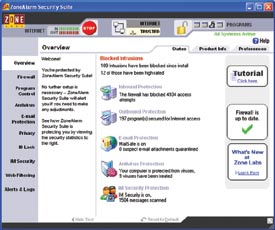 The antivius package on this software is brilliant and very active, protecting both your internet connection and also there is a facility to let you know who is on your wireless network. Keeping the bad guys out is the name of the game and the scanner is able to scan within multiple levels of a file regardless if it is a zip or whatever the case may be.
Top Marks for the antivirus scanner.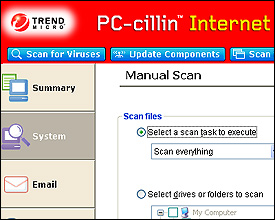 The firewall is another kettle of fish altogether with a fair bit of tweaking needed in order to really get the most out of it. There were a couple of basic blocks that it simply did not carry out immediately upon install, however once properly instructed, these did not present a problem. I would suggest that if you buy this software that you get some assistance online in tweaking it sufficiently.
Firewall is good but needs working on.
There is antispyware and also URL blocking included on this software that is fairly comprehensive. My main concern is with the anti spyware that I really felt did not do its job properly as it constantly left traces of its activity on the computer instead of doing a good job in totally cleaning itself up. There were fragments left all over the computer that showed the story of what had happened on the computer and also the anti spyware did not seem to stop key logging in our tests which was a major concern.
Trendís package also has another plus in that it is not a system hog like the Norton product that most of you would be familiar with. The con to that speed increase is that it doesnít seem to be as effective across the board as Symantecís product.
Trend is also very proactive in itís outbreak notification that I found to be very proactive in terms of letting users know what had been released out into the wild. A window pops up on the screen to let you know that there is a new nasty and to update your system immediately to protect against it.
There is a parental block on the software as well however if you run a system with more than one browser on it, Iíd advise that you keep a close eye on what your kids might be accessing as it only really worked perfectly with Internet Explorer.
I really think that Trend have a winner on their hands here. Cost wise, itís a more affordable option than many on the market, however you really need to be aware of itís shortcomings. If you purchase the product knowing these things then I think you are going to be pleasantly surprised.
Good Stuff!