One of the PC's most interesting adventure games of late returns in Runaway 3: A Twist of Fate by Focus Home Interactive. Of course, it's great to see this genre still alive and what started in 2003 with Runaway: A Road Adventure has grown even more since the original game.
Although the third game is considerably different in terms of graphics and gameplay than the original, it is more reminiscent of the sequel, Runaway: The Dream of the Turtle as gamers are reunited with these classic characters.
Of course, fans of the original two stories will be over the moon in relation to a sequel but the problem for newcomers is that it does help if you have knowledge of the previous games.
With that said, the story revolves around Brian and Gina that is dubbed as their last adventure. Continuing from the previous game, Brian is on trial for murder and when he is shipped off to jail, an accident occurs, leaving him dead. Of course this is all a ruse and when the heart-broken Gina learns that her partner in crime is still alive, it's time to solve this mystery.
Without spoiling the story, Runaway 3: A Twist of Fate features lots of twists and turns along the way that makes this game quite reminiscent of titles from Lucasarts which is brilliant in our books. The first part of the game is played as Gina as she needs to rescue Brian and it almost acts as a tutorial level as the difficulty is initially quite low.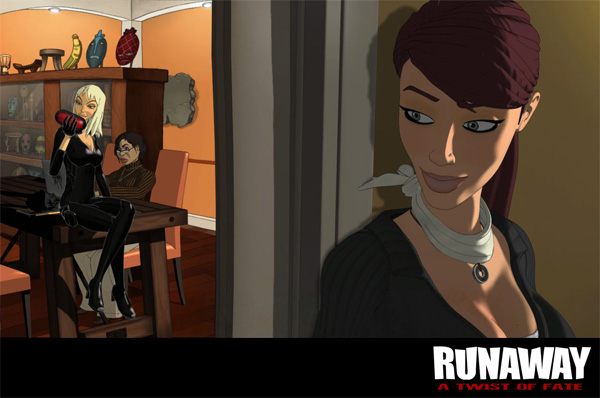 Gameplay wise like Runaway 3 is like those classic third person adventure games that allows the character to interact with the environment to find clues and talk with characters. The game even contains a plethora of puzzles, some sublime and others quite obvious.
If you do get stuck, one of the game's characters can sometimes lead to pointing you in the right direction. Control wise, the mouse is the master which lets Brian and Gina move and interact with others which works quite well. Reminiscent of those old Sierra & Lucasarts games, the function keys allow you to save and even access hotspots on the current screen where you are exploring. To compliment the story, the game uses cutscenes to progress the story and works well as a reward.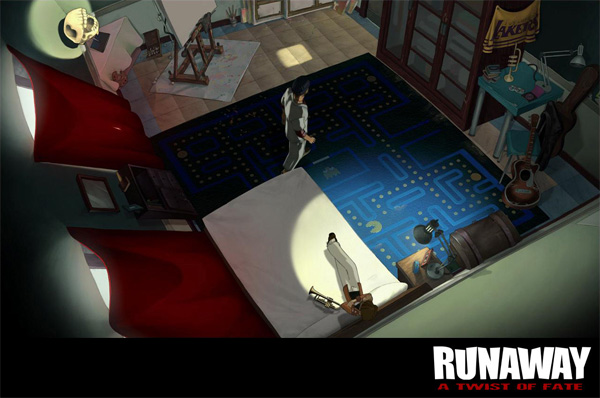 As our two adventurers Brian and Gina are reunited in Runaway 3: A Twist of Fate, it's great to see that these characters have aged with the series and seem a little more serious than previous instalments, of course with what both these characters have gone through, it would have made anyone go white. The story of Runaway 3 is as entertaining as ever that contains intrigue, romance, drama and best of all comedy which is highlighted when you speak to all the colourful people you meet in this game, some from previous games and some totally new.
The goal of the game that is broken into chapters is to solve various quests and by talking to characters in the game, you can gain new information and clues to pinpoint you in the right direction. While talking to characters, this will bring up a dialogue tree and hopefully this will prompt these people for clues. Although not as in-depth as games such as Mass Effect, it does work.

Graphically, the title feels and moves like a colourful cartoon. The backgrounds look good and the characters interact well with the gaming environment. The voice acting of the game is quite fun and it's great that the game does not take itself too seriously, especially from some of the comedic anecdotes. The soundtrack of the game features a variety of genres such as Jazz to help with the overall ambience of the title. Add some occasional ambient sounds and the developers have done well to mirror this with the cartoon-like graphics and gameplay.
In conclusion, Runaway 3: A Twist of Fate is fun adventure game of a dying genre. It may not feature all the action of some titles today but if you're looking for something witty and challenging to boot, than there's far worse than this game. The only issues we had is that some of the clues were a little strange and I'm not sure how on Earth some people could have solved them, plus if you have not played the original games before, than you might be scratching your head a little.
Nonetheless, very fun!