The latest DVD and CD authoring tool arrives on the Mac which also supports the latest media formats of Blu-Ray and HD-DVD via a small additional purchase. In its essence, Roxio Toast 9 Titanium is your all in one CD/DVD burning program that caters for movies, music, files and even internet television that is definitely one of the most powerful authoring tools on the Mac.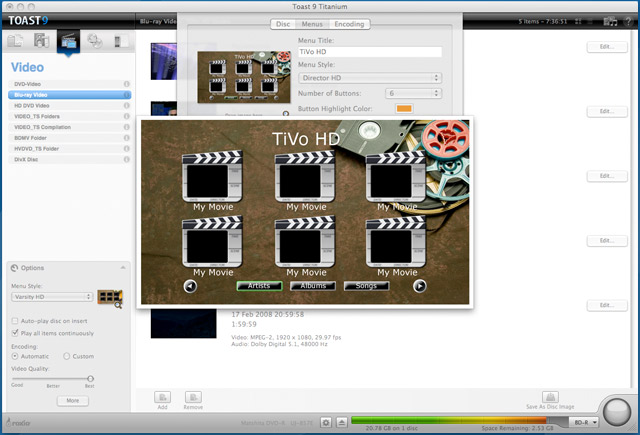 The installation of Roxio's Toast 9 Titanium was a breeze and it simple auto installed onto our computer with no hassles whatsoever and required minimal input by the user. It should be noted that the installation of Toast 9 Titanium was extremely fast and took under 5 minutes to install the software onto our trusty Mac. Once the software was installed, we were greeted to an extremely intuitive and user friendly interface that we believe can be used by a variety of people. For those who have never used the program before, Roxio Toast Titanium 9 features some great
New Features
Burning
Improved! Mac & PC data spanning – now without splitting files
Improved! Blu-ray Disc support for burning up to 50 GB
Improved! File recovery for damaged discs
Improved! Media Browser with file browsing, data filters and Spotlight search
Improved! Disc copy data discs, audio CDs, and movie DVDs*
NEW! HD DVD disc support for burning up to 30 GB
* Does not copy encrypted or copy protected content.

Photo & Video
NEW! Preview video quality for selected encoding settings in seconds
NEW! Capture and convert directly from AVCHD high-definition camcorders
NEW! Trim and remove unwanted video segments from TiVo and EyeTV recordings
NEW! Create high-def Blu-ray or HD DVD discs for playback on next generation set top boxes**
New! Produce high-def Blu-ray or HD DVD movies on standard DVD media**
New! Pause video conversions to regain control of your Mac and resume when convenient
New! Batch DVD conversion and VIDEO_TS compilation
New! Convert TiVo® and EyeTV recordings or burn to DVD and high-def formats
New! Preserve DVD chapters in video converted for your iPod - no need to rewind or fast forward
Improved! Fit-to-DVD™ compression and Director's Cut custom DVD compilation - with video preview
Improved! New menu styles and custom DVD menu backgrounds
Improved! Broad device support includes video conversion for Xbox 360™, BlackBerry® devices, and more
** HD DVD and Blu-ray (BDMV) video authoring functionality requires purchase of the HD/BD Plug-in. An Internet connection is required.

Music
New! Unique audio fingerprinting technology automatically identifies and tags unknown tracks
NEW! Capture streaming Internet audio – or any sound – as you hear it with one click
Improved! Dynamic DJ-style crossfades, transitions, audio processing, and Roxio Jam™ pro-quality mastering tools
Improved! Vinyl LP and tape conversion to CD, DVD, iPod and more

Enjoy
New! Stream TV and video from your Mac to your iPhone, Mac or PC over the Internet
New! Aperture and iLife '08 library access
Create 100% full quality photo archive discs with slideshows that play automatically on a Mac or PC
Quickly create personalized disc labels for printing or LightScribe and Labelflash™ laser etching
The most noticeable feature of the latest version of Toast 9 Titanium is the ability to create both Blu-ray and HD-DVD discs plus AVCHD Camcorder Support which is a new format by Panasonic and Sony that is becoming quite popular with users due to its phenomenal quality.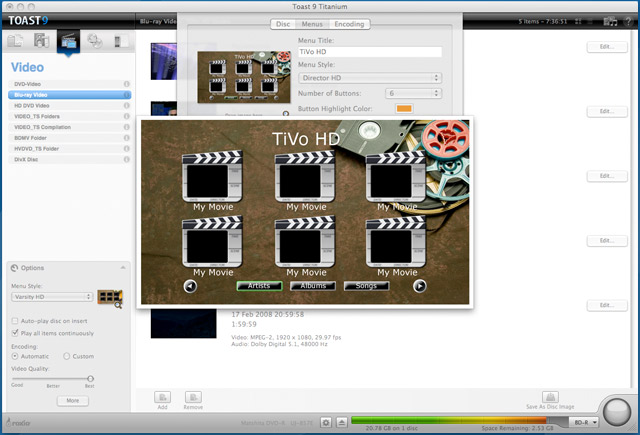 Best of all, the program supports both TiVo and EyeTV3 (soon to be available in Australia) which easily allows you to record internet television to a variety of different media formats. The road warrior entertainment system allows you to stream your home movies to a variety of devices such as your iPhone, iPod Touch, the internet and even a PC. This quite an impressive feature of the program that is great for displaying videos over a WiFi connection

Another interesting feature of Roxio Toast 9 Titanium is the in-depth backup option that allows you backup a variety of folders or entire hard drives with just a click of the mouse. The user also has the option of creating a schedule such as a backup to perform every Monday night at 11pm. If you're files are too big, the program will also split the backup onto one or more discs. Wish to create audio CD's? The answer is quite easily done on Roxio Toast 9 Titanium that even allows you to create your own mixes with a variety of effects and filters. Needless to say I've been a huge fan of Spin Doctor from the PC and using this powerful music and audio program on the Mac is pure bliss.
The program also supports Lightscribe technology which allows you to burn text directly on CD's and DVD's through its Disc Cover 2 program and add in Disc Catalog Maker, it's the perfect program to keep all your discs neatly catalogued for easy referencing.
In conclusion, Roxio's Toast 9 Titanium is a very powerful authoring tool for the Mac that comes at an affordable $179.95AUD which is available at all good computer outlets. The only downside that I can see of the program is the additional purchase of a plugin which may deter some users, however if you want the best, than Roxio Toast 9 Titanium is that program.